Despite extremely hot and humid weather conditions, the IBJI CARES Foundation 2nd Annual Charity Golf Outing and Silent Auction Fundraiser was a huge success with nearly 125 attendees, including IBJI physicians, physical therapists, medical and office employees, patients, friends and family members.
Held at the Chevy Chase Country Club in Wheeling on Saturday, August 28, the event included lunch and beverages, 18 holes of golf, and a silent auction featuring a number of sought-after items.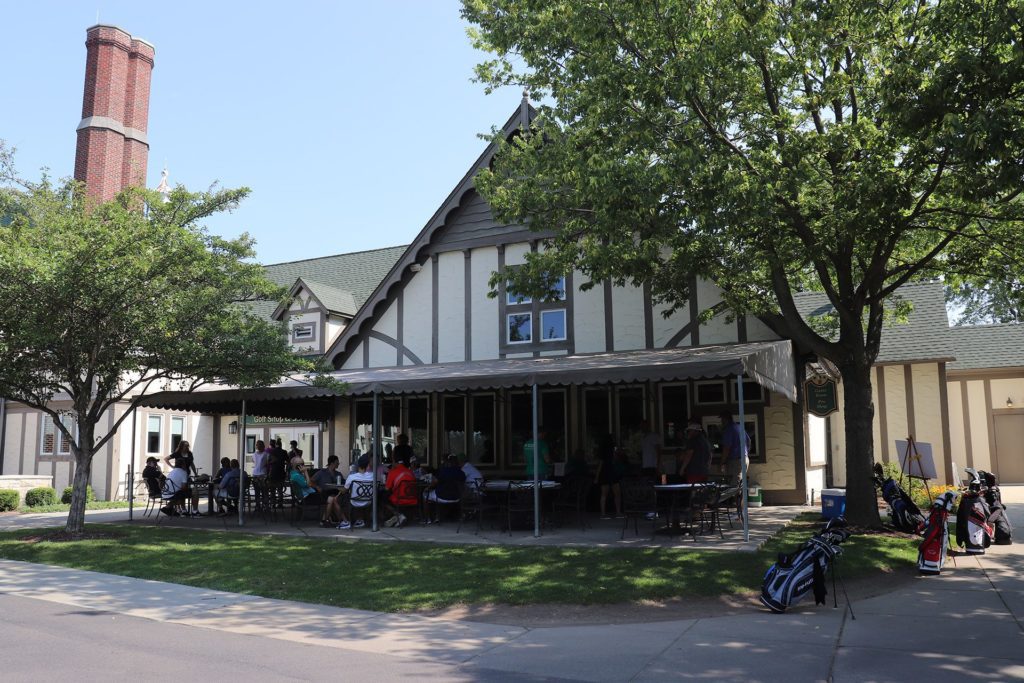 Golfers gather for lunch prior to heading out to the course at the Wheeling-based Chevy Chase Country Club.
The event benefited Glenkirk, a Northbrook-based organization that empowers individuals with intellectual disabilities by providing residential and employment supports, respite care, medical care coordination, therapies, and more.
"We provide community-based supports at over 20 homes throughout the north and northwest suburbs," says Kim Berenberg, CEO at Glenkirk. "Our goal is for individuals with intellectual and developmental disabilities to participate fully in all areas of community life."
Caring Is Our Mission
Caring for the community is the mission of the IBJI CARES Foundation. In 2019, IBJI CARES donated $25,000 to Glenkirk, which was used to expand technology for all of its group homes, according to Berenberg. "We have appreciated this ongoing support," she said.
Assistant Director of Rehab Mike Losch, one of the event coordinators, said the golf outing is IBJI's most unifying event of the year.
"This is one of the best things we do in terms of bringing everyone together on one day," Losch said, jokingly adding, "I don't know how we picked the hottest day of the year."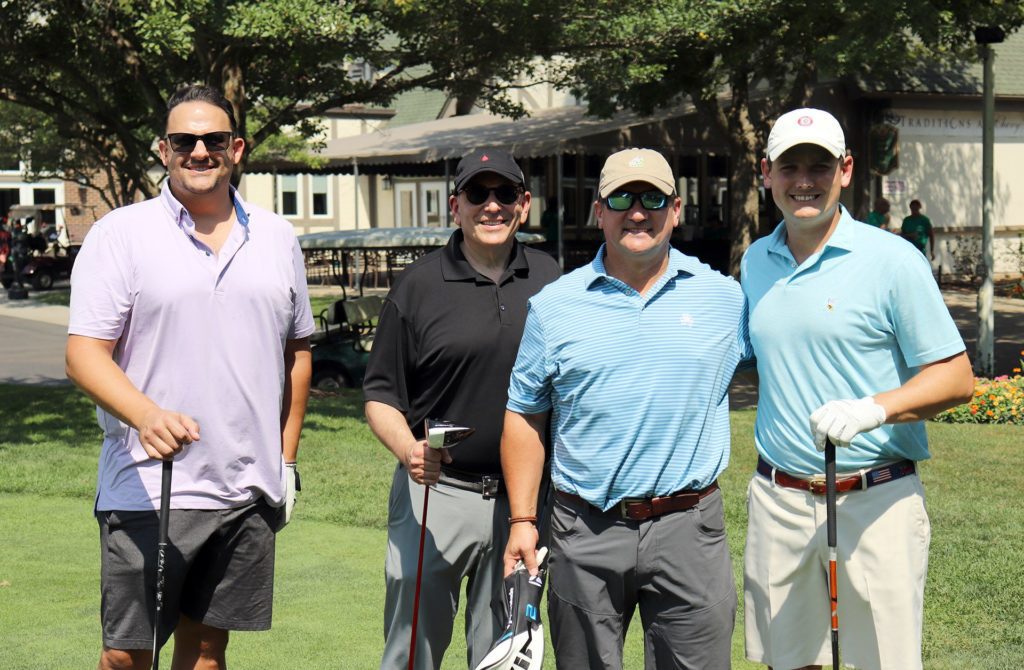 (L-R) Foursome Matt Repa, IBJI Sports Medicine Business Development; Leon Benson, MD, Orthopedic Surgeon; André Blom, IBJI CEO; and Sean Sutphen, DO, Orthopedic Surgeon, get ready to head out for the course.
The silent auction featured signed sports memorabilia and vacation, entertainment, sports, dining, and photography packages, bringing in over $8,000. A little more than $40,000 was raised for Glenkirk, which will help the organization to continue its important work.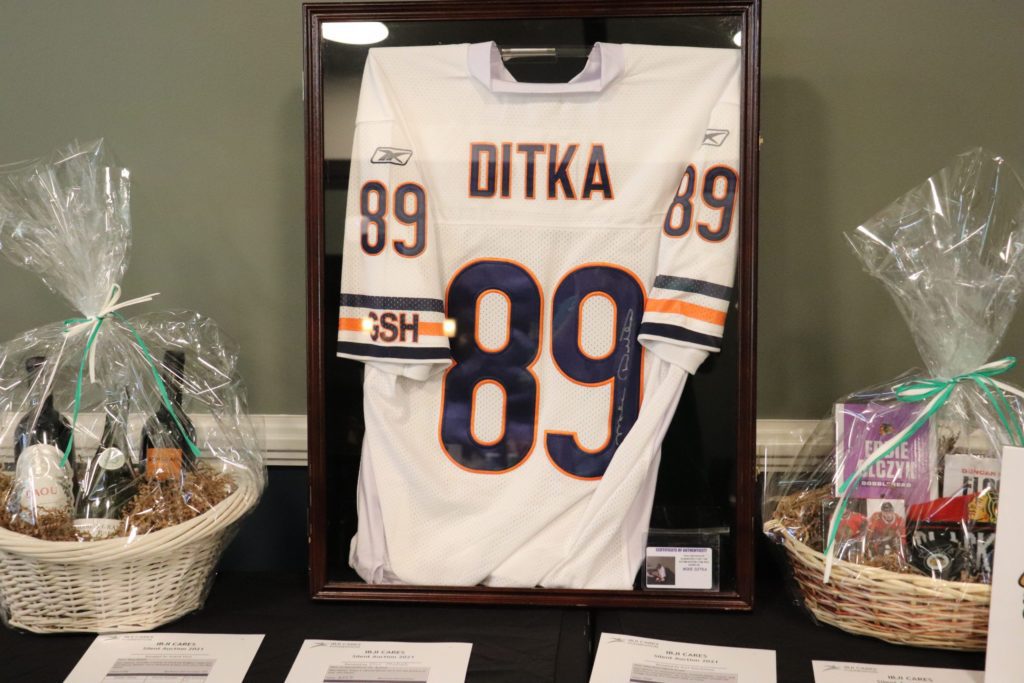 Silent auction items featured sports memorabilia, gift baskets and more.
"IBJI as a whole wants to make a difference in our community and make sure the places we work and live are taken care of, not just as healthcare providers but as human beings," said IBJI CARES Chairperson Vanessa Yee, a physical therapist in the Gurnee office. "It's important for us to partner with organizations that can make a difference for people."

IBJI Orthopedic Surgeon Eric Chehab, MD, offers opening remarks with Glenkirk CEO Kim Berenberg and Parent Advocate Eileen Bennin (left) and IBJI Orthopedic Surgeon Anand Vora, MD.
While raising community awareness and money for Glenkirk, the participants had a lot of fun, staying cool with ice-cold towels and beverages distributed throughout the day by volunteers.
Results
The longest drive award was given to Matt White and Megan Lundren-Buck. Jerry Zemela and Laura Austwick won for longest putt, and the winning foursome was Joel Hawkins, Dave Becker, Pete Becker, and John Mizia with a score of 61.
"We want to thank all of the doctors and participants who came out in the stifling heat to support IBJI and Glenkirk," Yee said. "I think it went really well."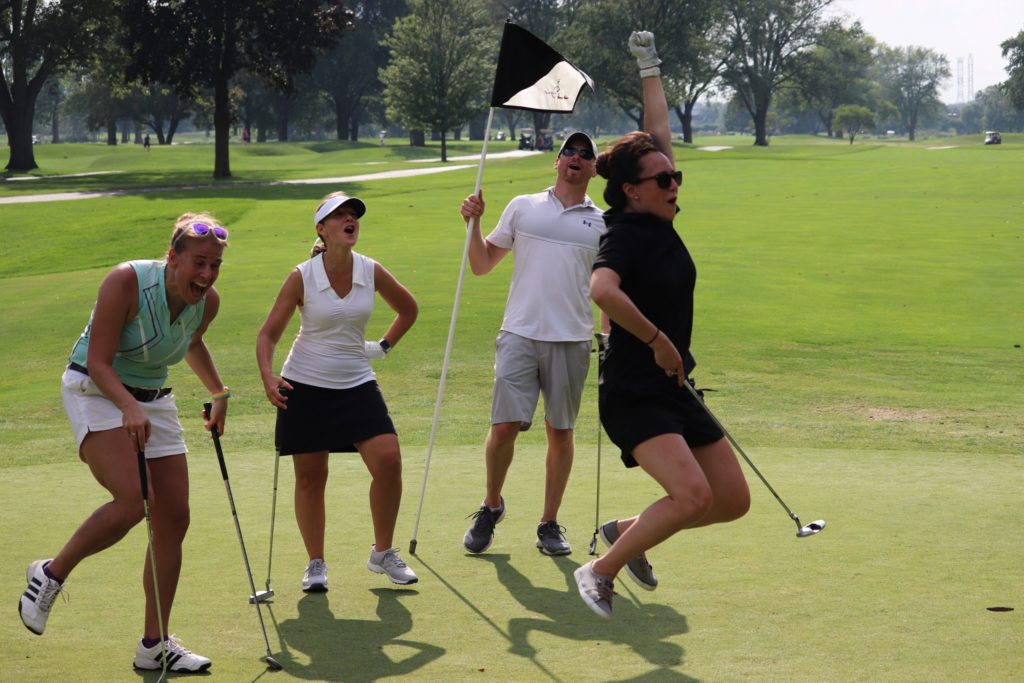 (L-R) Maggie Sketch, IBJI Senior Marketing Manager; Julie DiGiovanna, PT, Director of OrthoSync Clinical Services; and Mike Losch, IBJI Assistant Director or Rehab celebrate a long putt by Amy Illarde, IBJI Director of Communications and Employee Engagement.
Applications for organizations who want to partner with IBJI in the 2022 IBJI CARES Golf Outing fundraiser open this month and will continue through October. A decision will be made by the end of the year, Yee said.
"Our first partner in 2019 was New Life Shelter, and Glenkirk was our partner in 2020 and 2021 due to the pandemic," Yee explained. "Next year, we'll have a different partner, and we're planning on another golf outing, date to be determined."
IBJI is grateful for the generosity of this year's golf outing sponsors: