IBJI physician and podiatric surgeon Douglas Solway, DPM, FACFAS, FAPWCA, loves to create his own masterpieces in the kitchen. He cooks almost every day of the week and creates his own delicious recipes! When he sees a dish that inspires him, he will recreate it and often adds a personal twist to it. Dr. Solway's specialty is southern and Texas style BBQ.
Cook like a doc, with Dr. Solway's very own recipe for grilled salmon with a dijon-dill chimichurri, sautéed mushrooms and garlic spinach. Yum!
Approximate nutritional value was calculated by Dr. Solway.
Ingredients
Fish:
Four 4 oz pieces of Salmon
½ cup fresh shiitake mushrooms sliced
½ cup fresh oyster mushrooms sliced
½ cup fresh baby bella mushrooms sliced
Two 10 oz bags of fresh baby spinach (washed)
One clove of garlic finely chopped
One cup of colored cherry tomatoes
3 Tbsp Olive Oil
One lemon
1 Tbsp butter
¼ cup dry white wine
Salt and pepper
Directions
Chimichurri Sauce:
¼ cup chopped fresh dill
¼ cup chopped fresh Italian parsley
3 Tbsp of chopped fresh chives
One shallot finely chopped
One tbsp Dijon mustard
One tbsp white balsamic vinegar
One tbsp lemon juice
¼ tsp sea salt
¼ tsp ground black pepper
¼ tsp of red pepper flakes
2 Tbsp olive oil
Clean and slice mushrooms. Discard the stems. Place 1 Tbsp olive oil in a sauté pan on high heat. Place mushrooms in the pan and sauté until slightly tender. Pour in white wine and continue cooking until liquid is evaporated. Add 1 Tbsp butter and continue cooking until browned. Remove mushrooms from pan and set aside. Salt and pepper to taste.
In the same pan, add 1 Tbsp of olive oil on medium heat. Add spinach to the pan and sauté until wilted. Add the one clove of chopped garlic. Add 1 tsp of grated lemon zest to the spinach and salt and pepper to taste. Remove from pan and place in separate bowl.
Place the same pan on medium heat. Add the cherry tomatoes with ½ Tbsp of olive oil. Sauté for 3 minutes and salt and pepper to taste. Remove from heat. You want the tomatoes heated but not fully cooked. (Keep all veggies in oven on 150 to keep warm until the fish is cooked.)
Finally rub the salmon filets with remaining olive oil. Salt and pepper both sides and set aside.
For the chimichurri sauce add all the ingredients into a small food processor or blender. And pulse until all ingredients are finely chopped making a loose paste.
Grill the fish to your taste. Some like it well done while some may like it a bit raw in the center. About 4-5 minutes each side on high heat. Tip: spray the grill grate just before placing the fish on with olive oil cooking spray so it does not stick.
Assemble the dish by placing ½ cup of the garlic spinach on the bottom of the plate in a circle. Then apply ¼ cup of the mushrooms on top of the spinach. Add the fish filet on top of mushrooms. Add three to four sautéed tomatoes to the plate. Drizzle 1-2 Tbsp of chimichurri over the fish.
Great to pair with sparkling rosé wine or chardonnay!
Basic Nutrition per serving
396 calories
11.8g* of fat
26.63g protein
7g carbohydrate
2.6g fiber
*Only 0.72g of saturated fat.
*Salmon fats have been known to help lower cholesterol.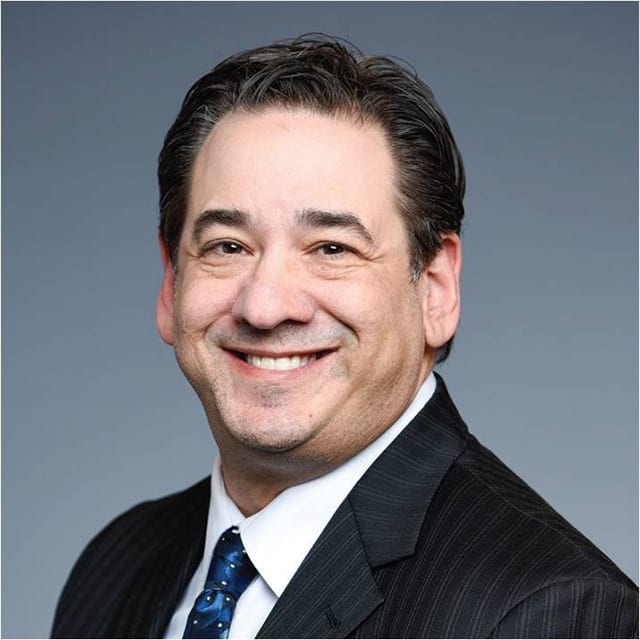 About the Author
Dr. Douglas Solway is a podiatric physician who specializes in the treatment of many conditions of the foot and ankle. He also heads the wound care clinic at IBJI in Morton Grove, where he treats lower extremity non-healing wounds.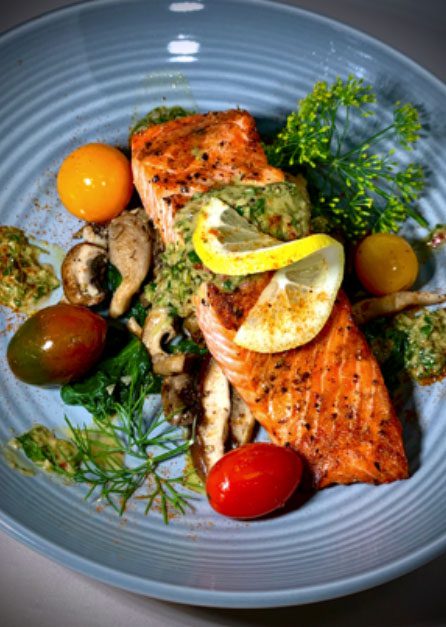 Photo taken by Dr. Solway.