Adolescent Athlete Knee Pain, is it Osgood-Schlatter Disease?
Osgood-Schlatter is a painful disease that occurs on the tibial tubercule, which is right under the knee on the upper portion of the shinbone on adolescent's who are going through growth spurts. Physicians believe that it is caused by small, but frequent injuries to an area of the body that is a already under great stress from growing. The quadriceps muscle is one of the primary muscles used for running, jumping, and climbing. When it is overused, the quadriceps can become inflamed, swollen, and very painful. In Osgood-Schlatter Disease cases this swelling occurs on the tibial tubercule.
Symptoms of Osgood-Schlatter Disease
There are some specific warning signs of Osgood Schlatter Disease to watch for, including:
Swelling on the bump right below the knee
Pain or tenderness around the knee
Pain in one or both legs
Running, jumping and climbing may cause increased pain
Mild to sever swelling
Potential Treatments For Osgood Schlatter
An orthopedic physician may prescribe simple things, like rest and abstaining from any physical activities for a few days. They may also prescribe using ice and elevation to help decrease the swelling. In some cases the pain and swelling may be managed by the use of non-steroidal anti-inflammatory drugs. In sever cases, when the at home care options don't work, a physician may prescribe an extended period of rest, from one to six months. In some cases corticosteroids are used to reduce the swelling and help with pain relief. In the worst cases the patient may need to wear either a cast or a brace for up to two months. These patients also will need to use crutches to keep the weight off the leg. In the most rare and incredibly extreme cases surgical intervention will be needed to relieve the pain and repair the damage.
The Best Place For Care
In Illinois, the best choice for care of Osgood-Schlatter Disease, or any other adolescent orthopedic issue, is IBJI. The pediatric orthopedic doctors at the Illinois Bone and Joint Institute have years of experience caring for kids. If you suspect your child has Osgood-Schlatter Disease, don't start treatment on your own. You need to contact a physician to ensure that your child's pain is from Osgood-Schlatter and not something more serious. Make an appointment today with a pediatric orthopedic physician to get your child the best care available in Illinois.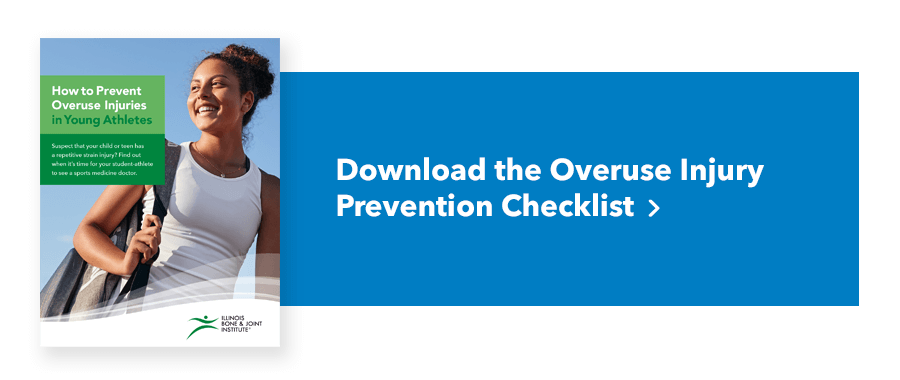 *This content is for information only and is not intended to replace the diagnosis, treatment, or medical advice from your treating healthcare professionals. The content does not provide medical advice, does not constitute the practice of medicine or other healthcare professional services, and does not create a doctor-patient relationship. You should not rely on this information as a substitute, nor does it replace professional medical advice, diagnosis, or treatment. If you have concerns or questions, seek the advice of your healthcare professionals. If you think you may have a medical emergency, call your doctor or 911 immediately. Do not rely on electronic communications or communicate through this website for immediate, urgent medical needs. This website is not designed to facilitate medical emergencies. The use of the information is at the reader's own risk. The links are provided for information and convenience only. We cannot accept responsibility for the sites linked or the information found here. A link does not imply an endorsement of a site.