With advanced technologies constantly evolving, the types of knee replacements offered to patients continue to improve. In fact, according to research from the American Academy of Orthopedic Surgeons, more than 90% of modern knee replacement surgeries are still functioning well 15 years after the surgery.
Knee replacements can vary significantly based on different manufacturers, the materials used, the design of the components and how they function mechanically, and the methods and surgical techniques/philosophies employed to implant them.
Orthopedic knee surgeons categorize knee surgery in two ways: ligament sparing or ligament sacrificing, in regards to the posterior cruciate ligament in the knee.
Robotic knee replacements, one of the types of knee replacements considered to be the latest technology, use a robot to assist the surgeon, as well as patient-specific implantation guides which are image-guided.
If you opt for a full or total knee replacement, an orthopedic surgeon will replace the entire surface of your knee with a prosthetic. Knee surgeons can also perform a partial knee replacement, only treating the portion of the knee that contains arthritis.
There are different options for securing knee parts. They may be cemented, uncemented, or press-fit knee replacements.
Read on to learn about the types of knee replacement approaches, knee replacement surgical options, and implants to find out when and if you should schedule a visit with a knee surgeon.
Why Is Knee Surgery Done?
Knee replacement is done for patients when they suffer from end-stage knee arthritis.
Advanced arthritis can occur for various reasons, such as genetic or environmental factors, when people have suffered an old sports injury, or if they've developed other medical conditions. Surgery may be a good option when you have tried all reasonable conservative or non-surgical options.
If you are a patient who wants to continue with a healthy, active lifestyle and you are a candidate for surgery, then knee replacement would be a good option you can discuss with your orthopedic surgeon.
Your doctor can talk with you about the types of knee replacements, and you can decide with the help of your care team.
Discover How Knee Replacement Provides Bone-on-Bone Knee Pain Relief →
Benefits of Knee Surgery
Knee replacements can significantly improve the quality of life for people with end-stage arthritis or osteoarthritis. You can maintain or improve motion, remain active, and live a pain-free life.
The debilitating pain you once felt can be significantly diminished or completely gone, depending on your specific case.
In most cases, the types of knee replacements offered today can help you address some of the other issues plaguing you, like the inability to exercise, travel, work, or sleep.
Weight loss is another benefit of knee surgery because the pain preventing you from walking and exercising is no longer in the picture.
Risks of Knee Surgery
There are risks with any surgical intervention. The most common complication could be skin numbness. Other risks could be infection, stiffness, component malpositioning, or loosening of the implant. In general, if patients participate in physical therapy, the vast majority will have good to excellent outcomes.
Learn About How a Knee Replacement Is Done →
Tips for Preparing for Having a Knee Replacement Surgery
Preparing ahead of time for any available knee replacement approaches is critical to your recovery. Your knee surgeon and care team will provide you with a packet of information to help you complete tasks ahead of surgery, ensuring the best possible recovery.
These tips may include:
Prepping Your Home for Surgery
Getting Necessary Durable Medical Equipment (e.g., Walkers, Canes, Raised Toilet Seats, Grab Bars, etc.)
Filling Pain Medication Prescriptions Ahead of Time
Scheduling and Starting Physical Therapy Before Surgery
What to Expect After Knee Surgery
Since there are many types of knee replacements, your post-op experience can vary. However, you can generally expect to experience some pain following knee surgery, swelling or warmth at the incision site, and difficulty sleeping at times. These are all typical post-operative experiences you can mentally prepare for, and they should improve weekly.
Immediately after surgery, your pain will be minimal. This is because, in the first 24–48 hours, your body will still have an effective nerve block, anesthesia, and medication administered inside your knee during the operation.
Your doctor will keep you comfortable with additional pain medication prescriptions over the next few weeks, weaning you off narcotic medications when deemed appropriate.
You should expect to ice your knee and walk every hour for at least 10 minutes to help with recovery. In fact, your physician will have you move the same day of the operation.
When You Go Home to Heal
Your physician will employ techniques similar to what plastic surgeons utilize. In general, stitching stays inside the incision, and the surgeon uses a special mesh and skin sealant on the outside. This facilitates a watertight closure and a more cosmetically appealing scar. This can vary based on the patient and surgeon. Doctors also use a waterproof dressing so that patients can shower immediately. In two weeks, bandages are removed.
Your doctor will advise you to eat healthy, protein-packed foods to give your body the best nutrition possible for recovery.
You should rely on someone else to drive you for a while, and you won't return to work until your physician clears you. This can vary depending on your particular occupation.
Learn More About What to Expect After Knee Replacement Surgery →
Different Types of Knee Replacements and Surgeries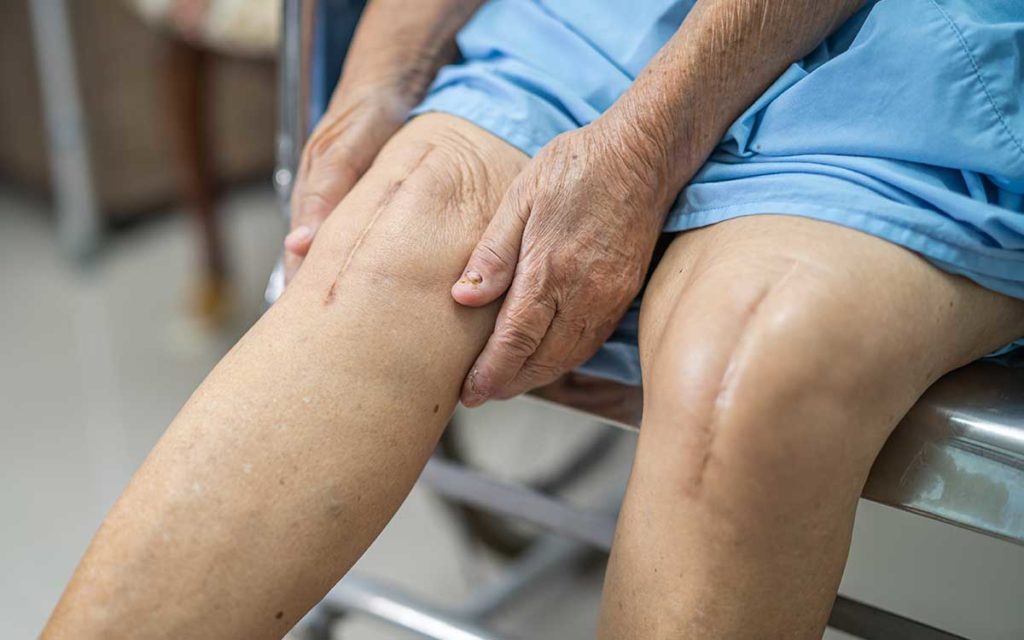 The types of knee replacements offered today give patients myriad options and put them in the driver's seat for decision-making. With the help of your orthopedic knee surgeon, you can discuss your options based on imaging, medical history, lifestyle goals, and general health.
Partial Knee Replacement
A partial knee replacement involves only replacing the damaged portion of the knee. The recovery is shorter, and there may be less pain. If you only have arthritis in one but not all parts of your knee, this may be a good option for you when considering the types of knee replacements offered.
Total Knee Replacement
A total knee replacement removes damaged bone caused by arthritis and replaces it with metal and a very highly studied plastic for parts. The parts are made of strong metals and plastics that last years or even decades, enabling you to regain mobility without pain.
The parts of the body that are cut during the surgery are the very end surfaces of the thighbone, shinbone, and knee cap.
Outpatient Knee Replacement
It has become much more common today to offer outpatient knee replacement surgery. Most patients will go home the same day or have one overnight stay before returning home following their knee surgery.
Studies show patients recover better at home, so at IBJI, we work to get you back to your residence as soon as possible, supported by a home nurse and physical therapist in the initial one to two weeks following surgery.
Learn About the Benefits of Outpatient Joint Replacement →
Double Knee Replacement
Some patients opt to get both knees done simultaneously, but it is not typical. This is also referred to as bilateral knee replacement surgery. Bilateral knee replacements can be considered on a case-by-case basis.
Robotic or Minimally Invasive Knee Replacement
Robotic knee replacement surgery involves making exact cuts with the aid of a robotic arm. This latest technology enables objective feedback during the operation. The robot assists the surgeon with live feedback in establishing perfect alignment and obtaining the maximum range of motion.
Knee Resurfacing
During your knee replacement surgery, your orthopedic surgeon will remove the diseased cartilage, primarily due to arthritis or an old injury. Once the area is resurfaced, then the metal and plastic portions can adhere to the bone nicely to improve longevity.
Read Our Ultimate Guide to Finding Knee Pain Relief
Osteotomy Knee Surgery
Another term used to describe the cutting or resurfacing portion of knee replacement surgery.
Knee Revision Surgery
Revision knee surgery is a blanket statement that refers to any reason to do a knee replacement surgery to change out "old parts." This can be as small as changing the bearing of an old knee replacement all the way up to removing all parts and redoing the entire knee.
How to Choose the Best Knee Surgeon
It's best to choose an orthopedic surgeon who is fellowship-trained in joint replacement and who has a lot of experience in performing them. Choosing someone you feel comfortable with and who can help guide you through the decision-making process is essential.
Many patients benefit from talking to others – family, friends, or neighbors – about the types of knee replacements. Patients who have had knee replacement surgery can attest to the quality of care they received.
IBJI offers a blog with success stories from patients willing to share their recovery experiences.
Staff Experience and Expertise
You will want to select a physician who specializes in all types of knee replacements and who has the backing of a supportive team with excellent communication skills.
At IBJI, you will find coordinated care teams, including your orthopedic knee surgeon, their MA, the front desk staff in charge of scheduling, physical therapists, and athletic trainers (if you are an athlete wanting to return to your sport), massage therapists, and more.
Everything you need is under one practice with multiple convenient locations, all with the expertise you'd expect and a team approach to care.
Advanced Technologies
It's crucial to choose a healthcare practice with providers who stay abreast of the most advanced technologies available.
Here at IBJI, our orthopedic surgeons use evidence-based knee replacement surgical options so you can have the best patient outcome with the least amount of risk.
Learn More About New Technologies and the History of Total Knee Replacement →
FAQs About Types of Knee Replacements
It's normal to have many questions about modern knee replacement surgery options and the types of knee replacement approaches available. Below, we have answered some of the most commonly asked questions about knee replacement surgical options.
What Is the Newest Type of Knee Replacement?
Robot-assisted surgeries are the latest advancement in the field of knee replacements.
What Is the Best Type of Knee Replacement?
The best type of knee replacement is one that is put in correctly the first time. Most modern implant designs can yield excellent outcomes. It's more important to have proper component positioning, alignment, and balancing.
Is It Ever Too Late for Knee Replacement?
No, it's never too late as long as the patient is healthy enough to withstand the operation.
How Long Does a Knee Replacement Last?
It depends on the patient and several factors, but our goal is that a knee replacement will last at least 20 years or longer.
Who Is a Good Candidate for Knee Replacement Surgery?
Any patient who has debilitating pain and has exhausted other nonsurgical options may be a good candidate for various types of knee replacements.
One thing to keep in mind is that your orthopedic surgeon views surgery as a last option, not a first response.
Also, you may not need a total or full knee replacement. When considering the types of knee replacements available, you and your doctor may decide on a partial knee replacement to treat only the diseased part of your knee.
Read About Ryan's Partial Knee Replacement →
Meet Some of Our IBJI Knee Surgeons
Here at IBJI, our team of fellowship-trained knee surgeons can help you to address your knee pain, talk about the different types of knee replacements, select the right surgery for you, and get you back to doing the things you love as quickly as possible.
IBJI offers convenient locations across the Chicagoland area. We are experts in all types of knee replacements, including knee implants, full and partial knee replacements, and robotic-assisted knee surgery.
Get Connected with an IBJI Knee Surgeon
Talking to a knee surgeon can help you figure out the best option. Find a knee replacement surgeon and when you're ready, schedule an appointment.
You Might Also Like …