If you're considering knee replacement, you may be wondering what happens after surgery, during your knee replacement recovery period. Following your recovery plan and your doctor's orders will make a big impact on the outcome of your surgery.
Keep reading to learn more about what to expect during the surgery recovery process and what you can do to help your body heal.
How Will I Feel During Knee Replacement Recovery?
For the human knee to function normally, three conditions need to be fulfilled: it should be pain-free, stable, and have a full range of motion. Certain diseases, like osteoarthritis, can lead to functional disorders in the knee, manifested by pain and instability.
Knee replacement surgery, also known as knee arthroplasty, can help relieve the common causes of knee pain, increase stability, and improve mobility.
In the last decade, there has been a lot of progress in this kind of surgery, and knee replacement recovery times are faster than ever.
Most people who have total knee replacement surgery will experience reduced pain, increased range of motion, and greater stability. Overall, the improvements after surgery increase the quality of life as many patients can walk without crutches or walkers.
How Long Does the Healing Process Take?
Immediately after surgery, there will be some general swelling from the surgery and some pain from the actual procedure. It is essential to use your walker or crutches until your physician says you no longer need them.
After four to six weeks, most people can resume normal day-to-day activities, including walking, driving, and doing light chores around the house. Your knee replacement recovery time will be dependent on your situation and if you consistently follow your physical therapy plan.
Will I Need Physical Therapy After Surgery?
Physical therapy is almost always recommended for knee replacement surgery patients to help them have a fuller and faster recovery. The exercises will help strengthen your knee and other muscles in your leg required to gain a full range of motion and maintain stability.
Some patients stop physical therapy once they feel ready to do regular day-to-day activities, but it's essential to see your knee replacement recovery plan all the way through for the best results.
As soon as you start feeling pain, it is necessary to begin with analgesia. The same goes for the application of pain medication that you usually use.
The risks of arthroscopic knee surgery today are minimal. Most patients enjoy an increased quality of life due to decreased pain and increased mobility. After four to six weeks, most people can walk with assistance from crutches or a walker, but must continue physical therapy until recovery is complete.
Trust IBJI When You Need Knee Replacement Surgery
Move better and live better during knee replacement recovery with help from IBJI's highly-trained knee surgeons, physical therapists, and orthopedic specialists.
We are experts in knee replacement surgery. Our practice has more than 150 physicians at 100 locations in the Chicagoland area, with expertise in surgical and non-surgical treatments for chronic knee pain and other orthopedic specialties.
Last updated in May 2022.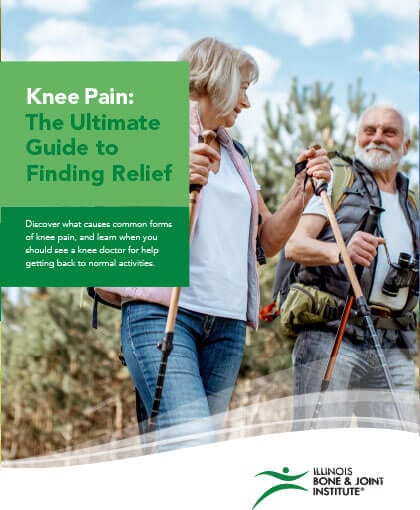 Get the Ultimate Guide to Finding Knee Pain Relief
*This content is for information only and is not intended to replace the diagnosis, treatment, or medical advice from your treating healthcare professionals. The content does not provide medical advice, does not constitute the practice of medicine or other healthcare professional services, and does not create a doctor-patient relationship. You should not rely on this information as a substitute, nor does it replace professional medical advice, diagnosis, or treatment. If you have concerns or questions, seek the advice of your healthcare professionals. If you think you may have a medical emergency, call your doctor or 911 immediately. Do not rely on electronic communications or communicate through this website for immediate, urgent medical needs. This website is not designed to facilitate medical emergencies. The use of the information is at the reader's own risk. The links are provided for information and convenience only. We cannot accept responsibility for the sites linked or the information found here. A link does not imply an endorsement of a site.