IBJI physician and podiatric surgeon Douglas Solway, DPM, loves to create his own recipes. If you are struggling to liven up your dinner with healthy ingredients or seeking inspiration, look no further!
Cook like a doctor with Dr. Solway's perfect fall salad recipe. Filled with nutritious seasonal vegetables like acorn squash, apples, beets, and fennel, topped with toasted goat cheese and apple cider-honey vinaigrette. You do not want to miss out!
Fall Roasted Savoy Cabbage Salad with Fennel, Beets, Acorn Squash, Apple, with Toasted Goat Cheese and Apple Cider-Honey Vinaigrette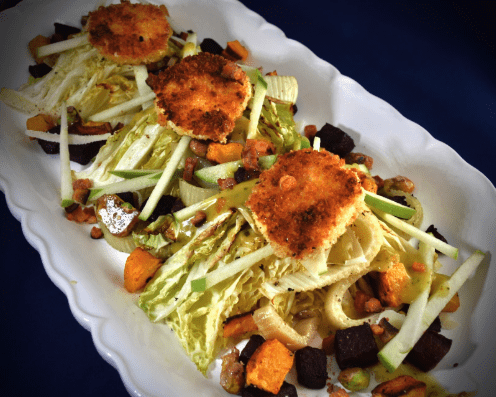 Savoy Cabbage Salad with Fennel, Beets, Acorn Squash, Apple, with Toasted Goat Cheese and Apple Cider-Honey Vinaigrette
Prep-time: One hour
Servings: Three
Ingredients:
1 medium savoy cabbage
1 bulb fresh fennel
1 medium red beet
1 acorn squash
1 apple of choice (Dr. Solway prefers granny smith apples)
2 tablespoons olive oil
¼ Teaspoon salt
¼ Teaspoon fresh ground pepper
¼ Teaspoon cinnamon
⅛ Cup of shelled pistachio nuts (If you're allergic to nuts, use dried cranberries)
¼ Cup sugar
1 4oz packet of plain goat cheese
¼ Panko bread crumbs
¼ Cup flour
1 egg beaten
1 slice of thick cut bacon (Preferably nitrite free)
Vinaigrette Dressing:
½ Cup of extra virgin olive oil
¼ Cup of apple cider vinegar
1 tablespoon of honey
1 sprig of fresh rosemary
2 teaspoons of dijon mustard
Salt and pepper to taste
Directions:
Wash vegetables beforehand. Cut savoy cabbage in half. Use one half of cabbage and cut into wedges leaving stem intact. You should get three wedges from one half by cutting into thirds.
Cut acorn squash in half. Scoop out seeds, remove the skin and cut into ½ inch cubes. Peel the beet and cut into ½ inch cubes as well (remember you will be cooking the entire beet and acorn squash any leftovers can be used for a side vegetable or frozen).
Place the wedges of cabbage on a sheet pan with one tablespoon of extra virgin olive oil and drizzle over the cabbage. Sprinkle with salt and pepper to taste. Do the same with the beets and squash. (Remember the beets will take the longest to roast).
Place in oven on 350 degrees until cabbage starts to wilt and brown around edges (about ½ hour). The beets and acorn quash need to be fork tender- about 40 minutes. Let all the veggies cool. While the vegetables are roasting, you can prepare the other components of the salad.
In a small saucepan on high heat, add sugar. Add a sprinkle of the powdered cinnamon to the sugar and stir until melted. Turn down heat to medium and add shelled pistachios. Stir until all the nuts are covered in sugar, remove from pan, and let cool, separate when cooled.
Using a blender pour in apple cider vinegar and olive oil. Add finely chopped rosemary leaves, salt, pepper, honey and dijon mustard. Blend until smooth and coats the back of a spoon. If it does not seem thick enough, you can add another few tablespoons of olive oil. Set vinaigrette aside.
In a small sauté pan cut up bacon in very small pieces and render down on medium heat until brown and crispy remove from pan and place on paper towel (A trick to get it crispy is removing bacon grease during the cooking process).
Cut goat cheese in ¼ thick rounds (about three slices). Dredge in flour then into the beaten egg. Dredge in panko bread crumbs. Heat a small sauté pan add one tablespoon of olive oil on medium heat. Add the rounds of goat cheese to pan and brown on each side and remove. Place on a paper towel to remove excess oil.
By this time the roasted vegetables should be done and cooling. Get a platter to plate ingredients and apply about one tablespoon of dressing on the plate. Add wedges of cabbage first. Then arrange the beets and squash around the platter (about 1/8 cup each).
Next, place rounds of toasted goat cheese over each wedge of cabbage. Drizzle about 1/2 tablespoon of vinaigrette over each wedge. Sprinkle bacon bits and pistachios over the platter (about 1/8 cup).
Finally cut an apple in half, thinly slice and disperse evenly on the plate. Drizzle one more tablespoon of dressing over the finished salad. Serve as soon as possible or keep refrigerated. Remember if someone is allergic to nuts, substitute dried cranberries instead of pistachios.
Approximate Nutrition Data Per Serving:
* About 7gm Saturated Per Serving. The majority of fat is poly and monounsaturated fat.
* This Salad is high in Vitamins C, B6, A, K, Potassium, Mg, Calcium, Iron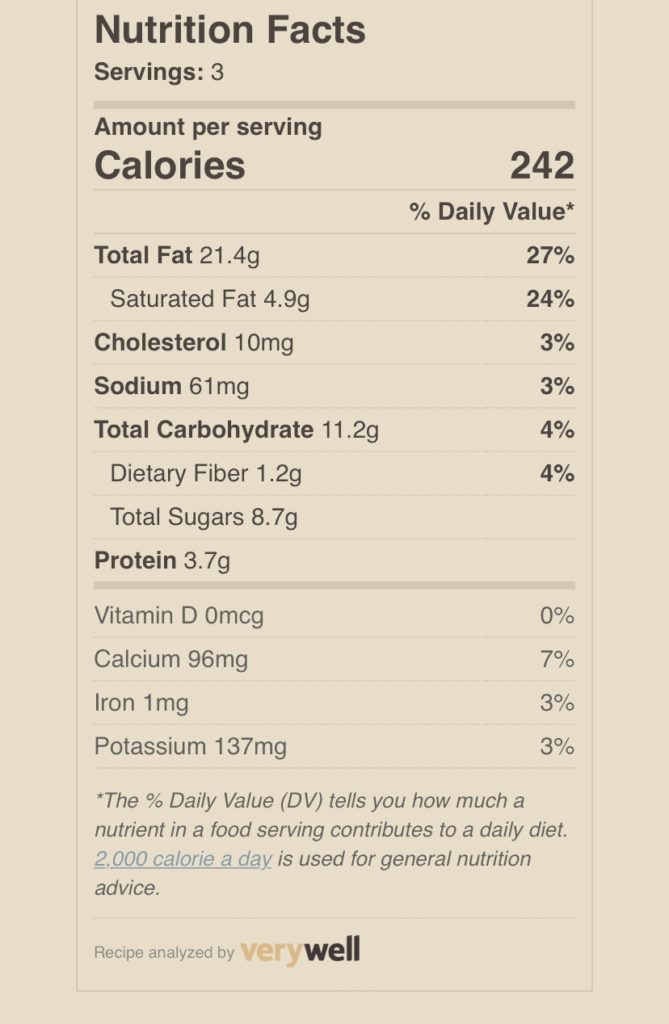 The approximate nutritional value was calculated by Dr. Solway.
For more recipes, visit our Nutrition Counseling page!
Douglas Solway, DPM, is a podiatric physician who specializes in the treatment of many conditions of the foot and ankle. He also heads the wound care clinic at IBJI in Morton Grove, where he treats lower extremity non-healing wounds.