A telltale sign that summer is coming to an end are the promotional ads for back-to-school supplies. Pens, calculators, and folders will begin to fill shopping carts across the country. A new backpack may even be on your list, and if so, you'll need to know how it should fit and how much you can pack in it before it negatively affects the body.
Gary Shapiro, MD, an orthopedic surgeon who specializes in treating spine problems in adults and children at Illinois Bone & Joint Institute (IBJI), gives advice on how to fit and wear a backpack to avoid neck, shoulder and back pain.
Backpacks are a great option to carry supplies, but incorrect fitting, overpacking, and prolonged carrying time increases the risk of neck, shoulder, and back pain. Shapiro says, "When a backpack is too heavy or incorrectly worn, the force can place the body in an unnatural position. This can lead to arching or flexing the back, and overworking muscles in an effort to compensate, which can lead to bad posture, rounding of the shoulders, and even falls."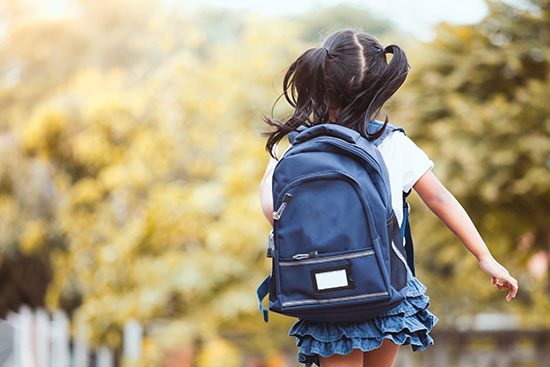 When fitting that backpack, he advises, "Adjust the straps so that the backpack sits two inches below the shoulder and at least two inches above the pelvic bones. It [the backpack] should never be longer or wider than the torso," says Shapiro.
Choose comfort over style. The backpack should have wide, padded straps, a padded back and a waist strap to help evenly distribute weight around the body. Straps can cause discomfort in the shoulders and affect circulation in the arms if they are too tight, narrow, or not sufficiently padded. Additionally, wear both straps at all times. Shapiro says, "Wearing only one strap can cause you to lean to that side, which leads to uneven stress on the back and affects posture." Fortunately, Shapiro says that any postural changes with backpack wear have been shown to be reversible when the backpacks are removed. There is no evidence of scoliosis associated with backpacks.
When packing your bag, Shapiro says, "Put the heaviest books on the bottom of the backpack, closest to the body, and centered. Utilize the multiple compartments to help distribute weight. In addition, keeping the backpack close to the back with properly adjusted straps is advantageous for control and ergonomics and limits the backpack from swinging back and forth."
Shapiro suggests limiting backpack weight to 5-10% of your body weight. Students can limit backpack weight and carrying time by utilizing school lockers and having a second set of books at home.
Wondering about alternatives to backpacks?
Backpacks are a better alternative to tote bags and laptop bags because backpacks allow the strong back and abdominal muscles to help support the weight of their contents. Weight in a backpack is evenly distributed across the shoulders and back, reducing neck and shoulder strain that can occur when bags are carried on one shoulder.
Gary Shapiro, MD, is a board-certified orthopedic surgeon who specializes in treating spine problems in adults and children. He has particular interest in sports related spinal injuries and has treated professional athletes from around the world, including serving for three years as the official spine surgeon for the Chicago Bears.
*This content is for information only and is not intended to replace the diagnosis, treatment, or medical advice from your treating healthcare professionals. The content does not provide medical advice, does not constitute the practice of medicine or other healthcare professional services, and does not create a doctor-patient relationship. You should not rely on this information as a substitute, nor does it replace professional medical advice, diagnosis, or treatment. If you have concerns or questions, seek the advice of your healthcare professionals. If you think you may have a medical emergency, call your doctor or 911 immediately. Do not rely on electronic communications or communicate through this website for immediate, urgent medical needs. This website is not designed to facilitate medical emergencies. The use of the information is at the reader's own risk. The links are provided for information and convenience only. We cannot accept responsibility for the sites linked or the information found here. A link does not imply an endorsement of a site.