The new year is off to a running start with work, to do lists and personal activities. The fast pace can increase stress leading to limited workout time, tense muscles and fatigue. IBJI's Pilates Instructor, Yvonne Taylor, MS, NASM, STOTT, is here to recommend a few Yoga poses and easy Pilates exercises to help you destress, get strong, and increase energy without taking too much time out of your busy day.
The Roll Up- Pilates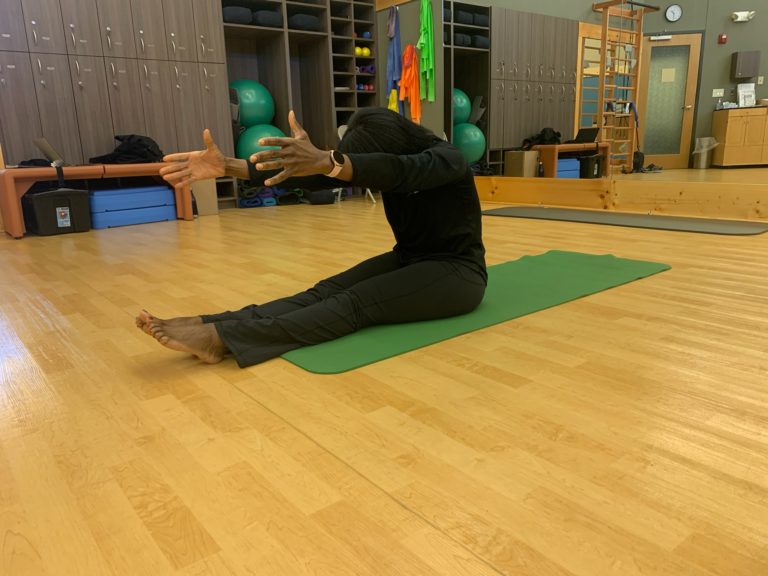 Yvonne Taylor demonstrating the Roll Up.
A healthy spine and strong core are key ingredients to optimal health and efficient function. The roll up moves the spine through full range of motion (flexion and extension), engaging deep abdominal muscles while stabilizing the spine and strengthening your abdominals. Proper execution of this exercise results in:
stronger tighter, flatter abdominals.
Bird Dog (Yoga)/ Swimming Prep (Pilates)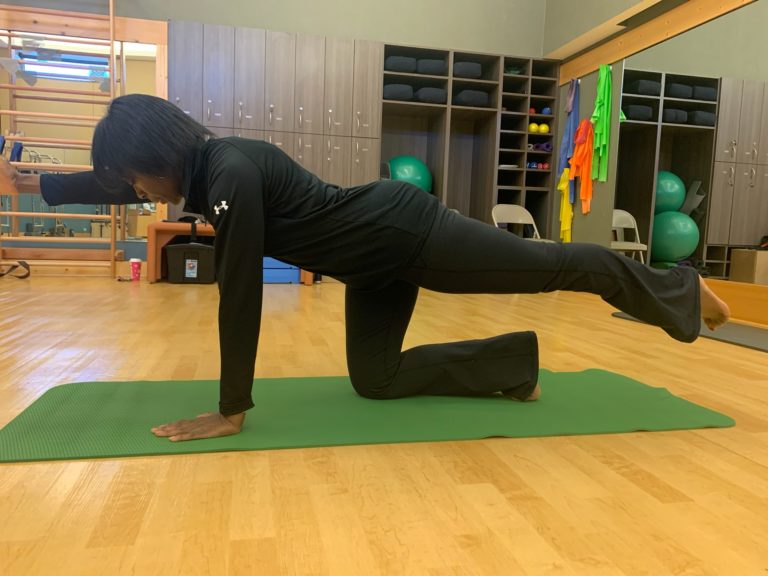 Yvonne Taylor demonstrating Bird Dog/Swimming Prep.
This exercise is known as the "Bird Dog" pose in Yoga and the "Swimming Prep" in Pilates. It provides the following benefits for the body:
strengthens and stabilizes the core.
strengthens the lower back.
challenges, and increases balance.
Prepares the body to stabilize shoulder blades (keeping shoulders from the ears), keeping abdominals engaged for proper balance during contralateral movement during swimming exercise in Pilates.
The Swan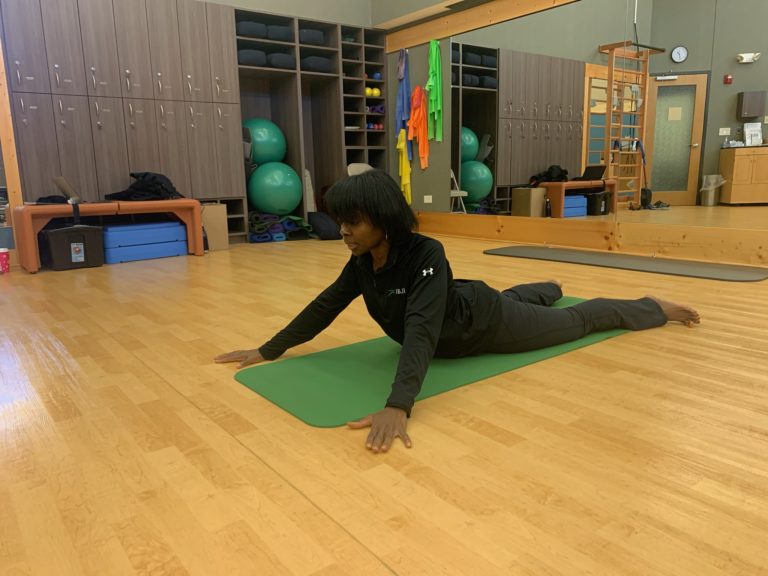 Yvonne Taylor demonstrating the Swan.
The Swan is a great exercise to open the front-body, counter balancing the forward flexion position that we work in due to computers and the use of handheld devices.
This exercise expands the chest and stretches the abdominals, hip flexors and quadriceps.
The Swan also strengthens by keeping the abdominals engaged through pelvic floor activation, the shoulders, back, inner thighs, glutes, and hamstrings are also at work.
Hip Bridge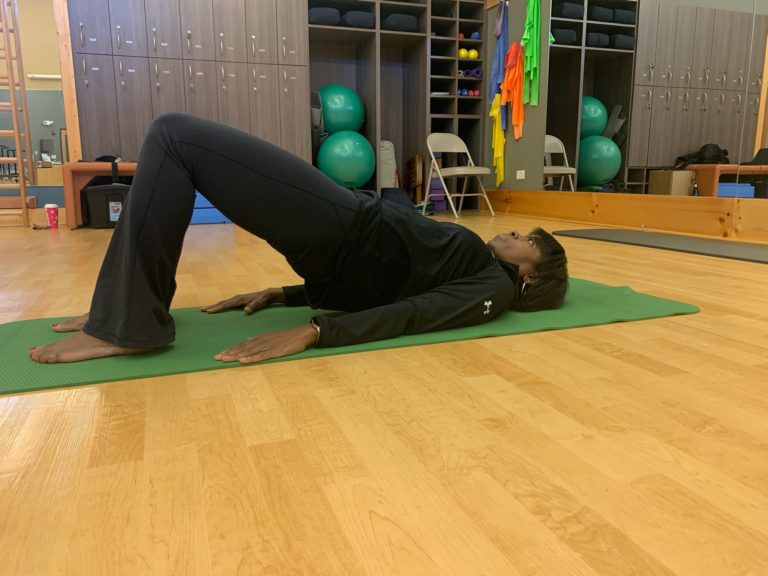 Yvonne Taylor demonstrating Hip Bridge.
A great exercise that activates the back of the body while opening the front of the body. The hip bridge is used in both Yoga and Pilates as a hip opener. The benefits of this exercise includes:
Stabilize and strengthen abdominal muscles through activation of the pelvic floor.
Activation of the glutes.
Open the hip flexors.
Relieves tight hips, balances muscles, relieves discomfort.
Lotus Pose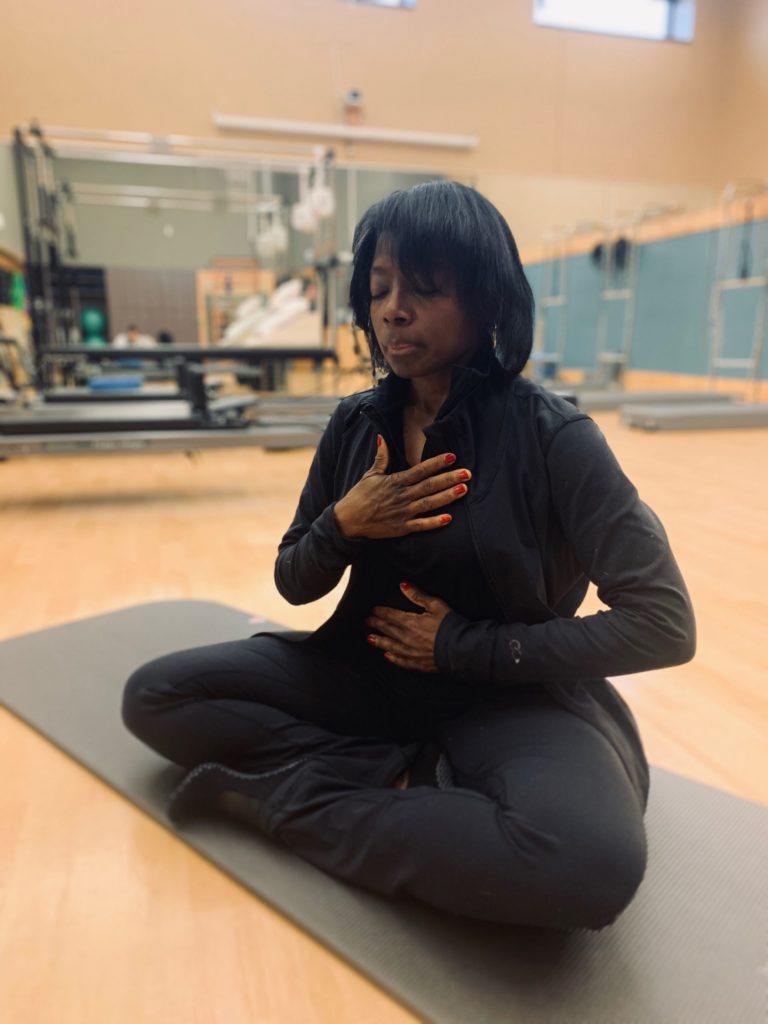 Yvonne Taylor demonstrating Lotus Pose.
This is a common, recognizable pose in yoga that provides the following benefits:
Opens the hips.
Calms the mind and body.
Helps focus breathing.
Helps keep joints and ligaments flexible.
Increases awareness and attentiveness.
Utilizing a mix of these movements will help you to achieve and maintain strength, balance and focus for optimal health. If you're looking to try something new this year, get started with our Pilates Instructor, Yvonne Taylor. For details about Pilates or to schedule an appointment, contact Yvonne at ytbennett@ibji.com.