Get a Free Screening
Set up a complimentary injury screening with one of IBJI's licensed therapists and certified athletic trainers and take the first step toward moving and living better.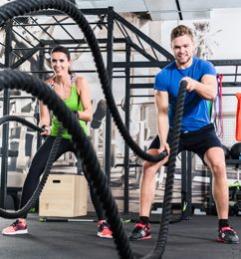 Contact Us
There are three convenient ways to schedule your appointment:
Download our free app
Call IBJI at 224-765-5550
We offer small or large group fitness classes, health coaching, nutrition guidance, massage therapy, and acupuncture. HPI also provides personal training for fitness or health performance and sport-specific training.
HPI is open seven days a week, and our physical therapy services are available Monday through Saturday. Visit us at any of our three convenient locations:
Highland Park
224-765-5550
1919 Skokie Valley Road
Highland Park, IL 60035
Morton Grove
847-779-6050
9000 Waukegan Road, Suite 100
Morton Grove, IL 60053
Mount Prospect
847-512-3091
431 Lakeview Court, Suite E
Mount Prospect, IL 60056
Recover. Train. Perform Better.
The health performance specialists at Health Performance Institute are here to help you achieve your fitness and recovery goals. Meet with our team to establish a treatment plan, complete physical therapy or athletic training, recover from injury, track your health performance progress, and return to your sport better than ever.
HPI offers services and activities to help you recover, train, and perform at a high level, including:
Consultations
Free fitness classes
Massage therapy
Pilates
Acupuncture
FAQs About the Health Performance Institute
Wellness refers to your well-being, which means being in good physical and mental health. Improving your physical health and fitness can benefit your mental health and vice versa.
An integrated performance health and fitness experience is essential for lasting results and maintaining an active lifestyle. Health Performance Institute provides wellness services that allow you to move better, feel better, and prevent injury.
We offer a free consultation and performance screening where you can discuss your health goals with one of our experts and decide if IBJI's Health Performance Institute is a good fit for you.
You can also try out one of our classes for free. If and when you are ready to discuss your fitness goals, request an appointment online to get started.
The Lab at Health Performance Institute Mt. Prospect offers a world-class baseball and softball instruction and training experience with all the equipment you need to practice your hitting, pitching, and fielding.
Our four well-lit, multi-functional cages and turfed areas allow players to practice in a customized environment for the most effective training.
Group training is designed for 3rd-12th grade baseball and softball players. Elite training is also available to help players level up every aspect of their game, with customized programming to help athletes improve their speed, agility, power, and strength.
Generally, athletes should strength train two to four times a week during the season, depending on a few different factors. (e.g., How physical is the sport? How much playing time are they getting? How many hours of sleep are they getting each night?)
Three workouts a week are sufficient if an athlete gets good sleep and eats well. There's a common misconception that athletes might "over-train," but this is hard to do. As long as they prioritize recovery, lifting during the season is a good chance for athletes to maintain and even increase strength and speed, especially high school and collegiate athletes looking to gain an edge.
Each situation is unique and depends on the athlete. What matters is they stay active, even if that means training just once or twice a week
Training volume is the most critical factor in exercise training variables. If you don't see the fitness results you want, assessing your total training volume can help.
Total training volume is a simple equation:
The number of exercise sets multiplied by the number of exercise reps, multiplied by the weight performed (sets x reps x weight).