Pediatric Sports Medicine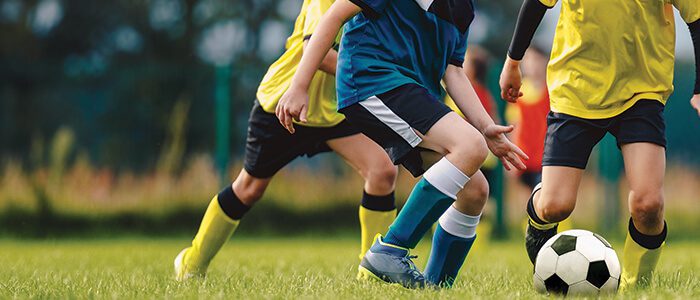 IBJI helps thousands of young athletes each year recover from sports injuries and ailments. Experts in pediatric sports medicine are dedicated to helping all young athletes in diagnosis, treatment, rehabilitation, and injury prevention and education.
We treat a wide variety of conditions, from breaks and sprains to growth-plate injuries, tears, dislocation, and concussion. Our goal is to provide a sustainable and personalized treatment plan that keeps your child going strong, long after they have recovered.
Conditions We Treat
Sprains/Strains
Dislocations
Overuse Injuries
Walking (Gait) Abnormalities
Little League Elbow
Little League Shoulder
Osgood-Schlatter Disease
Osteochondritis Dissecans
Patellar Instability
Stress Fractures
Fractures
Low Back Pain
Spondylolysis
Spondylolisthesis
Shin Splints
Sever's Disease
ACL Tears
Concussion Care
After an accident, you won't always know if your child has a concussion or brain injury. Sports neurologists are physicians who are trained in the diagnosis and management of neurological conditions.
Evaluating your child for a concussion sooner rather than later is better. Thought, we are happy to evaluate them at any point after getting injured. Learn more about IBJI's sports neurology services.
IBJI Health Performance Institute
The IBJI Health Performance Institute (HPI) is a division of Illinois Bone & Joint Institute focused on delivering fitness, sports performance, and wellness services. HPI's mission is to enhance the way you move, feel and perform. At HPI, our fitness professionals, certified sports performance coaches and certified athletic trainers provide comprehensive care for injured athletes at all stages of development.
HPI's state of the art training facility specializes in sports performance and personal training to ensure that all our athletes get the best care and back in the game. HPI helps youth athletes train and recover after sporting injuries by improving strength, flexibility, balance, and coordination
Our team provides sports specific assessments from recreational sports to elite athletics.
HPI Services include:
Throwing Mechanics
Running Evaluations
Personal Performance and Fitness Training
Sport-specific Training
Individual, Small Group, and Large Fitness Classes
Health Coaching and Nutrition
Sports Team Affiliations
Our sports medicine and athletic training experts are proud to provide care to all young athletes, from ballerinas to football players, and from runners to special Olympians.
Here's a look at some of the amateur, semi-professional, and professional athletes who have trusted IBJI with their sports medicine needs:
American Associates of Blind Athletes, Summer World Games
Antioch High School Athletes
Carmel Catholic High School Athletes
Chicago Bears Football
Chicago Blackhawks Hockey
Chicago Bulls Basketball
Chicago Fire Soccer
Chicago Marathon Runners
Chicago Triathlon Athletes
Chicago White Sox Baseball
Chicago Wolves Hockey
Giordano Dance Company
Glenbrook High School Athletes
Grayslake North and Central High School Athletes
Greater Libertyville Soccer Association
Joffrey Ballet
Warren Township High School
Lake County Fielders Baseball
Lake County Rugby
Lake Forest College (NCAA)
Lake Forest High School Athletes
Lakes Township High School Athletes
Philadelphia Kixx
Philadelphia Eagles
New Trier High School Athletes
North Park University Athletes
Northwestern University Varsity Athletes
St. Patrick High School Athletes
Stevenson High School Athletes
Trinity Irish Dance Company
Trinity International University Athletes
U.S. Biathlon Team Olympic Games
U.S. Disabled Sports Team Summer Olympics, Atlanta & Barcelona
U.S. Soccer Federation
Vernon Hills High School