Cathy Irwin, PT, OCS, MHS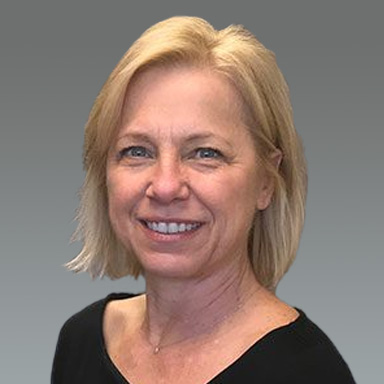 Contact Information
2401 Ravine Way
Suite 100
Glenview, IL 60025

Phone: 847-724-4791

Fax: (847) 998-6916
Biography
Cathy Irwin, PT, OCS, has been practicing in orthopedics for over thirty years, with the last 18 years at the Glenview Illinois Bone & Joint Institute. In 2017, she was promoted to Director of Rehabilitation where her responsibility includes but not limited to: Staff hiring, implementation/training for clinical standards, compliance programs and promoting professional growth of clinicians. She is passionate about why the PT/OT profession should be at the forefront of changing healthcare and preventive medicine.
Cathy enjoys treating in a variety of diagnoses related to extremity injuries, with a special concentration in foot/ankle, orthotic fabrication, and shoe prescription. She has spent many years performing walking and running gait analysis which has allowed her to develop an expertise in the area of cadence training for runners. This form of training develops a more efficient running form to develop more quality movement patterns and prevent injuries.
Prior organizations that consulted with: Hubbard Street Dance Company, Chicago Ballet, CARA, local high schools and club sporting teams. Cathy has also lectured at the CSL Athletic Training Symposium, the Cleveland Clinic and at IBJI sponsored continuing education series.
Cathy's background in working with athletes and her own experience growing up in and competing in a sports minded family have formed the basis of her interests in sports medicine.
Education
Undergraduate
Northwestern University Medical School - Physical Therapy
Masters of Health Sciences
University of Indianapolis - Orthopedic Physical Therapy