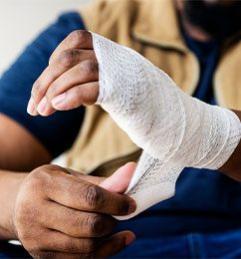 A Notice to Injured Workers
IBJI's workers' compensation team provides physician and therapy visits, independent medical evaluations, and OrthoAccess immediate care treatments.
At your first visit, the doctor will review your medical history, perform a detailed examination, and evaluate diagnostic tests to determine the best course of treatment. Contact us with any questions regarding your specific care plan.
IBJI has one of the largest Illinois workers' comp practices, with more than 100 doctors across multiple orthopedic specialties. Our specialists provide independent medical evaluations and offer industrial rehabilitation expertise.
Information for Injured Workers
Our Workers' Compensation Philosophy
At IBJI, our doctors and healthcare professionals approach workers' compensation patients the same way we do all our patients.
Injured workers receive superior orthopedic care based on evidence-based practices, and conservative treatment will always be the first option when appropriate.
We will never require injured workers to undergo excessive examinations, imaging, or treatments, and IBJI doesn't dispense prescription medications in-house.
IBJI's workers' comp doctors strive to get employees back to safe work duty as soon as medically appropriate. Our collaborative care model fosters communication among healthcare providers for a more efficient, economical recovery.
IBJI Workers' Comp Benefits
Convenient, Cost-Effective Diagnostics
IBJI's advanced MRI and diagnostic imaging services often cost less than the same services at large health systems and hospitals. We offer imaging at most of our physician's offices, making diagnostics easier to access and more convenient.
Affordable, Immediate Care at OrthoAccess
IBJI's OrthoAccesss walk-in clinics offer exceptional immediate care for up to 80% less cost than the emergency room. The experienced workers' compensation doctors at OrthoAccess provide same-day care for injuries that need immediate attention but don't require emergency treatment, including cuts, breaks, sprains, muscle strains, and pain.
Collaborative Providers
At IBJI, we believe in a collaborative approach. Our workers' comp doctors and therapists collaborate closely on patient care. The ability to consult, monitor, and alter a patient's therapy as needed is a unique advantage that improves results and speeds up recovery.
Dedicated Workers' Compensation Team
In addition to providing exceptional patient care, the workers' compensation team at IBJI is dedicated to meeting the needs of case managers, employers, claims adjusters, and other involved parties.
Our staff provides:
Complete and responsive documentation to keep all parties updated on progress and recovery.
All doctor-dictated reports are provided within 24 hours (or faster for STAT requests).
Same-day work status reports to update all parties on employee work restrictions or release to duty.
Scheduling of appointments with workers' comp doctors for injured workers.
Verification of workers' compensation benefits coverage.
Progress reports, test results, and work status reports are submitted to nurse case managers, adjusters, and employers.
Secure approval of tests and surgeries recommended by our doctors.
Independent Medical Evaluations
IBJI's independent medical evaluation program offers clinical integrity, convenience, and service. Our workers' compensation doctors handle independent medical evaluations, and our staff coordinates documentation flow and scheduling.
Medical evaluation appointments are scheduled within 24 hours of a request, with a detailed confirmation email sent the same day. We provide a complete, independent medical evaluation report within five business days.
Industrial Rehabilitation
IBJI Rehabilitation Services proudly support our workers' compensation team in delivering cutting-edge industrial rehabilitation as part of our comprehensive physical and occupational therapy programs.
Our therapists work very closely with workers' comp doctors to improve efficiency and decrease the time a patient needs to be away from work
Work Conditioning
Work conditioning with IBJI helps injured workers finalize their rehabilitation process to ensure a safe return to work duty. We also focus on decreasing a worker's chance of re-injury.
Our work conditioning clinics are conveniently located across the Chicagoland area. Programs are typically four hours a day for five days, with an individualized program for each injury and job description.
Functional Capacity Evaluations
Functional capacity evaluations at IBJI are done by unbiased, certified physical therapists who work closely with our doctors.
The evaluations use sophisticated diagnostic testing. The report consists of a comprehensive and concise summary, guaranteed within 24 hours. (Sample reports are available upon request.)
IBJI also specializes in independent functional capacity evaluations as a second opinion when a patient has had an assessment performed by another company or care provider.
Post-Offer Employment Testing and Functional Work Assessments
IBJI's workers' compensation doctors provide high-quality testing to determine fitness for duty for any type of job. Our evaluations can be used for new hires or to match the physical capabilities of a current employee to their position.
All our tests are tailored to fit a current job description or customized using job analysis to create an individualized examination.
Injury Prevention Training and Ergonomic Assessments
Injury prevention can include ergonomic assessments and training, educational components, and exercise training to target areas predisposed to injury.
IBJI's injury prevention training program has reduced costs for fire, police, and public works departments, municipalities, and private companies.
Job Analysis
A job analysis protects employers and employees by identifying and detailing critical job demands and requirements.
At IBJI, our workers' compensation team uses the job analysis to help an employer decide if an injured worker can return to full work duty. If an employee isn't ready for a full return, the analysis can help them get the employee set up for light duty. A high-quality job analysis is also beneficial for setting up the protocols for post-offer employment testing.
Additional Resources