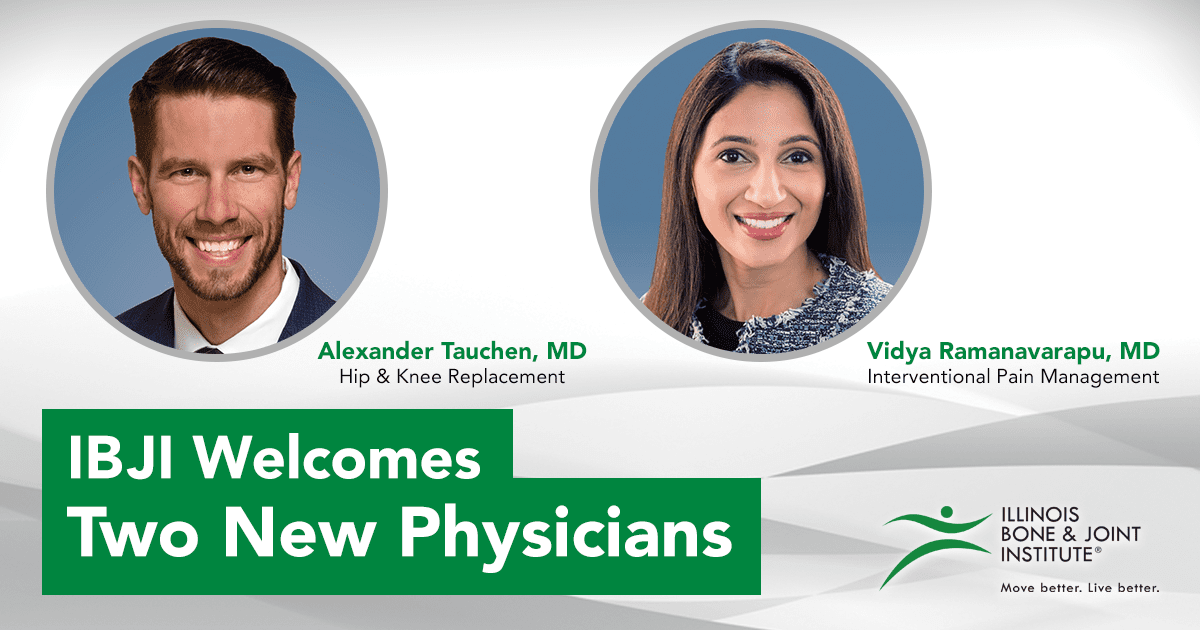 Illinois Bone & Joint Institute (IBJI), one of the largest independent, physician-owned orthopedic practices in the United States, is excited to welcome Vidya Ramanavarapu, MD, dual board-certified physician in anesthesiology and interventional pain medicine, and Alexander J. Tauchen, MD, board-certified orthopedic surgeon fellowship-trained in hip and knee replacement surgery and revisions to the Hinsdale Orthopaedics division of IBJI.
Dr. Ramanavarapu will practice at IBJI's Hinsdale Doctors' Office at 550 West Ogden Avenue, and the Westmont Doctors' Office at 1010 Executive Court, Suite 250.
Dr. Tauchin will practice at IBJI's Elmhurst Doctors' Office at 1200 South York Street, Suite 4110, the Western Springs Doctors Office at 4700 Gilbert Avenue, Suite 51, and the Westmont Doctors' Office at 1010 Executive Court, Suite 250.
Dr. Ramanavarapu
With over 15 years of experience in interventional pain management, Dr. Ramanavarapu has witnessed how chronic pain not only affects physical health but can additionally impact one's mental and emotional well-being.
She works with patients to create individualized care plans to improve their overall quality of life. These plans can include but are not limited to non-opioid-focused medical management, physical and/or occupational therapy, and minimally invasive procedures (such as injection-based care) to treat musculoskeletal pain.
Dr. Ramanavarapu believes in using a comprehensive and multi-disciplinary approach to help patients manage their pain, with the ultimate goal of living a more functional and fulfilling life. She aims to treat each patient as an individual, moving from conservative care to more interventional care, as needed, to help improve their long-term quality of life.
Dr. Tauchen
Dr. Tauchen's main goal in treating patients with hip and knee issues is to make sure that they fully understand both the nature of their problem and all of the treatment options available to them. He strongly believes in maximizing non-operative treatment such as physical therapy, anti-inflammatory medications, and various types of injections prior to proceeding with surgery.
If Dr. Tauchen and his patient decide together that hip or knee replacement surgery is the best option, he spends the time necessary to make sure that the procedure is explained in detail and all of the patient's questions are answered. He believes that patient education, understanding, and managing expectations are crucial for a good outcome.
Dr. Tauchen strives to provide the highest quality of care from the time he initially meets the patient and their family all the way through their final phases of recovery.
Request an appointment with Dr. Ramanavarapu or Dr. Tauchen by visiting ibji.com.

About Illinois Bone & Joint Institute
Illinois Bone & Joint Institute (IBJI) is the largest independent physician-owned orthopedic practice in Illinois. IBJI is dedicated to providing accessible, compassionate, and comprehensive care to your family for every orthopedic specialty with leading-edge technology and innovative treatment options. For more information, please visit ibji.com.