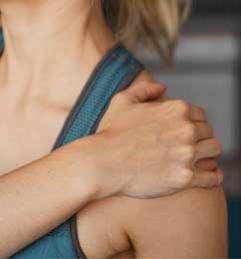 Does IBJI Offer Safe Alternatives to Opioids?
IBJI's pain management physicians are committed to providing our patients with safe alternative treatments and therapies appropriate for each unique patient's needs. We're committed to providing the information necessary for you to make the most informed decisions about your care.
We strongly encourage all patients to speak directly with their provider regarding specific concerns and the risk factors when managing chronic pain with opioids.
Different Types of Pain
Different types of pain can signal different conditions, determining your pain management needs. Your care team will consider your acute or chronic pain as they develop your personalized treatment plan.
Acute Pain
Acute pain is typically sudden and sharp and lasts less than four weeks. Subacute pain lasts between four and 12 weeks. It should go away when there is no underlying cause for the pain. (With a muscle strain, for example.) With proper treatment, acute pain can be relieved, and you can return to normal activities.
Chronic Pain
Chronic pain is ongoing, lasting more than three months. It may be constant or can come and go and occur in any area of your body. Chronic pain interferes with everyday life and may make it difficult to do some of your regular activities.
IBJI's Process for Managing Pain
At IBJI, we consider each patient's unique needs and situation during the pain management process. Your pain management specialist will work closely with you to diagnose your pain and identify the best treatment plan.
Our pain specialists will help you manage your pain by recommending lifestyle changes, working with you in physical therapy, or administering injections to reduce pain and improve your quality of life.
If conservative treatments are unsuccessful at relieving your pain, we will evaluate whether you could benefit from surgery.
Our Pain Management Specialists
Pain is a complex condition with a variety of potential causes. At IBJI, we have experts who specialize in different areas of pain management to ensure our patients always have access to a specialist who understands their unique needs. Our pain management physicians include physiatrists and anesthesiologists. IBJI's pain management physicians will evaluate, diagnose, and treat your pain. They'll recommend appropriate medications, oversee your physical therapy needs if necessary, and perform injections or minimally-invasive procedures that can reduce the severity of your pain to improve your function and quality of life.
Related Services
Back to Life Clinic
The Back to Life Clinic is located in Glenview and specializes in treating back and neck conditions. We offer immediate, hands-on care to relieve acute neck and back pain.
Learn more about IBJI's Back to Life Clinic
Physical Therapy
IBJI's experienced physical therapists provide comprehensive assistance and highly-customized treatment plans to support pain relief for any condition or injury.
Learn more about IBJI's Physical Therapy Services
OrthoAccess Immediate Care
IBJI's OrthoAccess Immediate Care walk-in clinics are conveniently located and provide access to quick and affordable treatment of simple fractures, sprains, strains, work-related injuries, sports injuries, and more.
Find an OrthoAccess Immediate Care Clinic
FAQs About Pain Management
Pain management is a multi-disciplinary approach to treating acute and chronic pain. The goal is to minimize pain, improve function and mobility, and improve your quality of life.
The most common type of chronic pain is lower back pain. Other common types of chronic pain include neck pain, headaches, and shoulder pain.
Pain can sometimes be hard to put into words. When describing your pain symptoms to your doctor, explain the location of your pain (where it hurts on your body), when the pain occurs (does it hurt more at night or when you move a certain way?), and how it impacts your movement (I can't put weight on my right knee because it hurts.).
You can also use descriptive words for the type of pain you're experiencing, such as:
Aching
Burning
Stinging
Throbbing
Shooting
Sharp
Squeezing
Crampy
Radiating
Doctors and nurses use a pain scale to assess the level of pain a patient is feeling. They may ask you to rate your pain on a scale of 0–10, with 10 being the worst pain you've ever felt and 0 being no pain. They may even show you a scale with pictures of smiley (and frowny) faces for each number, so you can pick the one that best illustrates your pain level.
Review these additional resources for more information about some of IBJI's treatment options for safe and effective pain management.