Whether it's a knee or hip replacement or some other procedure, once you've scheduled your surgery with an IBJI physician, IBJI assists you through a program called OrthoSync. A skilled team works with you to ensure the most optimal post-surgery recovery pathway.
You will know ahead of time how long each phase of your care is anticipated to last, including home health care, outpatient physical therapy, or another type of care. When you understand the plans for your care and are engaged in that planning, your recovery goes much smoother.
In this blog, Shannon McArthur, DPT, a physical therapist who works with post-op surgery patients, explains how to prepare your home for surgery to have a great recovery outcome.
General Preparation Before Surgery

As part of the OrthoSync care team, Shannon asks questions about your home environment, the help you may have at home, your health history, your mobility and balance, and then creates a customized care plan. That plan involves informing you about when you'll start outpatient therapy, telling you about what devices you'll need at home, making sure your home environment is safe, and helping you to schedule appointments at a close-to-home IBJI rehab location.
"It's very rewarding to help patients get back to their normal lives and help them feel better," Shannon says. "The good majority of the patients are really receptive and appreciative of the OrthoSync program."
Clear Pathways to Avoid Tripping
One of the first things Shannon recommends within a patient's home environment is to create open pathways for moving from point A to point B. "I advise patients to watch out for, or move, throw rugs and cords," Shannon says. "Get them out of the way, as well as anything else that can be a tripping hazard."
Pets
"I always tell patients that if they have pets, make sure they are safe around them," she says. "They need to make sure that their dog is not going to jump up on them after surgery."
Tip: Large dogs may need to be kept in another room while you're recovering, or placed under the care of a friend or relative while you heal.
Devices
Prior to your surgery, you may want to utilize an elevated toilet seat. "It's usually something that people use a lot after surgery," McArthur says. "It makes getting up and down easier."
Reachers or grabbers are important so that you're not bending over after surgery to pick things up.


Grabbers can save you from bending over after surgery, and grab bars can keep you safe in the tub or shower.
"There are devices like a sock aid that people will use to get their socks on without bending," Shannon says. "If patients have a tub, getting grab bars to get in and out is a good idea. There are temporary grab bars that have good suction on them. The goal is to help you become independent and safe within your home."
Going Home After Surgery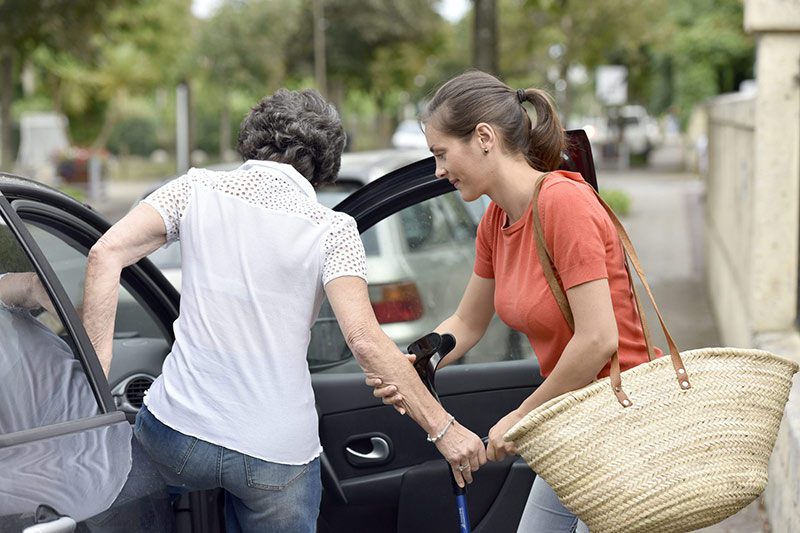 McArthur suggests going into the car bottom first, and then turning your legs in. It is advised to push the seat back all the way to get in, and then bring it forward. Get help from someone if you can.
"There aren't any major modifications needed for the car, but if possible, a regular sedan is good for getting home from surgery versus a really low car."
Fill Prescriptions Ahead of Time
Shannon recommends having a conversation with your physician about the potential medications you may be required to take, and fill them ahead of time. If you aren't able to fill prescriptions prior to your procedure, you can take advantage of delivery prescription options or ask a loved one to pick up prescriptions for you.
How to Climb Stairs At Home After Surgery
"The way you climb the stairs after joint replacement surgery is by going up with the good leg and down with the bad leg," Shannon explains. "You will learn this by doing physical therapy in the hospital, and if you go home, IBJI will ensure a therapist is at your home that day to help with this."
Staying Hydrated at Home After Surgery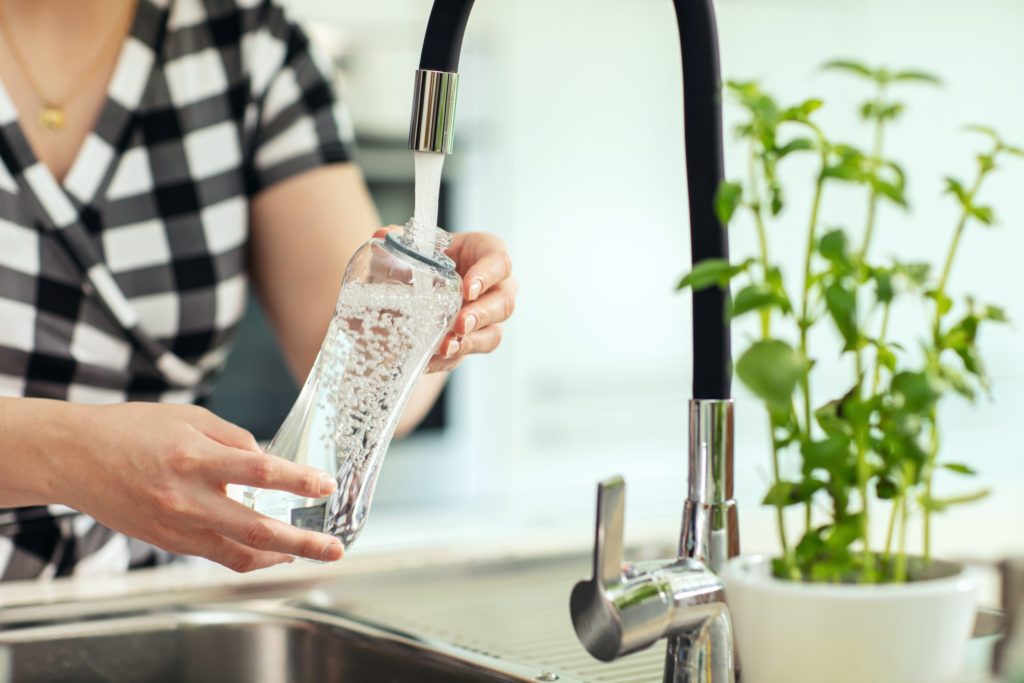 Shannon advises patients to keep a water bottle handy so you can track how much you're drinking. Gain independence by going to the kitchen to refill your water periodically to avoid stiffness.
Stock Up on Healthy Foods at Home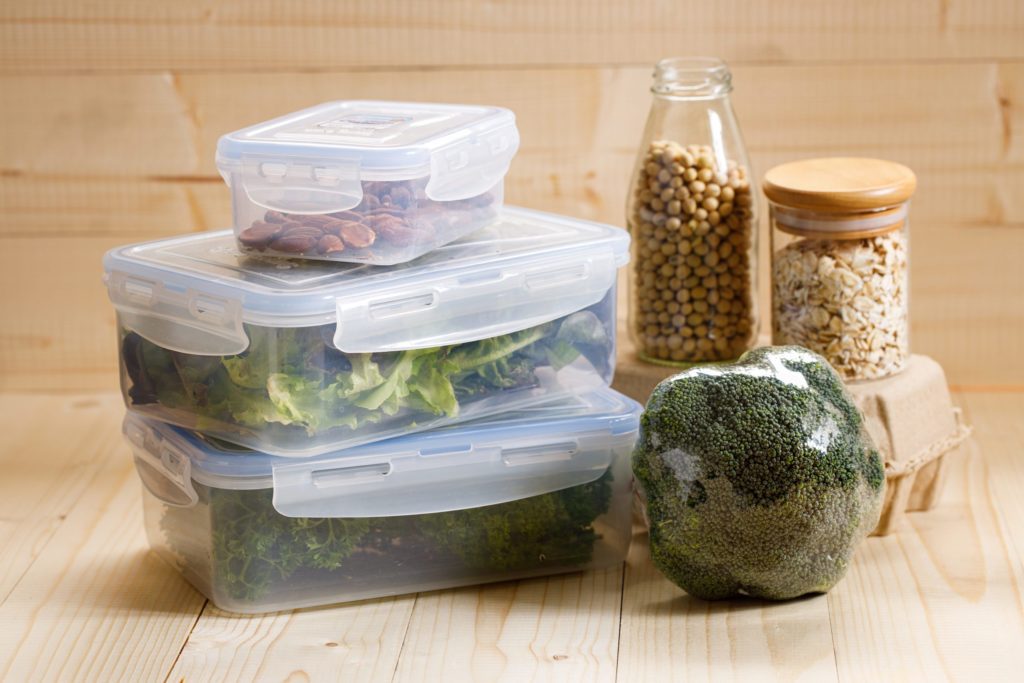 Food preparation can help you have a great post-surgery recovery. Stock up on protein such as meat, nuts and eggs.
Shannon recommends using delivery services if you'd like, or preparing meals ahead of time. Let friends and family know that you're having surgery, as they can often help with meal preparation and delivery. "For the first couple of days following surgery, you'll be tired, so you can try reheating meals that are high in protein," she says. "With recovery, you'll want to ensure you're getting enough protein."
She adds that protein is important for energy and strength following surgery. Ahead of time, she says, you can prepare by "stocking your fridge with eggs, nut butters, and chicken. These are all good options."
Since your body is healing, it's going to use up a lot of calories, so make sure you're consuming enough calories each day.
Keep Contact Information in a Central Location
Patients leave the hospital with a packet of information for post-op surgery care. Keep the information where you can easily access it. Also, Shannon adds, "most patients have a home health nurse and a physical therapist coming to their home, so they can communicate any questions or concerns."
Securing Crutches, Canes and Walkers Ahead of Time
Depending on your surgery, you may need crutches, a walker or a cane. Part of the OrthoSync program involves educating patients about their options for renting, borrowing or purchasing what they'll need ahead of surgery. "Usually every town has a lending closet where you can get these devices for free," Shannon says. "You use them as you need them and then give them back."
IBJI offers a list of local lending closets with phone numbers to prepare ahead of time and secure what you will need for your recovery.
Keep a Positive Mental Attitude While at Home
Having a good attitude helps to aid healing, Shannon says. Although you may experience pain and fatigue, try not to get discouraged. "I tell my patients to prepare for this so that they have a positive attitude, and because of the pre-op evaluations, most of our patients are really prepared for what they're going to experience."
The Need for a Caregiver at Home
It's important to involve family members in the care and recovery process. "The OrthoSync program can provide resources," Shannon says. "IBJI has a referral that we can provide for someone who doesn't have a caregiver. Usually, this is an out-of-pocket cost."
Cleaning Your Home Prior to Surgery
It may be a good idea to do a deep clean of your home, including organizing, so that you won't be tempted to do household tasks while you're recovering. Focus on some quiet and calming hobbies, such as knitting, reading, or crossword puzzles to pass the time while you're recovering, but make sure you aren't sedentary. "Motion is lotion," Shannon says.
Alleviating Your Fears Before Surgery
"I would say the biggest benefit of OrthoSync is that patients are going to get a lot of their questions answered before surgery so they don't have to be scared," Shannon says. "IBJI works with you to guide you and help you to have the best post-op experience with optimal healing."
Learn more about how IBJI creates a customized care plan to support your recovery.