In 2012, I was thrown from a car while at work. By the time the dust settled, I had cracked my skull, torn my Achilles, torn my ACL, and crushed two vertebrae. Up until that moment, I had been an active endurance athlete, competing in the Ironman Triathlon, the Chicago Marathon and many other similar events.
Afterward, I was a broken mess. I had worked with Dr. Eric Chehab before and he was my first stop and became what I like to call my "general contractor." While many doctors would have stayed in their expertise silo, Dr. Chehab took it upon himself to make sure I was connected with the best people for me: Drs. Amy Jo Ptaszek and Mark Mikhael. It took over a year, many surgeries, and even more hours of physical therapy, but they got me back together both physically and mentally. All three of them did more than the status quo and worked with my body and my spirit as I started on this very unexpected journey. I remember Dr. Mikhael sitting by my bedside on Independence Day weekend, holding my hand and talking to me — not as a doctor, but just talking. Dr. Ptaszek and her firecracker spirit kept me talking and smiling when I couldn't figure out how to take another step.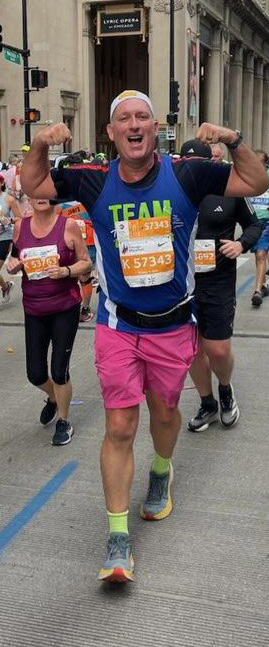 David Wallach at the Chicago Marathon
When I came out of my final surgery with Dr. Mikhael, I told my family I would run the Chicago Marathon again, and after a few failed attempts, this year I will be ready to run once again. I am running to raise money for the autism charity Have Dreams. Our youngest child is affected with autism and I am running to show my kids that if you believe in yourself, you can do anything. Finally, I am running for me. In the past I have mentored people who want to run; this year it's me.
While I was in the hospital, filmmaker Wendy Shulik came and interviewed my family and me. She re-edited the footage for me for this year. As I watched that broken, sad man laying in bed, it made me proud that he is a part of me but will never "be" again.
I run a lot with my ghosts, and I think about how long it has been and the amazing doctors who never let me give up hope. When something hurts, how lucky I am to be able to work through it! Recently I was running and Dr. Chehab came up to me on his bike on the way to work. He told me he had seen me training a lot during the summer but didn't want to bother me. That day he smiled as he rode away and said, "You're ready." There are no words to express what that means to me, what my doctors mean to me, and how grateful I am to IBJI. They saved my life.