Knee replacement surgery, or knee arthroplasty, is performed more often than any other joint replacement surgery. More than 750,000 knee surgeries are performed annually in the United States alone.
The procedure is so common because over 90% of knee replacement patients report experiencing significant improvements in their mobility and pain relief after the healing process.
Most total joint patients are very focused during knee replacement recovery, and their dedication is a critical contributor to successful outcomes. Knee doctors' use of 3D modeling also increases the success rate for knee replacement patients.
In this article, we'll share what you need to know about getting knee replacement surgery.
What Happens During Total Knee Replacement Surgery?
In a total knee replacement procedure, a knee surgeon removes cartilage and the ends of the femur and tibia with specialized instruments. They start with this step to prepare the surfaces of a patient's bones for the implants. Knee replacement surgery ends with an orthopedic surgeon fitting a new joint to the ends of both bones.
Typically, new knee joints are made of metal—typically titanium or cobalt chrome—and polyethylene, which is incredibly tough and reliable plastic. Other materials, like zirconium, have also been used in knee replacements to improve longevity.
Non-Surgical Treatments
In most cases, the best option is to treat chronic pain without resorting to total knee arthroplasty. There are many ways to treat arthritic knee pain, including:
Cortisone and Other Anti-Inflammatory Medications
Joint Supplements to Protect Remaining Cartilage
Hyaluronan (Hyaluronic Acid) Therapy
Activity Modification
Who Should Get Knee Arthroplasty?
Good candidates for total knee replacement surgery are chronic sufferers of arthritis (joint inflammation) who are experiencing a reduced quality of life due to pain despite non-surgical treatments.
Knee arthritis manifests as osteoarthritis, which occurs when the cartilage wears away, exposing the bone. This causes the bones of the knee to rub painfully against each other.
Usually, orthopedic doctors will try the available non-surgical treatments before performing surgery. Still, if the patient only has intermittent pain or can participate in sports or athletics, the orthopedist will use other pain management and joint supplement techniques.
The Goal of Knee Replacement Surgery
The primary goal of knee arthroplasty is to bring the patient relief from their chronic pain and improve the functioning of the knee.
While total knee replacement surgery usually lasts from 15 to 25 years, some joint replacement patients may need revision surgery to tighten up or replace the implants. Most likely, the patient will experience some restrictions to their activity.
Every patient has unique needs because no two joint replacement surgeries are the same. Your knee doctor will assess your condition and goals before suggesting which movements you can enjoy post-surgery and what you should avoid doing to prevent re-injury.
Common Recommended Activities After Total Knee Replacement Surgery
Most people can safely participate in the following activities after recovering from knee replacement:
Swimming
Golfing
Cycling
Dancing
Non-Strenuous Hiking
Cross Country Skiing
Bowling
Horseback Riding
Typical Restricted Activities After Total Knee Replacement Surgery
These activities are often restricted after a knee replacement:
High-Impact Exercise or Aerobics
Contact Sports
Jogging and Running
Tennis and Racquetball
Lifting Over 50 Pounds Repeatedly
Vigorous Walking and Hiking
Why Choose IBJI When You Need Knee Surgery
Our highly-trained surgeons and knee doctors are experts in non-surgical arthritis treatments, pain management, and—if it's deemed necessary—total knee replacement surgery.
We consult one-on-one with every patient to create a customized treatment plan based on the best options for alleviating their chronic knee pain.
Though we can't turn every patient into Lee Majors from the Six Million Dollar Man, IBJI does have the experienced staff, comprehensive services, and cutting-edge technologies necessary to help people move and live better.
Illinois Bone & Joint Institute is one of Illinois' largest orthopedic group practices. We have more than 150 physicians at 100 locations throughout the greater Chicago area, with expertise in knee care and other orthopedic specialties, and complete diagnostic and rehab services.
Last updated in May 2022.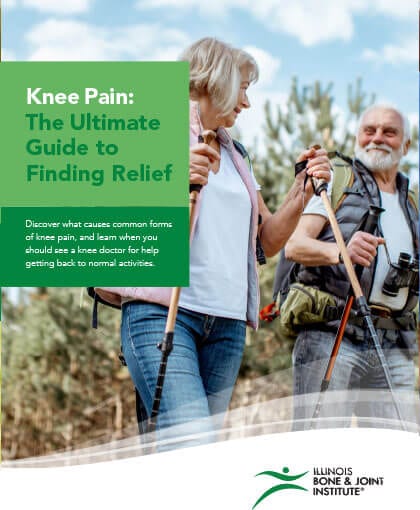 Get the Ultimate Guide to Finding Knee Pain Relief
*This content is for information only and is not intended to replace the diagnosis, treatment, or medical advice from your treating healthcare professionals. The content does not provide medical advice, does not constitute the practice of medicine or other healthcare professional services, and does not create a doctor-patient relationship. You should not rely on this information as a substitute, nor does it replace professional medical advice, diagnosis, or treatment. If you have concerns or questions, seek the advice of your healthcare professionals. If you think you may have a medical emergency, call your doctor or 911 immediately. Do not rely on electronic communications or communicate through this website for immediate, urgent medical needs. This website is not designed to facilitate medical emergencies. The use of the information is at the reader's own risk. The links are provided for information and convenience only. We cannot accept responsibility for the sites linked or the information found here. A link does not imply an endorsement of a site.