Countdown to the Chicago Marathon
With just one month to go before the Bank of America Chicago Marathon on Sunday, October 10, it's that critical time of training where runners work hard to stay healthy and remain free from injury. We asked IBJI's Jason G. Hurbanek, MD and Christopher C. Mahr, MD, who have participated in marathons and other races, for their best advice.
Q: What are you doing or what should you be doing right now to prepare for the marathon?
Dr. Hurbanek: One month before the race you should get the 20 mile run completed and then start the tapering part of training. I would recommend focusing on stretching and foam rolling as you taper.
Dr. Mahr: One month out from the marathon I am at the tail end of my training program. I run between five to 10 miles, four times during the week. I run my long runs typically on the weekend with my longest run being 20 miles, three weeks prior to the marathon. For my longer runs, I do these in the morning in the cooler part of the day. I take a look at the weather forecast for the week and will avoid my long run on humid days above 70 degrees. I typically start training about four months prior to the marathon. I am a runner year-round with a baseline of five-mile runs, three to four times per week.
Q: What are the most common injuries facing runners and how can you avoid them?
Dr. Hurbanek: The most common orthopaedic issues are tendinitis, IT Band syndrome, plantar fasciitis, and stress fractures. These can be avoided by making sure running shoes are supportive, stretching, foam rolling, icing, following a dedicated training plan, and making sure to cross train.
Dr. Mahr: Common orthopedic issues that runners face include tendinitis/bursitis like runner's hip and knee as well as stress fractures. These are overuse injuries and can be avoided by a good training program (Hal Higdon, Nike etc.) and not ramping up weekly mileage too fast. Ensure that your running shoes are in good condition and replaced every 300-500 miles, depending on the wear of the shoe. Listen to your body. If you experience pain with weight-bearing in the hip, knee, shin, or foot, this could indicate a stress fracture. Runner's hip and knee can be treated with rest, anti-inflammatories, stretching, physical therapy, and in some cases an injection.
Q: What is your No. 1 training tip?
Dr. Hurbanek: My No. 1 tip is to be dedicated to foam rolling before and after runs.
Dr. Mahr: If this is your first marathon, my No. 1 tip is to keep track of your training pace and try to stick to it during the race so you don't end up back in your house or apartment prematurely just like my first marathon.
Wondering if you have an injury?
Consult one of our IBJI sports medicine physicians if you have pain that lasts for more than two weeks or if you develop pain with weight-bearing activity.
Learn more about IBJI's running clinics, expected to return next spring.
Meet Our Contributors: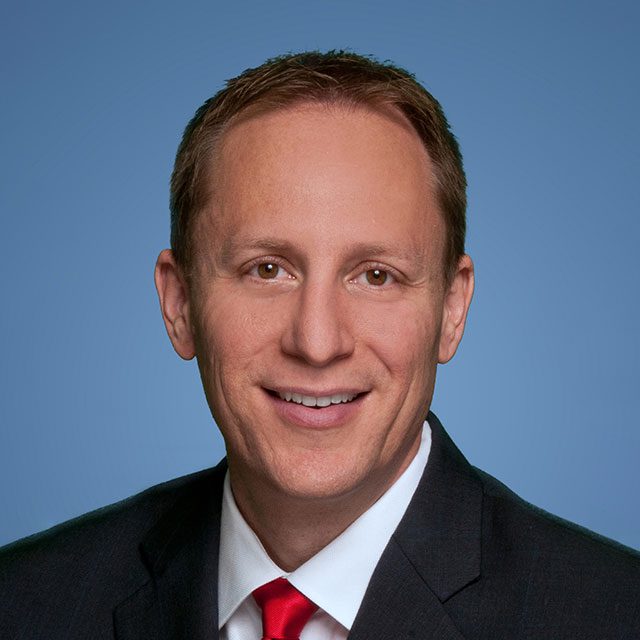 Jason G. Hurbanek, MD
Board-certified Orthopaedic Surgeon with Certificate
of Added Qualification in Orthopaedic Sports Medicine
Jason G. Hurbanek, MD began running in 2005, following years of lifting weights, playing basketball and cardio exercise.
"My first marathon was the Twin Cities marathon in October of 2005," Dr. Hurbanek says. "It was an amazing event and I was hooked."
He has also completed half marathons, 10 milers, 10k and 5k races.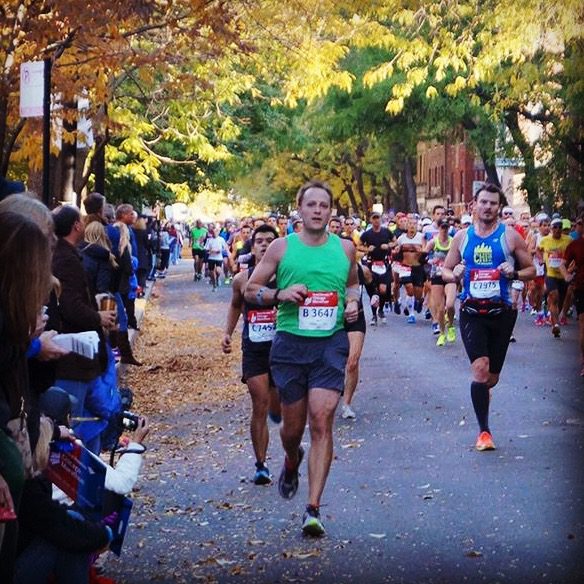 Dr. Hurbanek running in the Chicago Marathon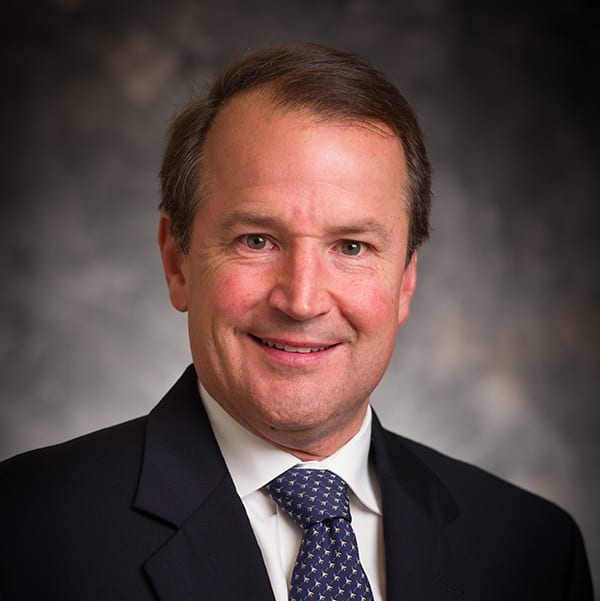 Christopher C. Mahr, MD
Board-certified Orthopaedic Surgeon with fellowship training in
Arthroplasty and Sports Medicine
Christopher C. Mahr, MD is a recreational marathon runner whose goal is to finish this year's Chicago Marathon in around four hours. His first marathon was the 1995 Chicago Marathon.
"I made a rookie mistake and ran much faster than my training pace that year," Dr. Mahr says. "Around the 12th mile, I realized I would not be able to finish at that pace. I had run out of gas. Fortunately, I was a few yards away from my apartment and stopped right there."
His next marathon was the New York Marathon in 2006. This race went much better for him, and he also commemorated the completion of the race by proposing to his girlfriend Kristin, who ran with him, at the finish line!
"This year will be my 12th marathon with a personal best of 3:47," he says.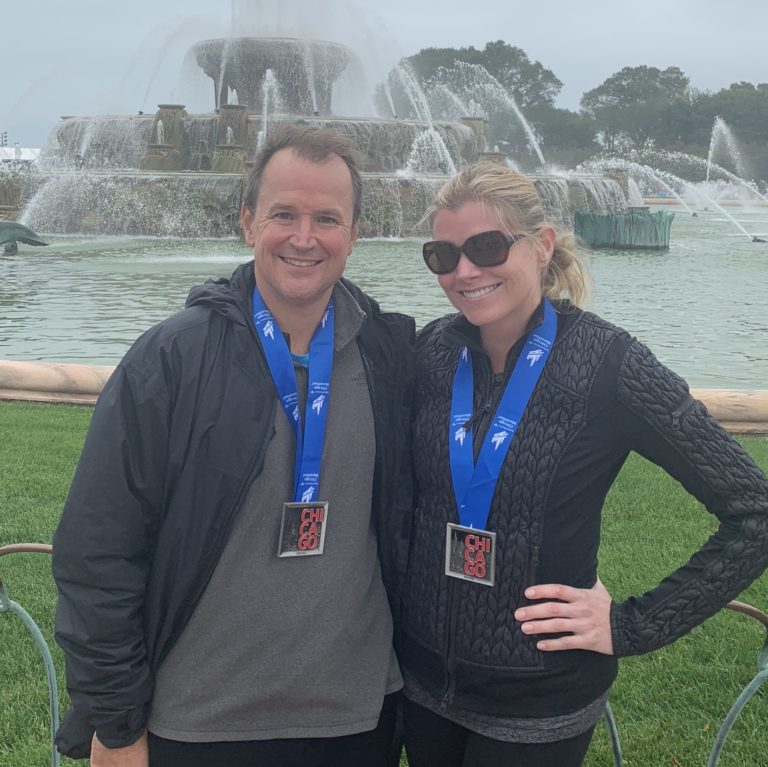 Dr. Mahr and his wife, Kristin, after the 2018 Chicago Marathon