BY YVONNE TAYLOR, MS, NASM, STOTT
Pilates Instructor | Illinois Bone & Joint Institute
It's that time again… the weather is getting warmer, jackets are getting lighter and the clubs, racquets and bats are getting dusted off for use! Athletes, weekend warriors and layman participants from all walks are gearing up for their spring and summer activity seasons.
With any season, minor and major injuries can occur, but what if you could decrease your chances of getting injured? Believe it or not, there is a fitness method that can help you do just that…it's called pilates. Pilates is a great way to improve sport performance and general function.
One of the best kept secrets at Illinois Bone & Joint Institute's (IBJI) Health Performance Institute (HPI) in Highland Park is the Mind/Body, Pilates and Yoga studio. Pilates focuses on strengthening and stabilizing deep core muscles, while participants work the muscles of their upper and lower extremities and other major muscle groups, such as the chest and shoulders, during focused exercises.
To help participants achieve maximal results, a wide variety of instruction options are available at HPI. One such offering is Essential Mat Pilates. This option is ideal for new pilates participants looking to learn and add the foundations and challenge of pilates core training to their fitness programs. Other offerings include Semi-Private and Private Pilates Equipment training that takes participants' training to a new dimension, with increased and more challenging exercises that improve fundamental pilates skills.
Pilates exercises go through full range of motion in the muscles and joints resulting in sculpted, longer, leaner muscles contrasting the short, contracted, repetitively worked muscles that may cause injury. The combination of core strength, stabilization and full range of motion in muscles and joints is what makes Pilates the training and cross-training exercise of choice for people from all walks of life, including major athletes like Antonio Brown, LeBron James, Martellus Bennett, Kobe Bryant and Chicago's hometown hero, Jake Arrieta.
HPI has a fully functioning pilates studio featuring reformers, tower units, Stability Chairs and a Cadillac multi-unit training system. The spring-loaded resistance equipment helps participants achieve complete, full range of motion muscular function, strength, stability, improved flexibility and balance. Adding pilates as an additional part of your training program is a great way to strengthen your core and fine-tune your training for optimal fitness, performance and function.
No matter your game, activity or if you don't compete at all, pilates is a great workout for everybody.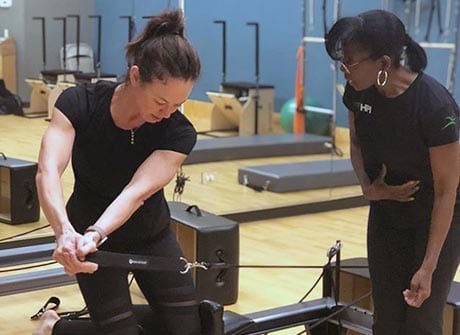 Looking to try pilates for yourself? Contact Yvonne Taylor at ytbennett@ibji.com at the IBJI Health Performance Institute in Highland Park, Illinois, to get started on your journey of fully functional health, fitness and wellness… pilates style!
Yvonne Taylor, MS, NASM, STOTT, is a pilates instructor at IBJI's Health Performance Institute in Highland Park, Illinois.