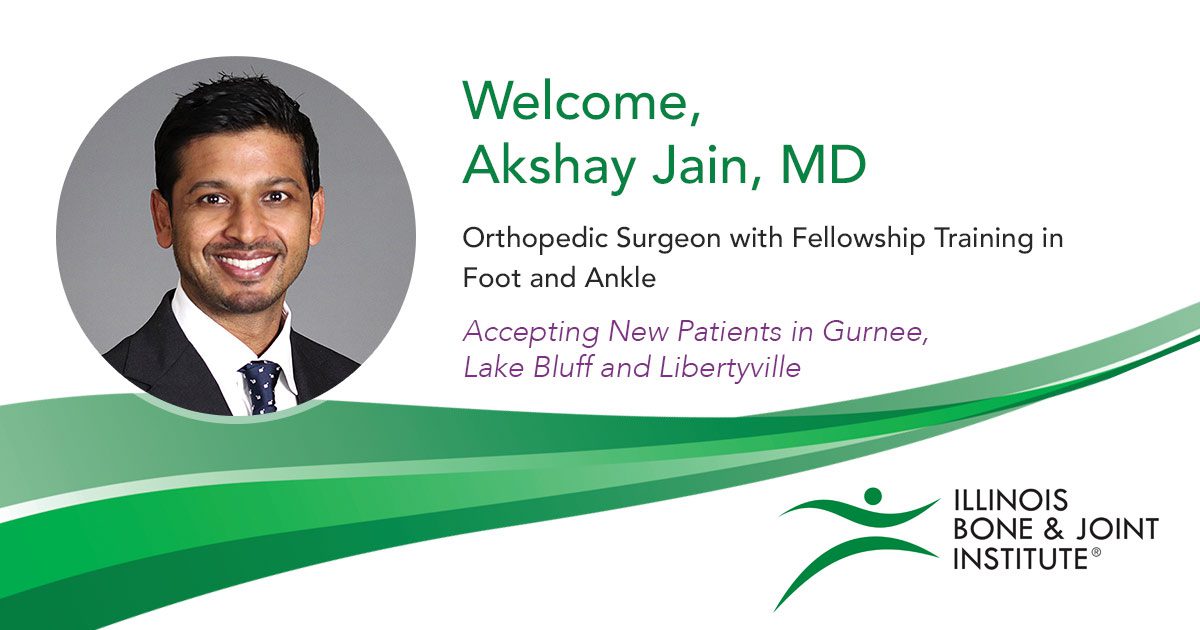 DES PLAINES, Ill., September 28, 2023—Illinois Bone & Joint Institute (IBJI), one of the largest independent, physician-owned orthopedic practices in the United States, is excited to welcome Akshay Jain, MD, an orthopedic surgeon with fellowship training in foot and ankle.
Dr. Jain specializes in the treatment of a variety of foot and ankle injuries and disorders, including arthritis, fractures, and sprains. Additionally, he has expertise in sports-related injuries and Achilles tendon disorders.
Dr. Jain will practice at IBJI's Gurnee Doctor's Office, Lake Bluff Doctor's Office, and Libertyville Doctor's Office.
Dr. Akshay Jain attended the University of Illinois at Chicago where he was selected as part of the GPPA (Guaranteed Professional Programs Admissions) program and graduated magna cum laude. As part of the program, he remained at UIC to complete his medical school degree, graduating with distinction. He completed his orthopedic surgery residency at Indiana University. Dr. Jain also completed a foot and ankle surgery fellowship in New York at the world-renowned Hospital for Special Surgery. While there he had the privilege to train with leaders in orthopedic foot and ankle surgery, learning techniques in minimally invasive and reconstructive foot and ankle surgical procedures.
Dr. Jain has published peer-reviewed articles extensively in orthopedic and medical journals and has been involved in numerous national and international presentations throughout his training. He is passionate about learning about his patients and takes great pride in providing them with the most individualized orthopedic care. His goal is to provide his patients with a clear and comprehensive understanding of their condition and the treatment options available to them. The decision on how to move forward is then made together with the patient, an active participant in all aspects of the process. Dr. Jain makes it a priority to utilize all aspects of non-surgical treatments prior to surgical consideration as well as minimally invasive surgery and arthroscopic surgery.
An avid sports fan, Dr. Jain loves to travel and spend his free time with his wife and growing family.
Request an appointment with Dr. Jain today.
About Illinois Bone & Joint Institute
Illinois Bone & Joint Institute (IBJI) is the largest independent physician-owned orthopedic practice in Illinois. IBJI is dedicated to providing accessible, compassionate, and comprehensive care to your family for every orthopedic specialty with leading-edge technology and innovative treatment options.