When Emily Fortunato, ATC, joined IBJI last year and was tasked with serving as head athletic trainer for the Chicago Red Stars professional women's soccer team, she was determined to help the 25 competitive players stay at the top of their game.
"I only have two hands, so getting help was at the top of my list," Emily says.
After asking around and going through the proper channels, she successfully recruited two interns for the Chicago Red Stars season, Klwdia, 24, and Kiara, 22. Both of the women are earning their masters degrees in athletic training. Expected to graduate in May of 2022, they both earned undergraduate degrees in exercise science and had prior experience in athletic training.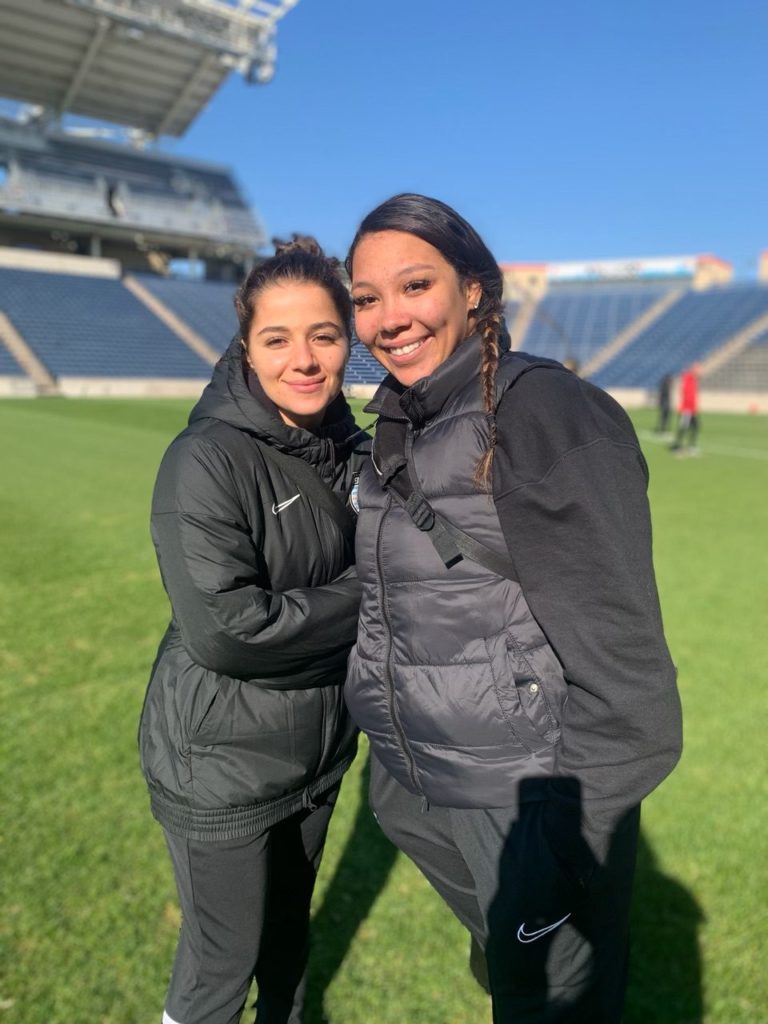 Chicago Red Stars Interns Klwdia (left) and Kiara helped IBJI
keep players healthy throughout the season.
Klwdia Applies to the Chicago Red Stars
Prior to joining the Chicago Red Stars team as an intern, Klwdia, a student at North Park University, completed a high school sports rotation working with student-athletes in various sports. When she heard about the Chicago Red Stars opportunity, she knew she wanted to become part of the group of athletic training experts who work hard to support a professional team.
"When you do your clinical intensive course, you're basically doing an internship that is almost every day," Klwdia said. "I wanted to be somewhere where I knew I'd enjoy working about 40 hours a week. I knew the Chicago Red Stars would be perfect. Not a lot of students get the opportunity to work with a professional team. I interviewed and they accepted me."
Kiara Applies to the Chicago Red Stars
Kiara had also worked with high school athletes prior to coming to the Chicago Red Stars. She knew that her school, Aurora University, had a contract with the Chicago Red Stars, but didn't know much about the team since she's originally from Arizona.
"My professor emailed me and said there was this opportunity," Kiara said. "I emailed IBJI and the person called me for an interview. About a week later, they got back to me and said that they'd love to have me. I didn't really know what I was getting into, but I knew that this would be the perfect team."
The Chicago Red Stars Season
The Chicago Red Stars season began in February and ended around Thanksgiving, and although it didn't match up with the academic school year, Klwdia and Kiara agreed to stick with the team for as long as they could.
Klwdia was expected to start a clinical rotation in a hospital setting following the Chicago Red Stars internship. Initially, she didn't know how long she'd be able to stay.
"I was actually supposed to shadow a sports medicine physician earlier but I talked with my preceptor and she asked me if I wanted to continue the rest of the semester with the Red Stars or start my next rotation," Klwdia said. "Once I started with the Chicago Red Stars, I knew I wanted to finish with them. They had a great energy and I knew I wanted to be a part of it and it was amazing to be able to watch them along the sidelines all the way to the end."
Athletic Trainers for the Chicago Red Stars
Throughout the season, the two interns honed their athletic training skills with the Chicago Red Stars, performing a variety of duties that helped to keep the players healthy and on the field. In return, they received the hands-on experience they needed to fulfill their coursework.
"It was all hands on deck," Emily recalls. "They came in eager, ready to work and ready to learn."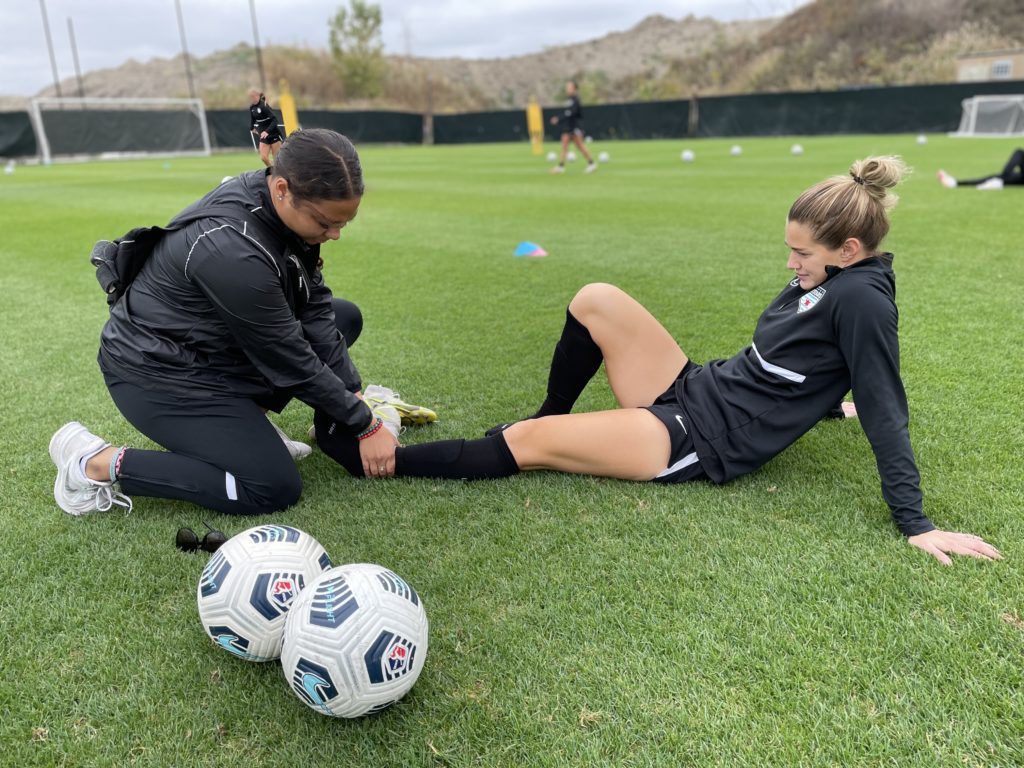 Chicago Red Stars Intern Kiara, at left, does a sideline evaluation on Kealia Watt during training.
Hydration for the Chicago Red Stars
Whether they were carrying water and ice bags out onto the field, handling administrative duties, or developing rehabilitation programs for the Chicago Red Stars players, both of the interns logged many hours of dedicated service to the team.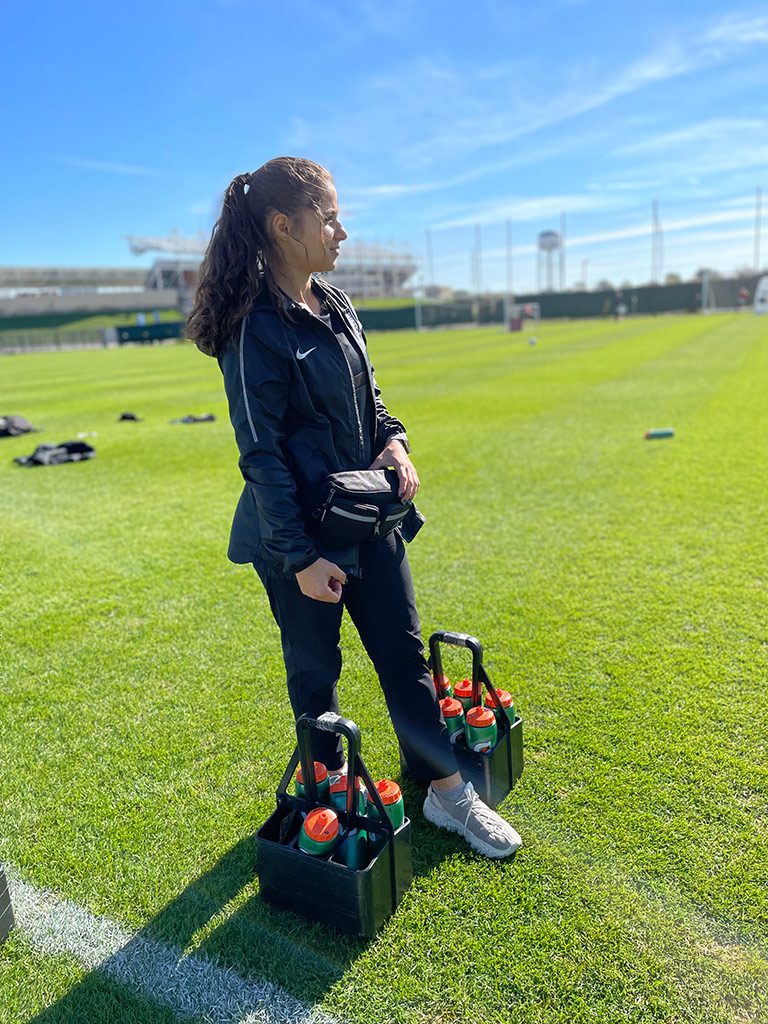 Klwdia stands by with water bottles to keep the
Chicago Red Stars players well hydrated.
"When we got there, we were surprised at how much Emily did on her own," Klwdia said. "We would come in an hour or so before the girls would get there and get everything ready to keep the girls hydrated. Emily taught us many different modalities, the different machines they were using, including the HIVAMAT, advanced technology to help reduce swelling and promote healing. I got to work with Emily and I learned a lot from her."
The interns set up for home games at SeatGeek Stadium in Bridgeview, which is the home of the Chicago Red Stars, and even followed the team to out-of-state destinations for the finals and NWSL championship games.
"I got a student discount on the airfare and also I had some money saved," said Kiara, who hopes to become an athletic trainer for the NWSL or MLB. "I was extremely blessed to be there with the girls."
Mid-season Challenges for Chicago Red Stars Interns
Mid-season, Emily received news that she was selected to travel to Tokyo for the Summer Olympics. She was gone for six weeks, leaving her post with the Chicago Red Stars to lend her expertise to the U.S. Women's Soccer team.
"Things were really on the fence with COVID and it was tricky so I didn't know if it would happen," Emily says. "From what I was told, the interns did a great job while I was gone. I knew that it was definitely going to be a challenge for them, but they rose to the occasion, telling others where things were and handling checklists on routines. They really stepped up."
"With athletic training, you never know what you're going to get into," Kiara added. "We took the reins and did what we needed to do, taking the stress off of Jennifer Elgin, the athletic trainer who had come in mid-season. It was definitely an experience and I loved every moment of it."
"It was definitely a challenge because up until then it was consistent every day," Klwdia said. "Each athletic trainer has their own strengths and weaknesses and you learn something different from them. We learned something new from Jen and we also had to teach Jen about our daily routine and some of the information about the athletes. We got through the challenge and it was great."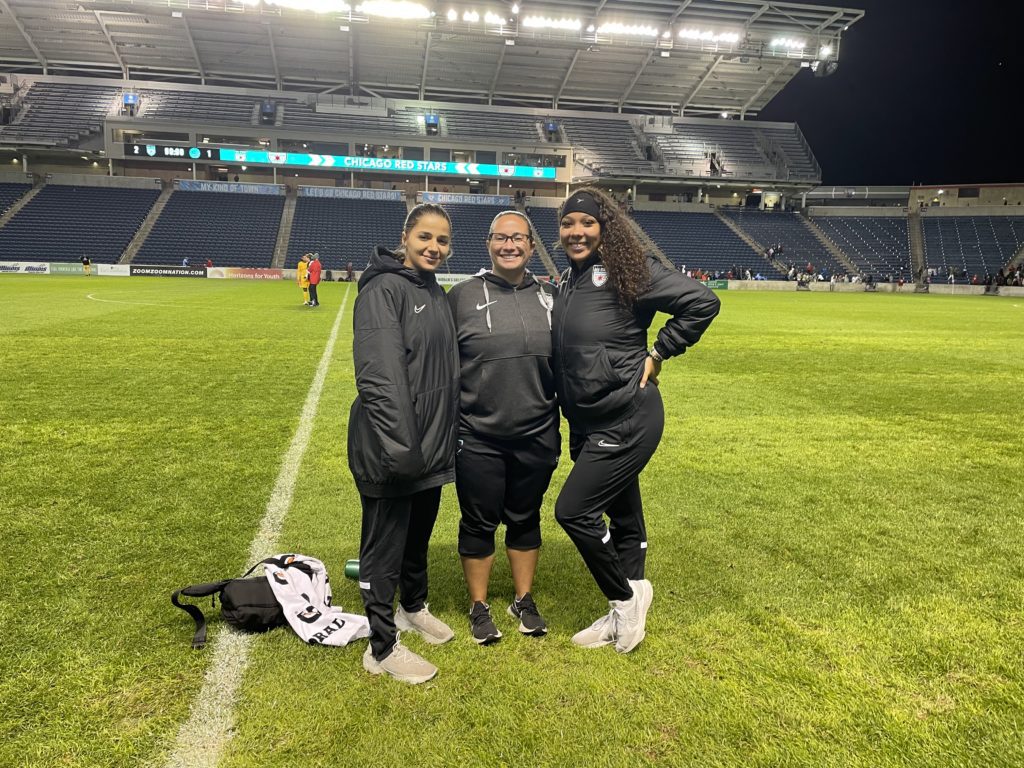 Chicago Red Stars Head Athletic Trainer Emily Fortunato, center, poses with her interns, Klwdia, (left) and Kiara.
Connecting with the Chicago Red Stars
Building trust with the Chicago Red Stars players — or any athletes for that matter — is key for an athletic trainer, and Kiara and Klwdia discovered that not all athletes and their associated injuries are the same. Every day is unique, and nothing precisely follows a textbook case.
"You really have to know your stuff to navigate through the day," Kiara says. "The girls were all very sweet and they helped me so much."
It was a win-win all around, Emily says. "I could see their confidence grow, initiating conversations with the Chicago Red Stars players and coaches and becoming more confident in their athletic training skills."
"Emily had us work with multiple athletes by ourselves, but she would obviously monitor everything," added Klwdia. "She would have us evaluate some of the injured girls and she would be by our side and then do her own evaluation. It was a great learning opportunity."
Having to oversee two interns prompted Emily to revisit her own training. "They definitely kept me on my toes because they would come in with proficiencies that they needed to do and it made me go back to the books to stay on top of those subjects," Emily said. "I hope that I helped them as much as they helped me."
Traveling to Chicago Red Stars Semi-Finals and Championship Games
It wasn't certain if the interns would show up in Portland, Oregon for the semi-finals and Louisville, Kentucky for the end-of-season games. When they both arrived to see the Chicago Red Stars through to the finish, it was a welcome surprise.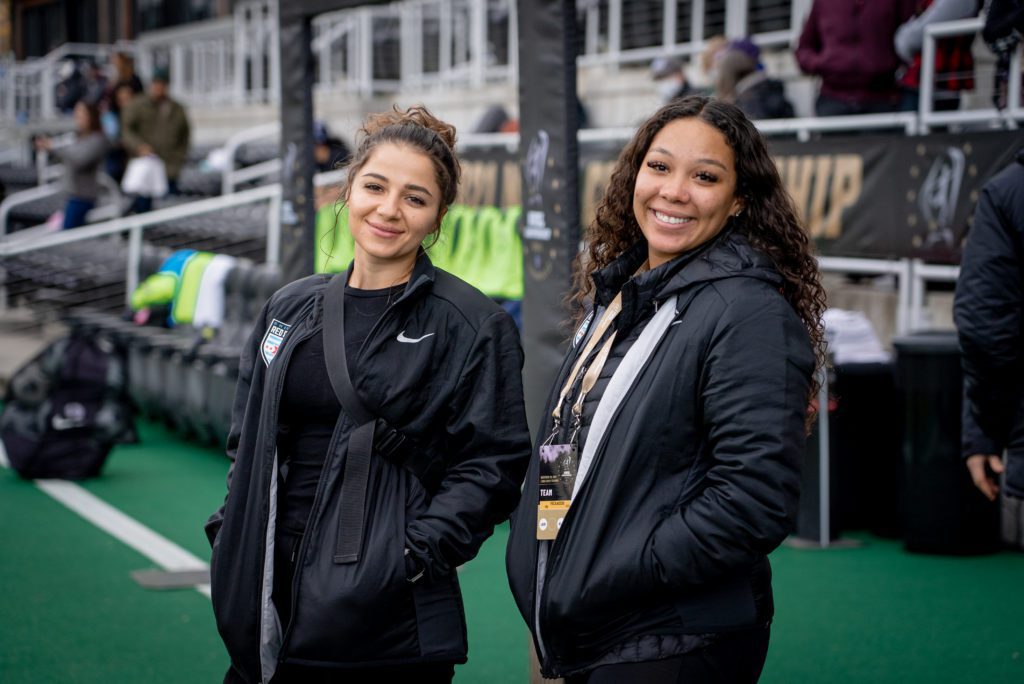 Chicago Red Stars Interns Klwdia (left) and Kiara work alongside the team in Louisville, Kentucky.
"They got to see how a road trip works, which was great," Emily said. "It wouldn't have been the same without them. It was awesome to have them there to have the experience and excitement of playoffs. The coaches and the players were so excited that they could come."
Chicago Red Stars Interns Go to the Semi-Finals and Compete in the Championship Game
"The last two weekends of the season, we traveled with them," Klwdia said. "It was great. I never thought we would travel with them and be with them for every treatment. We have multiple treatments a day when we're traveling so we got to spend a lot of time with the girls and get to know them more."
Though nerve wracking at times, it was a great opportunity for the interns to try to keep the girls' bodies healthy and spirits high.
Chicago Red Stars Fans Go Wild
To add to the hype, Emily says that Portland was a great place to be. It's known for its highly exuberant fans. "They have the best crowd in the NWSL, getting 15,000 to 20,000 fans per game and they were all jumping up and down and singing the whole time. They loved it, and we won, even though no one thought we would."
Unfortunately, the Chicago Red Stars didn't win the championship game, but the interns were so excited to be able to assist them through a long and grueling season that saw a lot of injuries.
"They needed a lot of help and it was great to be able to be there with them and help them," Klwdia said. "And although Kiara finished a lot earlier with her rotation, she came back for the finals and championship game to help out. That's just how excited we were for the girls."
"It was so great to be able to be Emily's extra spare hands if she needed anything," Kiara said. "Now I know that I would love to work in women's soccer."
IBJI and Chicago Red Stars Partnership
IBJI has been the Chicago Red Stars' sports medicine provider since 2015. The IBJI orthopedic team is led by IBJI orthopedic surgeon Roger Chams, MD, who serves as the team's medical director; primary care sports medicine physician Angelo Savino, MD, team physician; sports neurologist Anthony Savino, MD, team physician; Molly Uyenishi, PA-C, MSMS, physician assistant to Dr. Chams; Emily Fortunato, ATC, head athletic trainer; and Bria Wanzung, PT, DPT, ATC, head physical therapist.