Update: The Red Stars defeated Gotham FC 1-0 on Sunday, November 7, and advance to the NWSL Semifinal vs Portland.
Headed to the Playoffs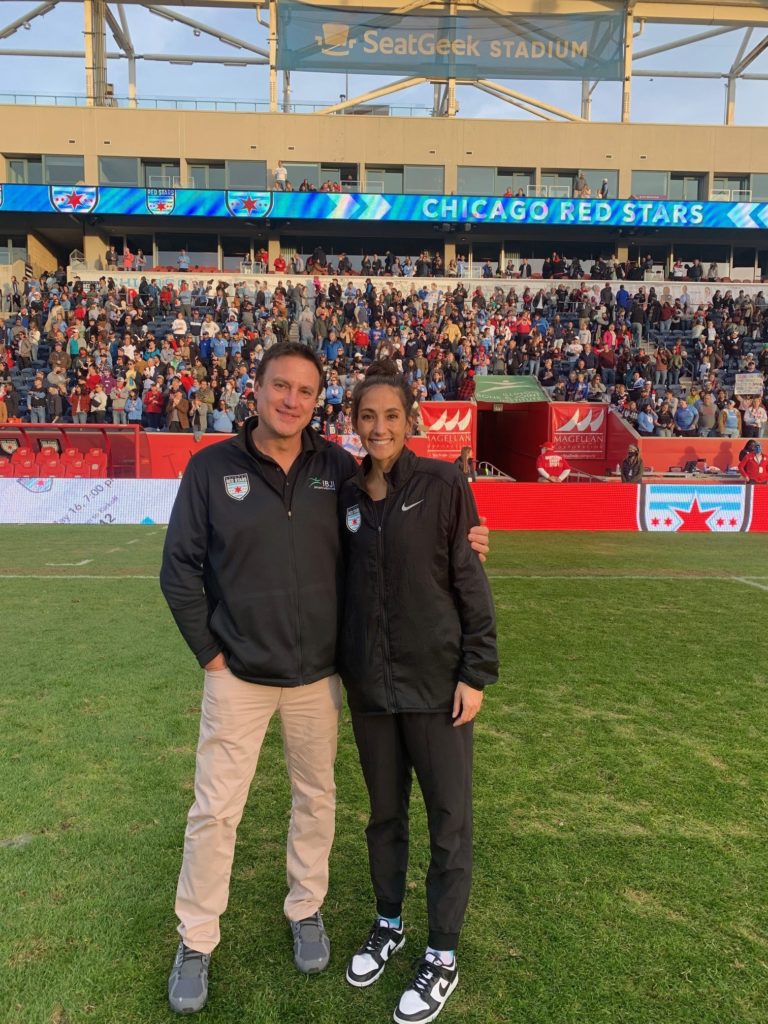 Team Medical Director Roger Chams and Physician Assistant MollyUyenishi, PA-C, MSMSkept players at their best during the playoff game on Sunday, November 7.
IBJI is proud to celebrate the successful season of the Chicago Red Stars Soccer Club. After defeating the Orlando Pride 1-0 Friday, October 29, the Red Stars became the first team in the history of the National Women's Soccer League to clinch a playoff berth for six consecutive seasons.
"We're excited to see the Red Stars in the playoffs, and will support them in their quest for an NWSL championship," stated Matt Repa, IBJI Sports Medicine Business Development.
Chicago Red Stars Enter NWSL Quarterfinals
The team will host an NWSL Quarterfinal Round playoff game Sunday, November 7.
IBJI Care Team for Chicago Red Stars
In 2015, IBJI began partnering with the Chicago Red Stars to provide support as a comprehensive orthopedic sports medicine provider. The care team is led by IBJI orthopedic surgeon Roger Chams, MD, who serves as medical director.

The care team includes primary care sports medicine physician Angelo Savino, MD, team physician; sports neurologist Anthony Savino, MD, team physician; Molly Uyenishi, PA-C, MSMS, physician assistant to Dr. Chams; Emily Fortunato, ATC, head athletic trainer; and Bria Wanzung, PT, DPT, ATC, head physical therapist.
Together, they ensure the players are at the top of their game with collaborative, integrated, in-house care. The Red Stars receive the proper strength, conditioning and training needed to perform optimally and return the following season ready to compete.
How IBJI Helps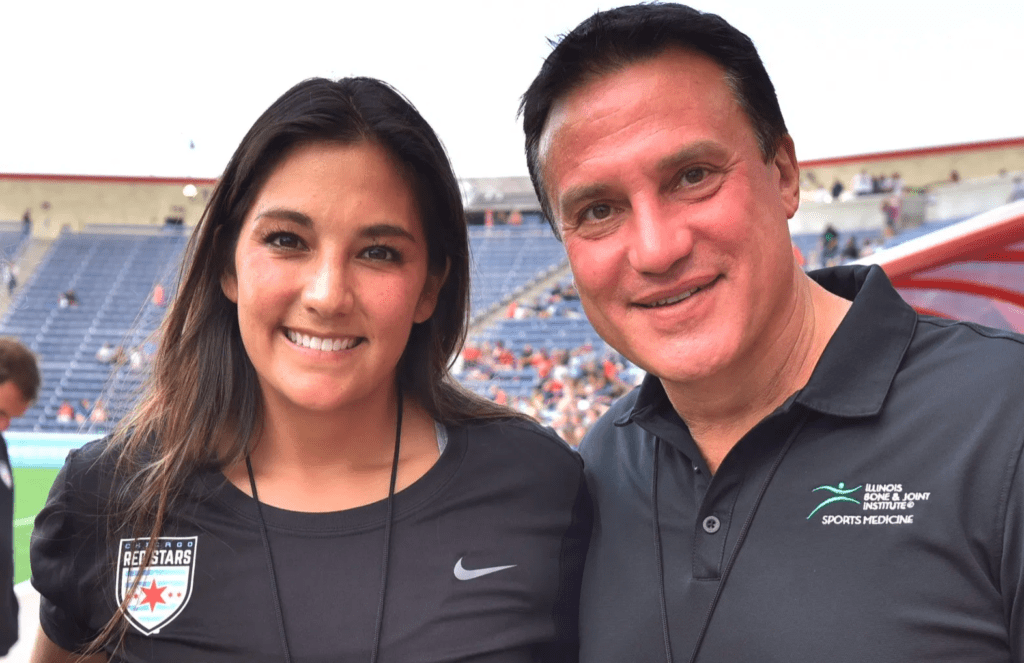 Team Medical DirectorRoger Chams, MD, and Physician Assistant Molly Uyenishi, PA-C, MSMS, pose for a photo at a Chicago Red Stars game.
"I go out there weekly and I'm in communication with the athletic trainer," Molly explains. "If there are any injuries, we diagnose them, and get them the proper testing and treatment so we can get them back out as quickly and as safely as possible."
The team also covers home and away games.
Veteran Red Star Alyssa Mautz had back-to-back surgeries with Dr. Chams. She had two successful ACL reconstructions, one on each knee, and benefited from some advanced treatments, such as blood flow restriction therapy.
"We benefited from working with an extremely dedicated professional athlete," Dr. Chams says. "She benefited from having access to the latest technologies and return-to-play protocols. She's had an extremely successful year and we couldn't be prouder of her."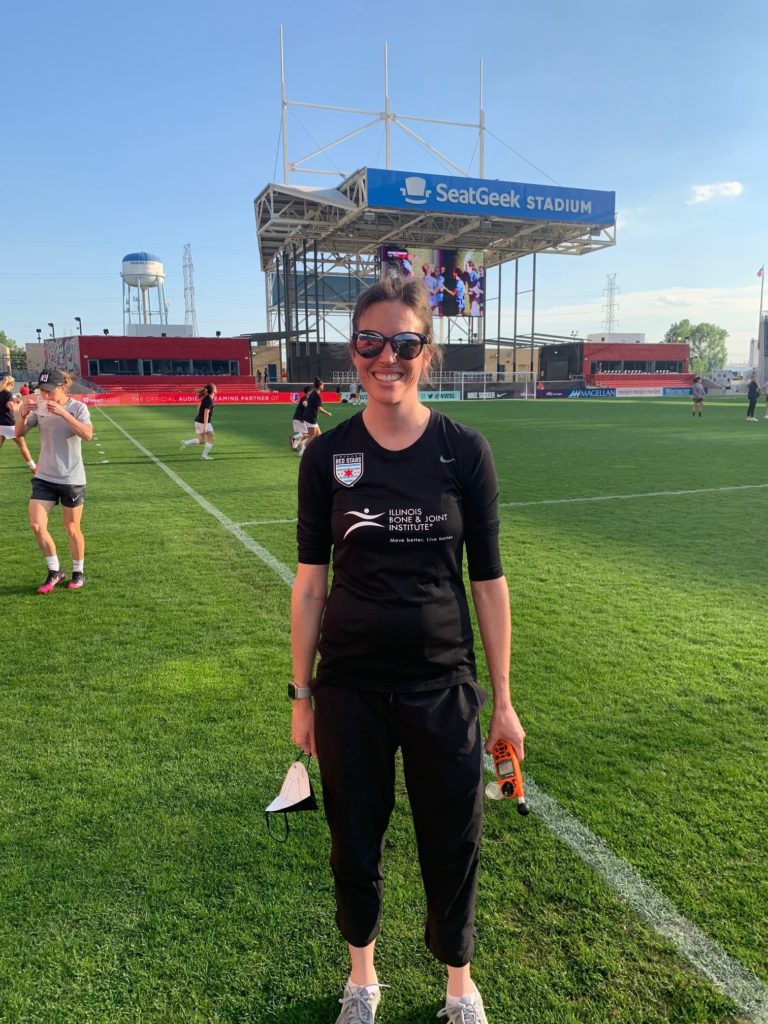 Head Physical Therapist Bria Wanzung, PT, DPT, ATC, works at SeatGeek Stadium, home of the Chicago Red Stars.
"It was great to see her back out there after she had gone through rehab and she has had a healthy season," Molly adds.
The IBJI care team treated many soft tissue injuries this season, with players returning to play thanks to proper rehab and PRP injections.
"We probably sped up their rehab by having the players work a lot with Emily and Bria, and the PRP injections seemed to help with reducing inflammation," Molly says.
A Challenging Season
Last year, Dr. Chams began participating in the NWSL Task Force, which was formed to establish COVID protocols to keep players safe in the game while avoiding illness, Dr. Chams says. "This medical advisory task force consists of sports medicine doctors from around the country that meet to agree on the proper course to keep these incredible athletes safe and healthy."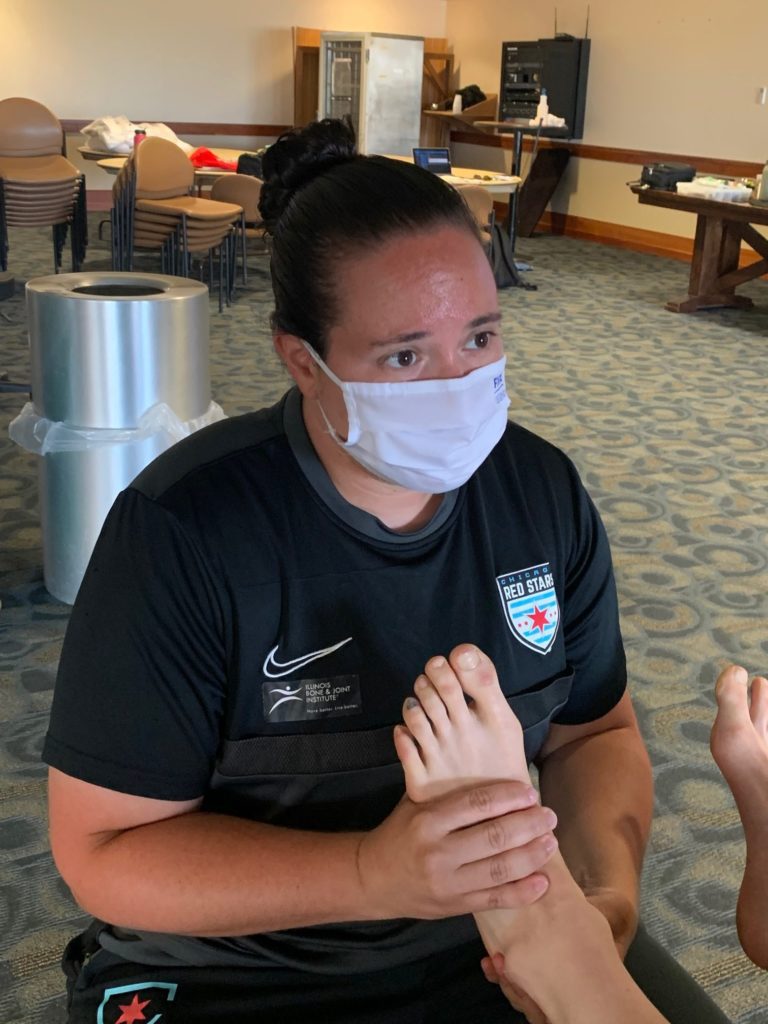 Head Athletic Trainer Emily Fortunato, ATC, keeps players in top physical condition.
Protocols included creating an athletic village, wearing masks, frequent testing, contact tracing, and more.
"We've had a pretty successful run," Molly says. "We haven't had to cancel anything and everyone has stayed healthy."
As medical director, Dr. Chams deals with acute on-field injuries during the game, performing sideline evaluations to determine if a player can continue in the game.
"We evaluate and treat all of the Red Stars' injuries," Dr. Chams says. "Most common injuries typically involve the lower extremity, including tendon and ligament strains and sprains. The most common surgical intervention includes knee arthroscopy and, unfortunately, multiple anterior cruciate ligament reconstructions on many of the players."
Learn more about the Chicago Red Stars and read more about sports medicine and the teams we partner with at ibji.com.