Supporting Team is a Win-Win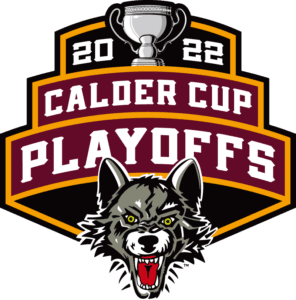 UPDATED 06/27/22: This week, as the Chicago Wolves clinched Game 3 of the Calder Cup Finals on June 22 and went on to win the cup over the weekend, another team was celebrating their win. The IBJI team has been providing physicians to support the Wolves since its inception, working tirelessly to attend to the players' medical needs so they can perform at their best.
From common sports injuries like contusions and lacerations to broken or fractured bones, the IBJI team has been at every game and practice to assess, treat, and return players to the ice.
In this Q&A, Chicago Wolves Team Physician Edward "Scott" Logue, MD, an IBJI Orthopedic Surgeon; Chicago Wolves Sports Neurological Consultant Anthony Savino, MD, an IBJI Sports Neurology Physician; and Chicago Wolves Assistant Athletic Trainer Austin Kasper, an IBJI Certified Athletic Trainer, tell about their behind-the-scenes experiences with the Chicago Wolves.
Can You Describe Your Main Duties with the Chicago Wolves?
Dr. Logue: I am the head team physician and orthopedic consultant. I or one of my IBJI partners, primarily Dr. David Hamming, are at every home game during the regular season and at home and away games during the playoffs. We take care of most of the acute injuries that occur during games and provide follow-up care for orthopedic injuries. Most common game-day injuries are lacerations which are sutured emergently as well as contusions, fractures, and sprains. We have x-ray capability at the games so we also function as glorified x-ray techs.
Dr. Savino: I am the neurological consultant for the team and am called primarily for the evaluation of head injuries and possible concussions. In these cases, I will evaluate the player and come up with a comprehensive management plan, in addition to a return-to-play progression, to get them safely back on the ice once they have clinically recovered. I work closely with the Chicago Wolves' staff and other medical providers, including the incredible athletic trainers, throughout their recovery. Everyone plays an integral role in getting these players back on the ice safely.
Austin: My daily duties consist of assisting the head athletic trainer with managing the health care of the team. We are available at all practices and games to tend to the team's needs. We do evaluations of acute and chronic injuries, rehabilitation of said injuries, and develop injury prevention programs.
How Do You Keep Players Safe and Performing Their Best?
Dr. Logue: My primary role is to assess acute injuries and first determine whether it is safe for the player to continue playing that game. We then work with the trainers on ensuring appropriate treatment is instituted to help the athlete recover completely, safely, and quickly. As an orthopedic surgeon, I follow up with the players on all their orthopedic issues and ensure the most appropriate care is given.
Dr. Savino: If a player sustains a significant head injury or is displaying signs or symptoms of concussion they are immediately removed from play. They are then assessed by the athletic training staff and covering physician where they go through testing to gather more information regarding the injury and any symptoms they are experiencing. If there is concern for concussion, they will not return to play and I will see them for further evaluation and plan of care. Players are never returned to the ice with any concern for concussion, and all players go through a standardized return-to-play process after symptoms resolve. They also complete standardized testing, which is compared to their baselines, to ensure they are operating at baseline.
Austin: Being present at all practices and games provides ease of access to medical care for the team. We play a 76-game regular season, so being there to treat anything from minor aches and strains to more significant injuries will decrease the time from injury to care and will then improve outcomes in their return to activity.
What's One Thing You've Learned from Working with The Chicago Wolves This Year?
Dr. Logue: This is my twentieth year with the team. Each team has been a bit different and each of them has provided unique learning opportunities. This particular team is obviously extremely talented. The uniqueness of this team, however, is their sense of commitment to each other as teammates. They are great as individuals but even better as a collective. It is a tribute to the ownership, management, coaches, and staff who have conveyed and maintained this attitude. It is why we are here today in the Calder Cup Finals.
Dr. Savino: Resilience. These players have worked hard all year, on and off the ice, to get where they are and put themselves in a position to win the Calder Cup.
Austin: Working in hockey comes with some nuances. It's different than any other sport I have worked previously, so there is a slight learning curve with the job. With that being said, I am glad to work with a veteran ATC, Kevin Kacer, to help show me the ropes.
What Has It Been Like Watching the Chicago Wolves Advance to the 2022 Calder Cup Finals?
Dr. Logue: It has been a little bit of a roller coaster. The first two rounds were dominated by the Wolves, very inspiring to watch but not all that suspenseful. The third round was about as intense a series as I have ever been part of. Great hockey by both teams but great team play and grit by the Wolves won it. The finals so far have been equally as exciting because of the team's ability to weather adversity. Again I attribute this to this team's commitment to each other and the team concept.
Dr. Savino: Very exciting. I know the hard work they have put in and am excited for their opportunity to win it all. They have remained steadfast through their injuries and really come together as a team.
Austin: It has been a great experience watching the success of this team. From top to bottom, this is a class organization and I am thankful to be a part of it.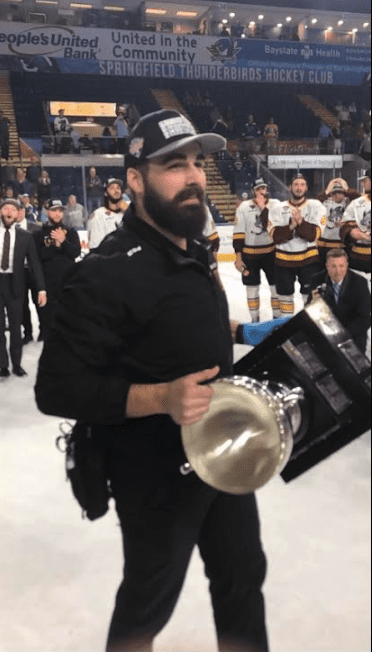 Austin Kasper, ATC, celebrates with the team
What Do You Like About the IBJI Physician/Chicago Wolves Partnership?
Dr. Logue: I love taking care of the players and being part of such a great winning team. The partnership allows me to do this. I truly believe it has been a win-win for both IBJI and the Chicago Wolves.
Dr. Savino: To me, the partnership just makes sense. Two great teams coming together for common goals. To play hockey at the highest level and win the Calder Cup!
More About the IBJI Team
Edward "Scott" Logue, MD is an orthopedic surgeon who specializes in treating shoulder and knee conditions and general trauma care as well as serving as the team physician for the Chicago Wolves Hockey Team. He has particular expertise in treating endurance athletes.
Watch His Chicago Wolves Team Physician Interview.
Anthony Savino, MD is a board-certified neurologist with fellowship training in sports neurology. He specializes in concussion management and is a Neurological Consultant for the Chicago Red Stars, Chicago Wolves, and Lake Forest College in addition to various local high schools and club teams. He also serves as a Team Pool Physician for the US Ski and Snowboard Team.
Austin Kasper, ATC, has been with IBJI and the Chicago Wolves for one year. While studying to become an athletic trainer at Northern Illinois University, he was given the opportunity to intern for the Chicago Wolves prior to graduation. He holds a master's degree in Sports Administration.
Learn More About Sports Medicine and Our Team Partnerships
IBJI supports many athletic teams across the Chicagoland area. Check out our partnerships to see how we can help your team or organization.
You might also like: