Trigger point dry needling is a technique that patients can use to try and relieve their pain. It is used in conjunction with manual therapy and therapeutic exercises, to retrain tissue and improve overall flexibility and function. Pain or dysfunction that has not improved with standard treatment–which also prevents a patient from returning to their previous activity level or sport without restrictions–may benefit from trigger point dry needling.
Muscle stiffness can occur after surgery, due to pain and post-operative restrictions. Muscles in this state will not develop the appropriate force required for normal function. With the decrease in pain and restoration of normal tone from trigger point dry needling, the patient's range of motion limitations, faulty movement patterns, and muscle timing issues can be resolved, helping them return to their previous activity level.
Dry needling in practice
With the introduction of the Illinois Physical Therapy Practice Act in August 2018, that now supports Direct Access for care, our clinicians no longer need a referral from a physician to perform trigger point dry needling. However, having a physician supporting and understanding the procedure is always beneficial. Trigger point dry needling is billed as a "neuromuscular re-education unit" in conjunction with typical physical therapy treatments. Therefore, the utilization of dry needling can be billed with other neuromuscular activities and will have little to no increase in the cost of treatment.
There are mechanical and biochemical effects of trigger point dry needling, although the exact mechanisms of it are unknown. Based on the pioneering studies by Dr. Jay Shah and colleagues at the National Institutes of Health (NIH), we know that inserting a needle into trigger points can cause favorable biochemical changes, which assist in reducing pain. It is essential to elicit the so-called local "twitch responses," which are spinal cord reflexes. Getting local twitch responses with trigger point dry needling is the first step in breaking the pain cycle.
What is a trigger point?
Trigger points form in muscles from any kind of overuse or direct trauma. Sustained low-level muscle contractions or repetitive low-level muscle contractions lead to trigger point formation. A study by Treaster, et al., in The Journal of Electromyography and Kinesiology, found that trigger points form in the upper trapezius in as little as 30 minutes of computer use under stressful conditions.
Hoyle, et al., in the same journal, found that trigger points developed after one hour of continuous typing in all conditions. Direct muscular trauma, such as from falls, blunt contact injuries, muscle strains and lifting injuries can all lead to the development of trigger points in the involved muscle, as well as in the muscles that compensate after injury.
Trigger point dry needling is an invasive procedure in which a solid filament needle is inserted into the skin and muscle directly at a myofascial trigger point. Physical therapists utilize trigger point dry needling in the treatment of myofascial pain. Appropriate assessment, including reproducing the patient's symptoms while palpating trigger points is essential. A myofascial trigger point consists of multiple contraction knots, which are related to the production and maintenance of the pain cycle as well as inappropriate tone within the muscle.
How does dry needling differ from acupuncture?
Trigger point dry needling is different than acupuncture in a couple ways. Trigger point dry needling is based on the Western Medicine principles from the work of Dr. Travell and Dr. Simons. It requires the assessment and treatment of trigger points and the referral patterns that they create. Acupuncture is based on Eastern Medicine principles, including meridians and chi, with different assessment and treatment procedures for trigger points.
About the Author
Dain Hampton, PT, DPT, OCS, COMT, is the facility manager at Illinois Bone & Joint Institute Rehabilitation in Buffalo Grove. Dain is also the manual therapy special interest group lead and has presented frequently on spinal assessment and treatment.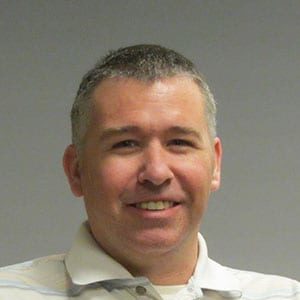 Dain Hampton, PT, DPT, OCS, COMT, Facility Manager, Illinois Bone & Joint Rehabilitation, Buffalo Grove