In November 2019, Kim V., an avid exerciser, found herself at Illinois Bone & Joint Institute for rotator cuff surgery. She had enjoyed attending fitness classes and believed her injury happened while exercising.
"I'm still not sure how the injury happened. I feel like I did something during an exercise class. I laid off of it for a bit because it hurt, but I went back to class and worked through the pain. The pain persisted, so I stopped classes and saw Dr. Roger Chams."
Keep reading about Kim's experience having rotator cuff surgery, what happened while she was recovering, and find out how she is doing today.
Diagnosing Her Shoulder Injury
This wasn't Kim's first visit to IBJI, so she knew she would take care of her. Dr. Chams performed strength tests to see how Kim's shoulder was performing. He then ordered an MRI, which proved something was wrong. Kim had a three-centimeter tear in her rotator cuff and a tear in her bicep tendon.
"I felt comfortable and at ease with Dr. Chams. His personality is calming. After seeing my MRI, he explained that I could probably wait a few months for surgery, but I couldn't deal with the pain and was eager to return to my normal life. So, I decided to do the rotator cuff surgery sooner rather than later."
Rotator Cuff Surgery and Recovery
After surgery, Kim had a sling that she needed to wear 24/7. She knew it would be a long recovery. "It was an adjustment. The padded sling was cumbersome, and I had to wear it for about six weeks, even while sleeping, and then switch to a normal sling for four more weeks," said Kim.
During her recovery, her husband supported her and helped her with everyday tasks such as dressing, putting on makeup, and cutting her food. Kim said she didn't realize how much she would have to change how she did things, including using her left hand instead of her right hand.
Physical Therapy
Kim started physical therapy a week after rotator cuff surgery. "I didn't feel nervous about starting physical therapy. I knew the next step after surgery was to get mobile and strong. I had to do it and actually looked forward to it."
She spent about 27 weeks in physical therapy with Allie Hufford, PT, DPT, and Justin Bond, PT, DPT, at IBJI's Grayslake location.
"Allie and Justin were a great team, and they kind of became family to me as we worked through physical therapy."
The confidence that Allie and Justin had reassured Kim. "Allie and Justin are the ultimate professionals. Not once did I think, 'I hope they know what they're doing.' They showed quiet confidence, and I appreciated it. They had a plan and knew the next steps. They were the best listeners and always asked how I felt and if anything bothered me. They always had a different exercise for me to try."
Kim could barely move her arm when she first saw Allie and Justin eight days post-operation, and now, she can do almost everything she could do before rotator cuff surgery.
"They are exceptional professionals, extraordinary human beings, and I am so appreciative and grateful for all they have done to get me back to living my best life."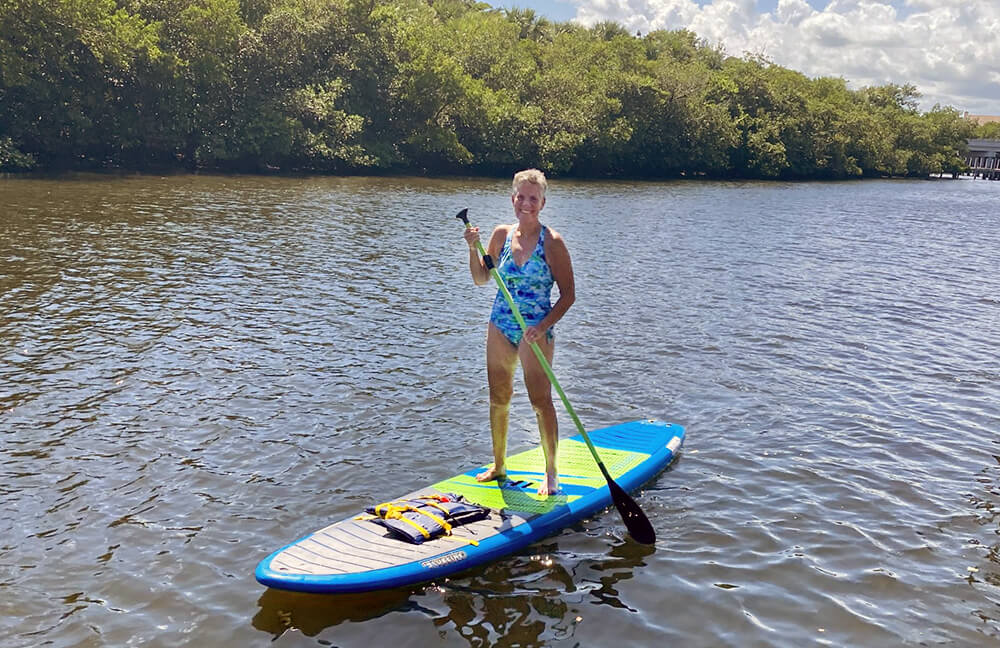 Kim is back to living her best life after rotator cuff surgery.
How Kim Is Doing Today
After 27 weeks, Kim has been released from care and is still advised to do physical therapy at home for up to six months. She says Dr. Chams was impressed by her progress and strength after rotator cuff surgery. "He was humble and said to me that surgery was the easy part and that my determination was what helped me get to this point."
Kim reflects on her experience, "I feel so good now. I'm even doing YouTube exercises since in-person exercising is not allowed during these COVID-19 times. Listen to your body. It'll tell you what you should and should not do. I'm so grateful for the IBJI team."
Kim added: "What I like about IBJI is that Dr. Chams, Allie, and Justin all work out of the same building, one side is doctors, and one is physical therapy. I like how the doctors and physical therapists communicate with each other. They work as a team. I felt totally confident in the care I received because I knew they were talking to each other and on the same wavelength. I would recommend them to anyone."
"I've had friends go through physical therapy, and they didn't have the same positive experience that I did. Even the reception staff and PTA's were so good, and everyone I encountered at IBJI was welcoming. Dr. Chams is an outstanding surgeon. He's kind and compassionate. He listens. I'm grateful for his caring and skill as a surgeon for putting me back together again."
9/24/2020: Update From IBJI Rotator Cuff Surgery Patient Kim
Kim reached out to the IBJI team to provide an update on how she has been:
"I thank my lucky stars every day that I had [Allie and Justin] as my physical therapists. I just wanted you to know that I am doing great. I am still doing my physical therapy three times a week."
"Last week, I was in Jupiter, FL, for five days with two friends. One of them owns a condo in Jupiter, and she invited my other friend and me to come down with her to her condo. I went paddle boarding for the very first time while I was there, and I did great. We paddled for an hour, and I felt so good. My right arm was so strong. And, I have you two to thank for that!
"Ten months and one-week post-op, I paddled like I never had rotator cuff surgery! I love you guys and cannot thank you enough for getting me to where I am today. I plan to stop by to visit you. I hope you both are doing well. I feel so blessed to have landed in the care of such a great group of professionals, including Dr. Chams, Allie, and Justin."
Roger Chams, MD, is a board-certified orthopedic surgeon specializing in sports medicine and knee and shoulder injuries and disorders.
Trust the Shoulder Experts at IBJI
The shoulder doctors will diagnose your condition and provide optimal shoulder care, with rotator cuff treatments to relieve your pain and ensure you maintain a full range of motion.
If you've experienced rotator cuff injuries or want a second opinion on rotator cuff surgery, make an appointment to meet with one of our orthopedic specialists.