Chad has spent the last 20 years of his life in pain. As an avid athlete up into his 40's, his back pain became progressively worse each year. Keep reading to learn more about Chad's spine surgery recovery time and the patient care he received from IBJI's Dr. Mark Mikhael.
Learn more about spine care at IBJI.
Back Pain Progresses
Chad grew up playing a wide range of sports and stayed active as he entered his adult years. "I grew up playing contact sports, I also skied, scuba dived, hiked, biked, kick-boxed, traveled, and played ice hockey from the age of five to 40. I have been in back pain, constantly, for the last 20 years of my life. It has progressively gotten worse. The last year has been particularly horrible."
Multiple Failed Attempts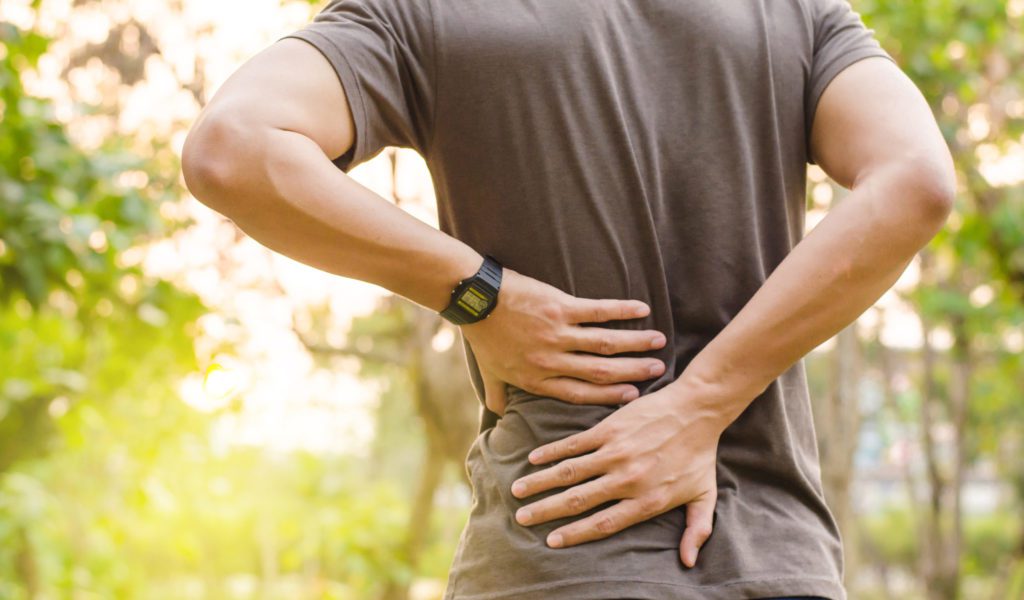 Man grabbing low back in pain while out on a walk.
Unfortunately, other avenues that Chad explored did not help with the pain. "Physical therapy didn't help, it made it worse. I saw everyone from Shaman Priests, pain specialists, Neurotherapy specialists, chiropractors, you name it, I tried it."
After failed attempts with other providers, Chad finally decided to see a surgeon and get the proper X-rays/MRI. "I went to three of them, Dr. Mikhael and two other providers at prominent health systems. The other two wanted to do a single L4/L5 fusion and keep me in a horrible brace post-op for six weeks. I met Dr. Mikhael, who came highly recommended and he gave it to me straight and said that I would be back in the OR in a matter of time if I didn't address the disc below S1/L5. And with his method there would be no brace, no walker and no cane post-op!"
Chad outweighed his options. He didn't want to have to be back on the operating table again at some point in his life and after speaking with Dr. Mikhael, he loved his recovery methodology.
Great Spine Care at IBJI
"I listened to his advice and he literally saved my life. I was irritable with those I loved, I couldn't exercise, I couldn't bend over, I could only lay on my back for relief, or get in a hot bath. I have two adolescent children and I didn't want them to have a father that was always 'short' with them. I never thought I would be able to live pain free, rather, just live with less pain."
Additionally, Chad says that Dr. Mikhael was calm, cool, and right to the point. "I drilled him with questions and he answered them head-on with compassion and understanding. The day of the procedure I was nervous, but he came in and told me everything was going to be fine and that I'm in good hands. He was absolutely correct."
"The hospital was amazing (good food as well by the way), the staff was friendly and competent and overall it was a great experience," says Chad.
Spine Surgery Recovery Time
After his procedure, Chad has been able to get back to activity and progresses each day. "I walked roughly 800 yards about five hours after the surgery! A week later I walked four miles. At my five-week anniversary of surgery, I feel amazing. I am blessed and Dr. Mikhael is a miracle worker.
"My energy at work is great, my patience with my children is far better, I can get up and walk to the bathroom in the morning with no pain! I can't wait to keep getting stronger. I can't thank IBJI, Joe (Dr. Mikhael's right-hand-man) and Dr. Mikhael enough. Five stars, A+ and such a wonderful person on top of it. Thank you for a new lease on life! I am one blessed human being!"
Read more about Recovering from Spinal Fusion Surgery
Request an Appointment with an IBJI Physician
Need to see a doctor for spine treatment? Make an appointment today with one of IBJI's spine doctors—online or in-person—to learn more treatment options to get you back to feeling your best.
Request an Appointment with a Spine Doctor