In September of 2020, Matthew discovered he had gout. Gout is one of the most common forms of inflammatory arthritis and characterized by severe pain, redness, and tenderness in joints. Gout happens when there's too much uric acid in the body causing inflammation and pain in the joints. Attacks usually begin in the big toe and become more chronic and progressive causing joint damage and disability. Keep reading to learn about Matthew's treatment and surgery for gout.
Sudden Foot Pain from Gout
One morning, Matthew woke up and experienced pain in his right foot. He was unsure what was causing the pain, thinking he may have stubbed his toe. He powered through it and went to work thinking the pain would subside.
Unfortunately, Matthew experienced the sharp pain for the next 15 days. As it continued to worsen with swelling and a bump on his foot, he knew it was time to search for help. He called his primary care doctor (PCP) which gave him a referral to a podiatrist.
This provider informed him that he was suffering from gout and gave him a cortisone shot. Matthew said, "The shot was very painful and I was surprised he didn't numb it beforehand." He was also surprised that the podiatrist would not give him a doctor's note for work and that he needed to go back to his PCP to obtain one.
Matthew was off of work for two weeks before going back and getting another cortisone shot and again getting a doctor's note from his PCP. At this point, he also had medication to manage his gout. Unfortunately, the high dosage he was given gave his whole body a rash leading him to go back to his PCP for a new referral.
IBJI Podiatrist Steps in to Treat Gout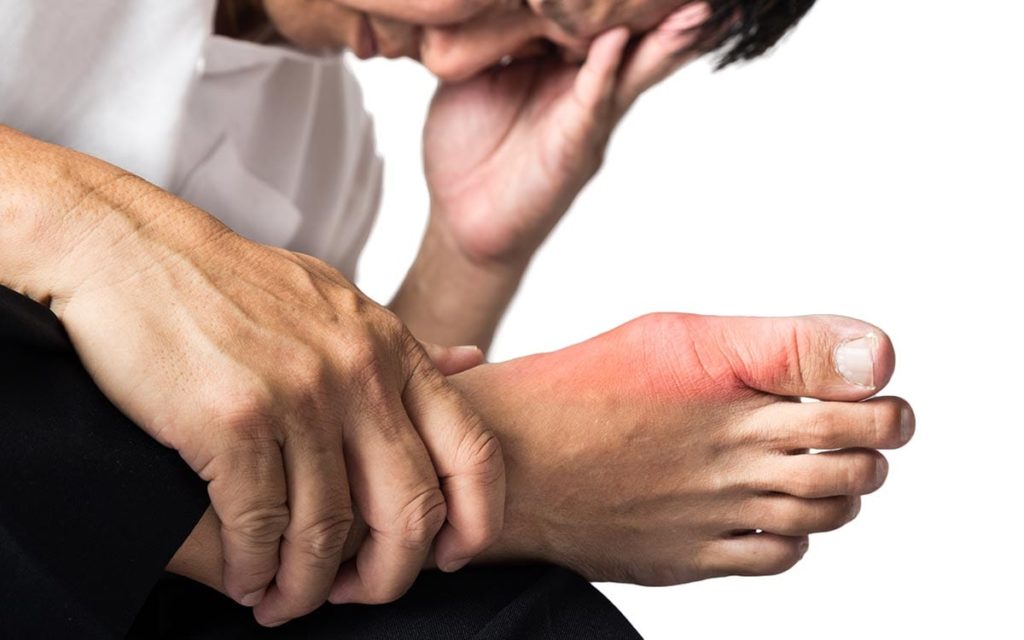 Man clutches foot while experiencing gout pain in big toe. "Image by: Tham KC/Shutterstock.com"
This time, his PCP recommended he see IBJI's Dr. Douglas Solway, podiatric surgeon. It was like night and day compared to his first experience. By the time he arrived at his first appointment with Dr. Solway, his foot pain worsened. He told Dr. Solway that he was icing his foot under instruction from the first podiatrist, which Dr. Solway said he should not be doing and that he would not get better if he continued icing.
"Dr. Solway gave me a shot of cortisone but this time around I was actually numbed beforehand," said Matthew, "From my past experience, I had thought it was normal practice to not be numbed before. This was a completely different experience. I was at ease and numbed. Dr. Solway even worked the shot in my foot a different way that was less painful.
"Dr. Solway has an incredible bedside manner. I truly felt that he has my best interest in heart. I didn't feel like I was just another number, I could tell he was concerned about getting me back to work and relieving my pain. His office also did X-rays unlike the first doctor I went to. He wanted to see what else was going on before anything else."
Upon meeting Dr. Solway, Matthew had a better feeling and sense of relief that they would actually get down to the bottom of the issue and figure it out. "Getting the cortisone shot and medications is one thing, but just the way he handled patient care made all the difference. Even scheduling the appointments with him was way easier. The first provider I saw never got back to me after I informed them of the rash caused from the medication."
Matthew met with Dr. Solway a few more times for shots and figured out the right dosage for medications to regulate his gout based on blood work. He decided to have an MRI to assess if there was any other damage caused by the gout, unfortunately, there was.
Surgery to Treat Gout
He and Dr. Solway discussed surgery options and agreed to proceed as Matthew couldn't even put on his work boot due to pain and swelling. As a police officer, Dr. Solway also had concerns for Matthew's performance on the job and treating him so that he could get safely back to work.
"We scheduled the surgery in early December and Dr. Solway told me what to expect throughout the entire process," Matthew explains, "The surgery was about two hours, he put a screw in my right toe and did some reconstructive work. Afterward, he walked me through my recovery and pain management."
Gout Treatment and Surgery Outcome
Throughout his recovery after surgery, Matthew's main goal was to be able to get back in his work boot without pain and walk without having swelling at night. His recovery took about two months and Dr. Solway took more X-rays to make sure he was ready to go back to work.
"I finally went back to active duty in early February 2021. My foot feels good and there is no pain. I can put my boot on, get in and out of the squad car and stand for long periods of time while on the job, which is what I was most concerned about. I haven't had any issues.
"Looking back, I would have never let the first doctor open me up and perform surgery. I am glad to have met Dr. Solway and can't thank him, his medical assistant Sharon Negrete, RMA and additional staff members enough for everything they've done. I went in at the start of this in pretty bad shape and within three to four months later, I'm doing great. I wouldn't be where I'm at today if it wasn't for Dr. Solway and his team taking the steps they did to correct my pain and help manage my gout."
Request an Appointment with an IBJI Physician
IBJI can help with treatment and surgery for gout. If you need help managing gout or another rheumatologic condition, request an appointment with one of IBJI's Rheumatologists. If your gout has worsened and you have been instructed to have surgery, our Podiatrists are ready to help.