Illinois Bone & Joint Institute (IBJI), one of the largest independent, physician-owned orthopedic practices in the United States, is excited to welcome Steven J. Fineberg, MD, a fellowship-trained orthopedic spine surgeon specializing in complex and minimally invasive surgery of the cervical, thoracic and lumbar spine. Dr. Fineberg will practice at IBJI's Chicago – Norwood Park Doctors' Office at 7447 West Talcott Avenue, Suite 500, Chicago, IL 60631, and at 1875 West Dempster, Suite 425, Park Ridge, IL 60068.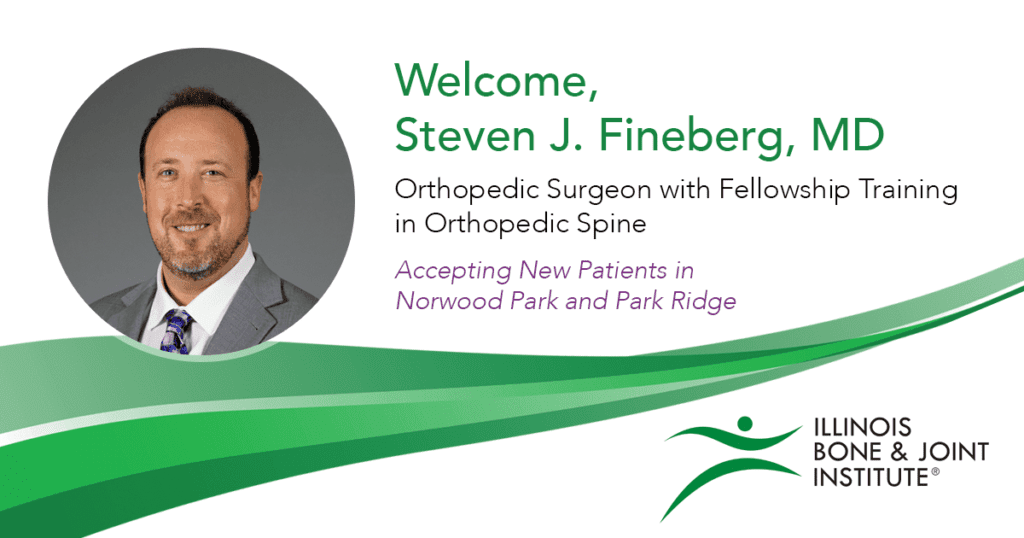 Dr. Fineberg's focus is on the treatment of patients with both nonoperative and operative approaches when indicated. He has extensive training in minimally invasive surgical techniques, robotic spine surgery, and motion-preservation surgeries such as artificial disc replacement. Dr. Fineberg also has a special interest in performing outpatient spine surgery by utilizing techniques that minimize pain, enhance recovery, and accelerate rehabilitation after surgery in order to get patients back to their active lifestyles.
Dr. Fineberg attended Sackler School of Medicine at Tel Aviv University in Israel where he graduated as valedictorian. He went on to complete an internship in general surgery at The University of Colorado Medical Center as well as a spine surgery research fellowship at Rush University in Chicago. He then completed his orthopedic residency training at New York Medical College where he worked at a busy Level I regional trauma referral center known for treating the most severely injured orthopedic and spine patients in the northeastern United States. He returned to Rush University Medical Center in Chicago where he completed a clinical spine surgery fellowship. During his fellowship he learned from world-renowned leaders in the field to perform surgery on complex spinal pathologies using both traditional open as well as minimally invasive techniques.

Dr. Fineberg is also an award-winning researcher. With an emphasis on patient safety and minimizing complications in spine surgery, his research has been presented more than 150 times at national and international conferences. He has also published numerous peer-reviewed articles and book chapters on minimally invasive spine surgery.

Dedicated to advancing technologies, applications, and minimally invasive surgical techniques, Dr. Fineberg's goal is to further wellness and long-term health of his patients.
Request an appointment with Dr. Fineberg by visiting ibji.com.