Knowing all the potential hip surgery risks can help you make a more informed decision about your care if you're considering having a procedure to treat your chronic hip pain.
IBJI recently chatted with Dr. Peter Thadani, a board-certified orthopedic surgeon with fellowship training in adult hip and knee reconstruction and total joint replacement.
Keep reading to learn more about hip surgery risks and potential complications for total hip replacement from Dr. Thadani. (His responses—below—have been edited and condensed for space.)
Potential Hip Surgery Risks and Complications
Doing your research and having an open conversation with your doctor can help answer your questions about hip surgery. One area that your specialist should address is hip surgery risks and potential complications.
With all surgeries, there is a risk of complications. It's important to discuss these with your doctor before going into any surgery.
Learn More About Outpatient Joint Replacement at IBJI
General Complications
Some general complications patients should be aware of include urinary complications (urinary tract infection or urinary retention after surgery) and cardiovascular complications (heart attack or stroke).
"With thorough preoperative health optimization and preparation, including management by one's primary care physician, the chance of serious hip surgery risks or catastrophic complications is extremely low," says Dr. Thadani.
Procedure-Specific Complications
Total hip replacement surgery has been called "the operation of the century" 1 due to its success in relieving pain and improving function in patients with debilitating hip arthritis.
"More than 90% of hip replacement patients achieve significant pain relief. However, it is major surgery, and certain risks and complications can occur during or after the procedure," says Dr. Thadani.
For total hip replacement, there are a few short-term procedure-specific hip surgery risks to be aware of. After surgery, a blood clot can develop in the leg, known as deep vein thrombosis (DVT). There is a possibility that the clot could travel to the heart and then into the lungs, forming a pulmonary embolism.
Dr. Thadani says, "Deep vein thrombosis and pulmonary embolisms often don't pose a serious threat to a patient's health. It's rare for these conditions to lead to catastrophic respiratory failure or fatal cardiac arrest. Fortunately, the rate of developing a pulmonary embolism is less than 0.25% with blood thinners after surgery2."
Another procedure-specific hip surgery risk is infection. An infection can develop in the hip after surgery and potentially be quite severe.
"If an infection develops, it can require multiple additional surgical procedures in addition to intravenous antibiotics," says Dr. Thadani. "Although infections are uncommon (0.3-1.5%3), they can cause significant disability and pain that can occasionally be permanent."
"For this reason, the surgical team takes every precaution possible to prevent infections at the surgical site. A patient needs to understand that certain health factors such as obesity, uncontrolled diabetes, and tobacco use are risk factors for infection and that improving these health issues can significantly lower the risk."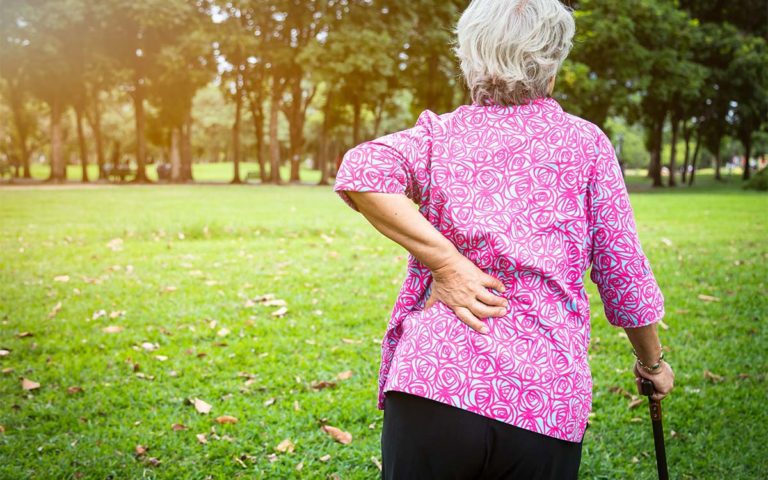 Learn about hip surgery risks and complications.
Advancements to Lower Risks and Reduce Complications
According to Dr. Thadani, "advances in implant technology and materials and modern surgical techniques have reduced the risk for complications such as dislocation of the hip ball out of the socket after surgery or a noticeable discrepancy in the lengths of the two legs after surgery."
"Advances have also been made in perioperative patient care," says Dr. Thadani, "including blood conservation strategies that make the risk for a blood transfusion after hip replacement extremely low and have virtually eliminated the need to donate and store blood before surgery."
Additional hip surgery risks related to technical factors of the surgery include potential fracture of the femur (upper thigh bone) and nerve injury. "The incidence of a femur fracture is approximately 0.5-1.5%4 and is related to patient age, gender, bone quality, and the surgeon's choice of implant and surgical technique," adds Dr. Thadani.
"Nerve injuries can occur up to 1.9% of the time5, but most of these are minor nerve stretches or bruises that usually recover; the risk for permanent nerve damage is much lower."
Hip Replacements Over Time
Overall, total hip replacement devices are very durable and provide pain-free service for many years. Although 93-95% of patients report significant pain relief, a small percentage of patients may continue to experience chronic hip pain even after the surgery.
"A couple of additional long-term procedure-specific hip surgery risks should be noted as well. Over time, the prosthetic materials can wear out, or the prosthesis may loosen from the bone, causing pain that may require a second operation. However, nearly 80% of hip replacement implants will last for at least 25 years6," says Dr. Thadani.
While millions of patients worldwide have enjoyed the success associated with a total hip replacement, it's essential to be aware of the potential hip surgery risks and complications that can occur during or after surgery to decide on the best treatment options for you.
Get Relief From Your Hip Pain Today
Hip Care and Treatment at IBJI
Whether you are just starting your hip care journey or need a second opinion on whether or not you're a candidate for hip replacement, IBJI's hip surgeons are here to provide you with the necessary care for your ailment. Get the relief you're seeking with the help of IBJI.
Request an appointment with an IBJI hip surgeon to discuss treatment options like arthroscopic hip surgery and create an individualized approach to your care.
Check out IBJI's additional online resources for hip care to learn more about hip surgery risks and outcomes and read patient testimonials.
Sources
Learmonth I.D., et al., The Lancet, 2007
Lieberman J.R., et al., Journal of Arthroplasty, 2017
Blom A.W., et al., Journal of Bone & Joint Surgery, British Volume, 2003
Fleishman A.M., et al., Journal Arthroplasty, 2019
Brown G.D., et al., American Journal of Orthopedics, 2008
Evans J.T., The Lancet, 2019
You Might Also Like ...
Last updated in April 2022.