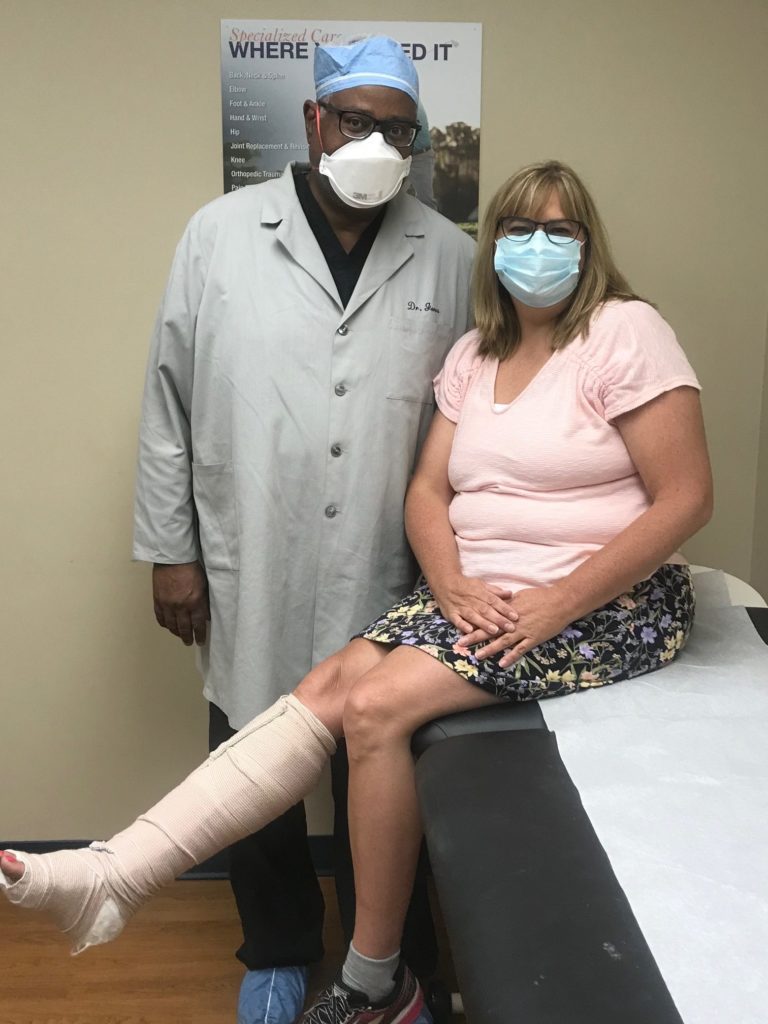 Dr. Jones and Tammy discussing surgery and her treatment plan.
Sometimes getaways unfortunately go sideways…Tammy, her husband, and their two dogs, took to the road in their motorhome, with jet skis in-tow, ready for a fun summertime getaway at Table Rock Lake in Arkansas.
Tammy was enjoying a beautiful morning, walking her dogs around the campground when the dogs spotted something they just had to get to! Taking Tammy off guard, she fell, fracturing and dislocating her ankle.
Tammy's husband took her to the local ER, where they took x-rays, reduced her ankle, put her in a splint and gave her crutches; making her comfortable enough to make the 423-mile commute back home.
Wanting the very best care, Tammy and her husband drove their motorhome from Arkansas, straight to OAK Orthopedics, a division of Illinois Bone & Joint Institute; with their jet skis still in-tow!
While still in the motorhome, Dr. Carey Ellis examined Tammy to determine the appropriate disposition of the patient. It was decided the next step for Tammy would be to see Dr. Eddie Jones Jr., OAK Orthopedic Trauma Surgeon, to set up a time for surgery.
Dr. Jones had repaired Tammy's son's clavicle a few years earlier, after an accident. He was pleasantly surprised that Tammy chose to drive all the way from Arkansas for our expert care.
Dr. Ellis examining Tammy in her RV.
"We were very honored to participate in the care of Tammy. Her injury was a trimalleolar fracture dislocation of the ankle which is very unstable by nature. She was very lucky to have made it here without the complication of fracture blisters. Her surgery went very well as we were able to get good fixation of the medial and lateral malleoli with screws and a plate," said Dr. Jones.
We are very proud to be the preferred provider for Tammy and her family. We look forward to a speedy recovery so that Tammy and her husband can get back on the road for more summertime adventures!
Dr. Eddie Jones Jr. is a board-certified orthopedic surgeon who has dedicated his practice to state-of-the-art care in orthopedic trauma, sports medicine, and joint replacement.
Dr. Carey Ellis is a board-certified, fellowship-trained primary care sports medicine physician who has trained comprehensively in the nonsurgical treatment of musculoskeletal concerns.