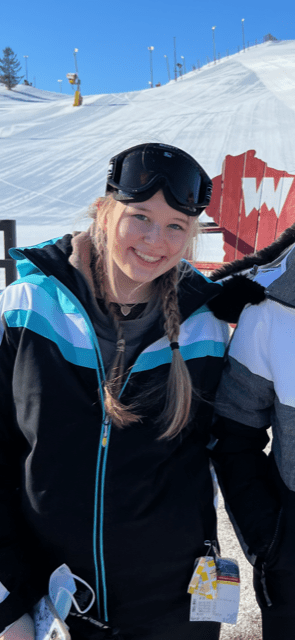 Hannah experienced a downhill skiing
accident that led to a torn knee ligament.
It's pretty daunting when your kid needs surgery for a torn knee ligament. Add to that a concussion and the fact that your 15-year-old daughter will be out for the whole season from a sport she loves.
"She won't be able to play soccer until the fall," says Hannah's mom Sarah. "This is hard to hear for a kid who's used to playing competitively."
Read on to learn how Hannah got coordinated care at IBJI for injuries, including a torn knee ligament, suffered after a downhill skiing accident.
The Mogul That Led to a Torn Knee Ligament
Back in January of 2022, Hannah was excited to go skiing with her family at Wilmot Mountain in Wisconsin. She'd been skiing for three years and had visited the resort two weeks prior with friends.
But when she returned to those same slopes, she went down a steep advanced hill, hit an icy mogul, lost control, flipped over, and landed on her knee.
"My head went back and I couldn't get up," Hannah recalls. "My dad came and helped me."
After scooting down on her butt to the bottom of the hill, she was able to rest at Wilmot's indoor lodge to ice her knee and take Aleve.
"We thought it was just a bad spill, but it was progressively feeling worse and worse," Sarah said. "I thought we should see Dr. Andrea Kramer at IBJI."
Hannah was in a lot of pain and would have been comfortable seeing Dr. Kramer, her regular pediatric orthopedist, but she was not working that day.
Due to the pain, she decided that same day of her accident to visit the OrthoAccess immediate care facility in Morton Grove, which was closest to her home in Glenview. She was examined by Charles Lieder, DO who ordered an MRI. Hannah was also fitted for a temporary brace to wear until her MRI and follow-up appointment with Dr. Kramer. "It was so convenient to be able to go downstairs at that very same IBJI medical complex and receive the appropriate brace from their durable medical equipment store," Sarah said.
"We ended up getting an MRI later in the week at IBJI," said Sarah. "Everyone was on time. The imaging staff was super nice, and we were able to see Dr. Kramer a few days following her tests to review the results of Hannah's MRI."
Hannah learned that she had torn her ACL. A torn knee ligament meant that she would need surgery, but it also meant that she couldn't play club soccer. At the time, she was getting ready for tryouts.
"We were so excited for Hannah to potentially play for the Glenbrook South High School team and make some new soccer friends," Sarah said. "Unfortunately, it had taken a whole different turn. But we were so grateful to Dr. Kramer and her compassion with Hannah."
Dr. Kramer referred them to Dr. David Raab a sports medicine orthopedic surgeon. The weekend passed, and by Monday, Hannah, who had been taking pain medication and wearing a knee brace for her torn knee ligament, realized that she was starting to show signs of another injury – a concussion.
"I felt super light-headed, and I had tunnel vision," Hannah recalls. "I couldn't see very well, I couldn't concentrate during classes, and I was tired and always nauseous. Just seeing kids moving in the hallway at school made me feel sick. It was kind of odd."
Since Hannah's school has a partnership with IBJI, she was able to visit with an athletic trainer and ask for a concussion screening. The school sent her immediately to her pediatrician because they knew she needed to see someone right away. Hannah's pediatrician confirmed that she did have signs of a concussion. Sarah took Hannah to see Anthony Savino, MD, an IBJI sports neurologist who specializes in concussion management, along with Dr. Raab for her knee injury, during that same week.
"Dr. Savino confirmed Hannah's concussion and wrote a note for the school," Sarah said. "He was also in contact with the athletic trainers at Glenbrook South High School. IBJI does a ton of work with the high school and they know the staff and faculty. It's like a small family that extends to a larger one."
Hannah was limited to part-time school days while she healed from her concussion. She would have to wait to have the torn knee ligament surgery with Dr. Raab until the concussion cleared, and her family was encouraged to go on a vacation since spring break had arrived.
It took about four weeks for Hannah to recover from her concussion, but during that time she had an advocate in her corner. Kerry, a certified athletic trainer at Hannah's school, served as a liaison to Dr. Savino. Repeat visits to Dr. Savino's office showed incremental improvements over time.
"Kerry would send a mass email to Hannah's teachers at GBS so that everyone knew what was going on with Hannah," Sarah recalls. "Multiple emails were sent throughout this period of time to update the school on her restrictions and best of all, Hannah didn't have to worry about communicating to her individual teachers about her ever-changing conditions. This was a huge relief."
Meanwhile, Dr. Raab was excellent at explaining the details of the upcoming surgery for Hannah's torn knee ligament.
"He was very kind and listened to our concerns and addressed all of our questions," Sarah said. "His physician assistant Kelly was also extremely caring and took the time to walk us through Hannah's MRI. "They compared Hannah's MRI to a healthy ACL MRI. Thomas, Dr. Raab's athletic trainer, played an instrumental role as well with guiding us on the next steps to prepare for surgery. I was able to email him 24/7 with any questions that would arise both prior to surgery and after. He even gave us recommendations for Hannah's future post-op physical therapist. Everyone was so awesome with detailed instructions about what to expect. Hannah felt really comfortable as did I."
Preparation for Torn Knee Ligament Surgery
Hannah was moving around pretty well while in Cancun with her family for spring break.
"I could swim and walk around," she says. "I wasn't in any discomfort."
When she returned, IBJI began communicating with her to prep her for torn knee ligament surgery. One of the things Dr. Raab recommended was an ice machine.
"Dr. Raab sent a rep to our house a few days before surgery to show us how the machine worked," said Sarah. "It was seamless."
Hannah received a folder full of information about the torn knee ligament surgery, and an athletic trainer went through it with her. They learned about crutches, braces, medical equipment, and more.
"Dr. Raab explained everything in an easy-to-understand way that really just put us at ease," Sarah said. "We were prepared for surgery. Everything we needed to do was laid out for us. Most importantly, Hannah felt relaxed about her upcoming surgery."
The Day of Surgery for a Torn Knee Ligament
On the morning of the torn knee ligament surgery, Hannah was calm and ready. Her mom was constantly updated about her status and given reassurance while she waited.
"It was a really positive experience," says Sarah. "She was in and out so fast, in a brace, and starting physical therapy. Dr. Raab did an amazing job."
Touching Base After Hannah's Torn Knee Ligament Surgery
Dr. Raab came out to show Sarah pictures of the damage, and pictures of the repair he made on Hannah's knee.
"He said she looked great and told me what to expect with post-rehab," Sarah recalls. "I am just so amazed at how truly seamless this entire process has been for Hannah and me, the parent."
Now that Hannah is able to be back at school and walking with her brace, she can count on IBJI to support her.
"If I'm ever in pain, I can just go down to the athletic training office," Hannah says. "They're awesome down there and they're always willing to help."
Physical Therapy for a Torn Knee Ligament
Hannah visits the Glenview IBJI Physical & Occupational Therapy location for her rehab twice a week. Her PT Patrick has laid out a plan for her recovery and has been working with her to get her back to feeling her best.
She plans to transition to the IBJI Health Performance Institute's Return to Sport: Phase IV program which will help her build back her muscle stamina to be able to play soccer again.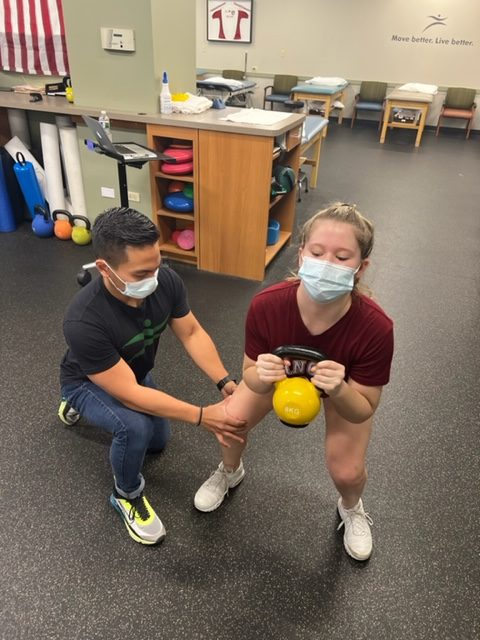 Hannah's physical therapist, Patrick, works with her to strengthen her knee following surgery for a torn knee ligament.
"We intend on implementing that into her rehab with hopes of her returning to club soccer this fall and eventually trying out for GBS' soccer team in Spring 2023," Sarah says.
IBJI's Coordinated Care
Being able to go to one place for every aspect of Hannah's torn knee ligament journey – from when she first injured herself on the slopes to building strength back for soccer – has meant the world to Hannah's family.
"IBJI is like a one-stop-shop," Sarah said. "It's all quality care."
Need Care for a Painful Knee Injury?
You can download our knee pain relief guide to get more information. Meet our knee specialists and schedule an appointment to start feeling better.
Other Knee Stories You Might Like: