With more than 500 completed races to his credit, you could say Tom is passionate about running, but most recently, he wondered what it would be like running after hip replacement surgery.
He started his running career in high school where he participated in cross country and spent the bulk of his adult life running in 5Ks, then graduated to 10Ks and half marathons.
"I didn't run my first marathon until I was 40 in 2002," Tom says.
Over the course of a couple of decades, Tom injured his knees and developed arthritis in one of his hips.
This blog describes Tom's running after hip replacement experience, including what led him to IBJI orthopedic surgeons and how he finished a marathon just two years after surgery.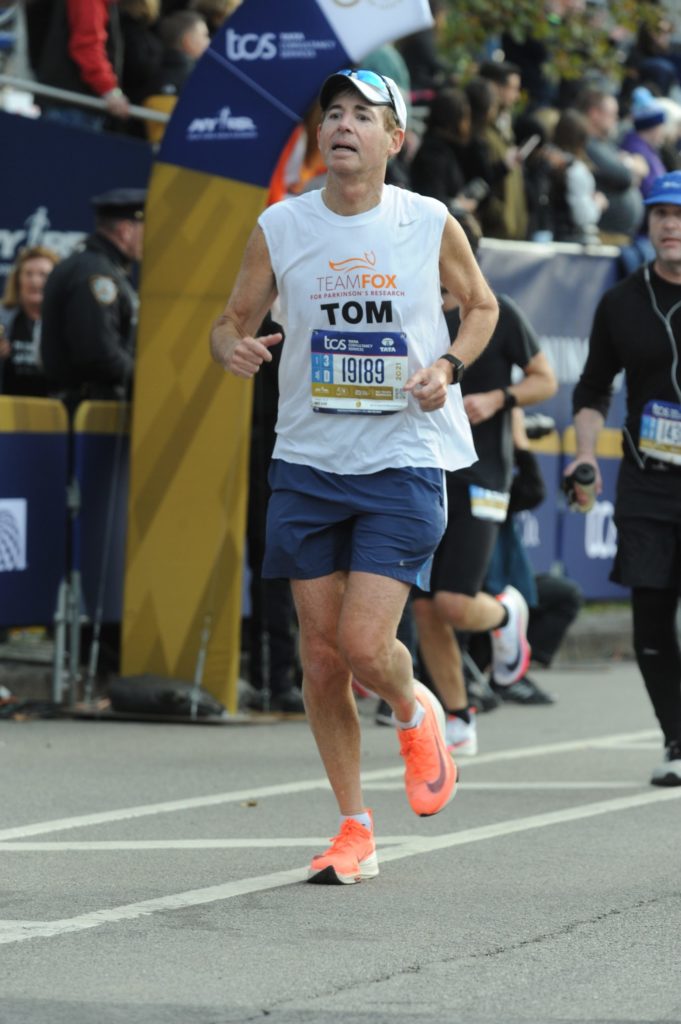 Tom, running after hip replacement, finished a marathon with a time of 4:17.
Running After Hip Replacement and Knee Surgeries
"I had meniscus surgery on both knees in 2003 and 2004," Tom says, adding that he sought out care from three IBJI physicians - David Raab, MD, the late Philip Fitzsimons, MD, and Gregory Portland, MD. The surgeries were successful and Tom hasn't had any significant knee problems since.
The Journey to Running After Hip Replacement
Although his knee problems were cured and he went back to running, Tom's right hip started to give him pain about five years ago. He learned he had arthritis and that he would eventually need surgery when it became too painful.
Yes or No to Running After Hip Replacement?
Most orthopedic surgeons don't recommend running after hip replacement, but Michael O'Rourke, MD had an optimistic approach, according to Tom.
"He didn't prohibit running like some other doctors," Tom says. "A friend of my wife's had surgery with him and he told her she could get back to some running. I found that to be very encouraging and that's why I chose Dr. O'Rourke."
Tom's hip was bone-on-bone and he was still running, but he figured he would have to retire after running his 20th marathon. After all, it was a nice round number, he said.
Running after hip replacement in a marathon or even a shorter course wasn't something he thought possible. Surgery, he knew, was definitely going to be his next step.
Running After Hip Replacement Becomes a Reality
At the beginning of 2019, Tom decided to have total hip replacement surgery with Dr. O'Rourke. He ran the Boston Marathon that April, then had the surgery in June.
He says he was literally walking in the hospital that day, and climbing stairs the next.
He spent two nights in the hospital and was home without needing crutches. It looked like running after hip replacement wasn't a far-fetched dream. "I was running by September, and doing 5K races again in October."
Running After Hip Replacement During COVID
When COVID hit, it seemed like running in any race - whether it was running before or running after hip replacement - was out of the question.
"I ran with my running club in Evanston," Tom says, "but there really weren't any races to do in 2020. I did a half marathon in May of 2021. Most of my friends were going to be doing fall marathons."
Over the summer of 2021, he gradually increased the distance of his weekend long runs. "I played it by ear and my hip seemed to be doing fine," he says. "I found it to be easy to run with my friends, so I ran with them."
Tom comfortably worked up to 15 miles with them, then 18, and realized that he could participate in a fall marathon.
Running After Hip Replacement: Tom Registers for the New York Marathon
"I decided on New York City because I'd run it twice before and it is one of my favorite marathons for the excitement of the crowds," Tom says. "Chicago was an option, but on Columbus Day, it can be warm here, while New York in November is reliably cool."
A Funny Thing Happened While Running After Hip Replacement
As Tom got back to regularly training with his running club, he was doing a Saturday morning long run with several other runners when he encountered a familiar face on Sheridan Road in Kenilworth. "A couple was walking towards us with their dog," Tom says. "It turned out that it was Dr. O'Rourke. I wondered how he would feel knowing his total hip replacement patient was out doing a 20-mile run."
Running After Hip Replacement: Finishing 26.2 Miles
"I was able to do five 20-mile training runs in preparation for New York City," Tom says, adding that his running club was paramount to his success. "On the day of the marathon, the weather was perfect for running and I was able to complete the 26.2 miles just fine."
Tom used the race to fundraise for the Michael J. Fox Foundation, supporting research for Parkinson's Disease.
Running After Hip Replacement: How Tom Placed
Tom's time for the 2021 TCS New York City Marathon was four hours and 17 minutes. He was happy with the result, finishing in the top 40 percent of runners.
He says it was difficult to conquer the bridges and rolling hills since his training was mostly along Illinois' flat terrains, but he was able to do it without pain.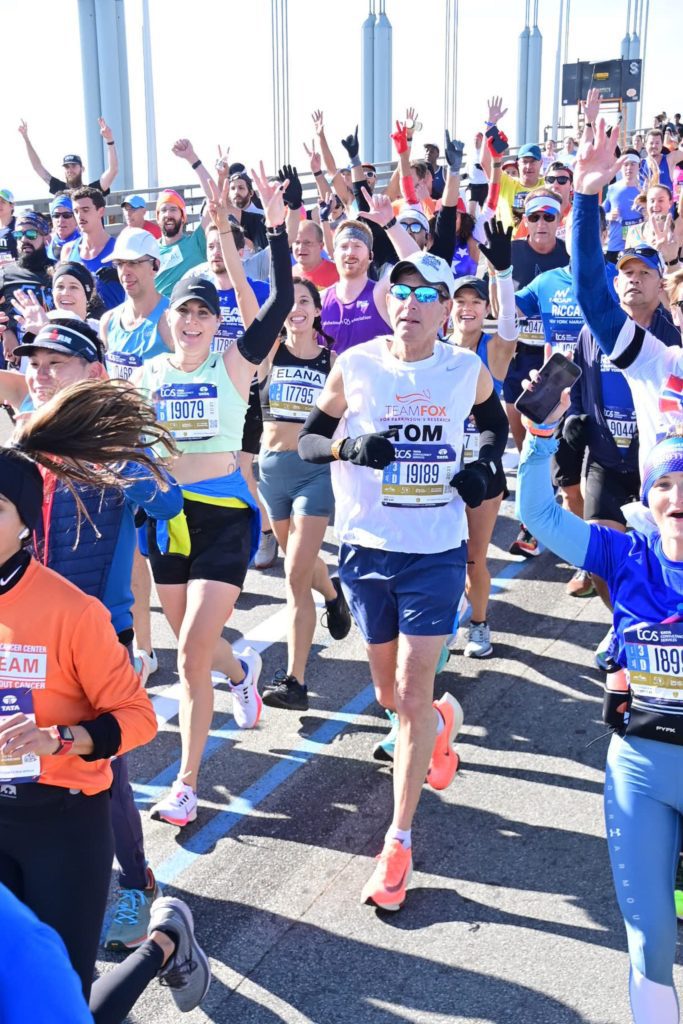 Running after hip replacement became a reality for Tom just two years post surgery.
Hope for Running After Hip Replacement
Tom attributes his successful and pain-free running after hip replacement to physical therapy sessions at the IBJI Wilmette Physical Therapy location.
He got the positive mental attitude about running after hip replacement from his own personal research.
"I went to hiprunner.com which was full of stories of people who had come back after total hip replacement surgery to do marathons," Tom says. "I knew that despite all that I had read about it being a death sentence for running, I saw stories of people who had done it."
There also was a woman in his own running club who, running after hip replacement, completed the BMW Berlin Marathon.
Running After Hip Replacement Surgery: Will the Other Hip Hold?
Tom gets asked about his left hip, and whether or not it has arthritis. He doesn't know what caused his painful hip arthritis, but so far, his non-surgery hip is doing fine. It could have been genetics — his mother had both hips replaced — or it could have been that he runs a lot.
Tom knows he may wear out his new hip, but he tells people that he'd rather have orthopedic problems from running and live into his 90s than to not run and possibly develop cardiac problems in his 60s.
"I was able to recover and bounce back pretty quickly," Tom says. "It helps that I was 56 at the time of the hip replacement. I am one of the younger, fitter patients as far as joint replacement goes."
Running After Hip Replacement: Reaping the Rewards
Tom's love of running isn't just about the physical high he gets. "It's where I make my friends," he says. "It would have been really tough if the surgery were a death sentence for my running."
What Does the Future Hold for Running After Hip Replacement?
Tom says he plans to pace himself in the future by doing a half marathon in January 2022 and possibly another marathon in the fall. "I'm definitely going to keep going," he says.
Referring Others Who Want to Run After Hip Replacement
"When anybody asks me, I tell them Dr. O'Rourke did my surgery," Tom says. "It was successful and at this point, I'm very grateful and appreciative that I'm still able to run."
Running After Hip Replacement: Learn More
You may be wondering about what is involved with a hip replacement surgery. Check out the IBJI OrthoInform Podcast featuring Dr. O'Rourke's total hip replacement episode. You can also download our Ultimate Guide to Hip Pain Relief to get all the details about what causes hip pain and the treatments available to help you get back to feeling your best.
Please note: Patients' results may vary.