Arthroscopic hip surgery is a minimally-invasive procedure that can help relieve hip pain. Hip pain can significantly impact your mobility and the activities you do daily. And while hip pain sufferers may think the only cure is to get a hip replacement, that's not always the case.
IBJI recently chatted with David Beigler, a board-certified orthopedic surgeon with fellowship training in total joint surgery and trauma. Dr. Beigler answers some common questions about hip arthroscopy.
Keep reading for our Q&A on arthroscopic hip surgery to learn more. Dr. Beigler's responses have been edited and condensed for space.
Q&A on Hip Arthroscopy With Dr. Beigler
Dr. Beigler: Arthroscopic hip surgery (or "hip arthroscopy") is a minimally-invasive procedure involving two or three small incisions. The surgeon utilizes a camera and additional instruments to see and work inside of the hip.
A hip surgeon will make a small incision in the hip and then insert a tiny camera called an arthroscope. This camera allows the surgeon to see inside to assess the joint.
One or two additional incisions may be made to use other instruments needed to repair the joint or other structures. With this procedure, the surgeon can resolve the issue without a large incision to fully expose the joint.
Request an Appointment With a Hip Doctor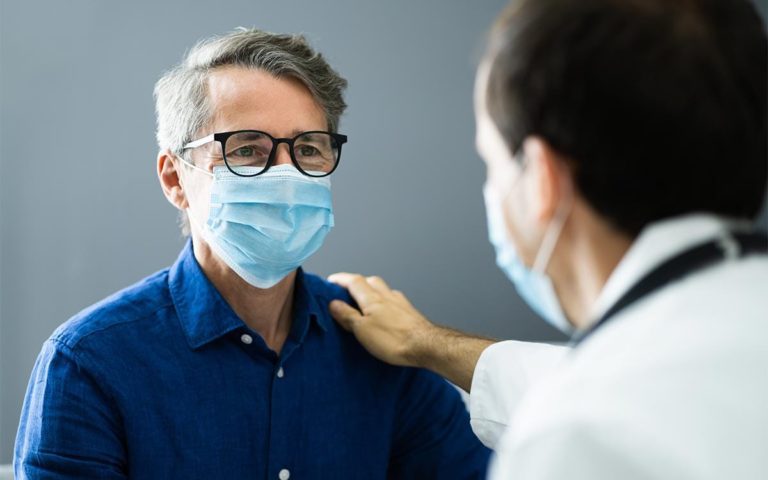 A specialist explains to his patient what happens during arthroscopic hip surgery.
What Is the Success Rate of Arthroscopic Hip Surgery?
Dr. Beigler: The success rate of arthroscopic hip surgery is around 85 to 90 percent. The procedure is primarily performed to help restore your hip's function, but it has been most successful at easing hip pain.
The success rate depends on the underlying problem and baseline condition of the joint.
How Long Is the Procedure?
Dr. Beigler: Arthroscopic hip surgery typically takes about two hours or less.
What Conditions Does It Treat?
Dr. Beigler: A surgeon may perform hip arthroscopy to treat:
Femoral-Acetabular Impingement (FAI)
Abnormalities of the Femoral Head
Abnormalities of the Acetabulum
Labral Tears
Ligamentum Teres Tears
Bone Cysts
Cartilage Damage
Loose Bodies
Iliopsoas Tendinitis
Trochanteric Bursitis
Synovial Disease
Adhesive Capsulitis
Joint Sepsis
Osteonecrosis
Learn More About Hip Conditions and Care at IBJI
What Are the Advantages of Arthroscopic Hip Surgery?
Dr. Beigler: The primary advantages of hip arthroscopy are less surgical tissue damage, less postoperative pain, faster recovery, and shorter hospital stay (typically outpatient surgery).
Since this is a minimally-invasive procedure, the body does not need as long to recover from the surgery.
Who Are the Candidates for Arthroscopic Hip Surgery?
Dr. Beigler: The best candidates for hip arthroscopy are young and healthy patients who suffer from severe pain or experience decreased mobility. These patients typically have one of the conditions mentioned above.
The typical age range we see is anywhere from the late teens to people in their 50s and 60s. However, after 55 or so, arthroscopic hip surgery has a lower success rate.
It is also important to note that arthroscopic hip surgery is not necessarily the proper treatment for every patient.
When a patient comes in with hip pain, we will first treat them conservatively. This may include anything from physical therapy, injections or medication, pain management, etc.
Suppose those methods don't improve a patient's pain or mobility, and their symptoms correlate with their examination and imaging studies. In that case, we discuss surgery as the last option.
If you suffer from hip pain, the hip surgeons at IBJI are here to help you. They will assess your needs and recommend an individualized treatment plan. Request an appointment with a hip doctor today.
Get Relief From Your Hip Pain Today
Hip Care and Treatment at IBJI
Whether you are just starting your hip care journey or need a second opinion for your hip pain, IBJI's hip surgeons are here to help provide you with the necessary care for your ailment. Get the relief you are seeking with the help of IBJI.
Request an appointment with an IBJI hip surgeon to discuss treatment options (like arthroscopic hip surgery) and create an individualized approach to your care.
Check out IBJI's additional online hip-care resources to learn more about conditions and read patient testimonials.
You Might Also Like ...
Last updated in April 2022.
*This content is for information only and is not intended to replace the diagnosis, treatment, or medical advice from your treating healthcare professionals. The content does not provide medical advice, does not constitute the practice of medicine or other healthcare professional services, and does not create a doctor-patient relationship. You should not rely on this information as a substitute, nor does it replace professional medical advice, diagnosis, or treatment. If you have concerns or questions, seek the advice of your healthcare professionals. If you think you may have a medical emergency, call your doctor or 911 immediately. Do not rely on electronic communications or communicate through this website for immediate, urgent medical needs. This website is not designed to facilitate medical emergencies. The use of the information is at the reader's own risk. The links are provided for information and convenience only. We cannot accept responsibility for the sites linked or the information found here. A link does not imply an endorsement of a site.