After years of pain, swelling, and numbness, Patricia finally got relief when she had surgery for spondylolisthesis at IBJI.
Patricia went through many years of horrible pain in her back, legs, knees, and feet. Patricia saw IBJI's Tomas Nemickas, MD, who informed her that what she was experiencing was caused by a back problem.
Dr. Nemickas recommended that she see IBJI's Gary Shapiro, MD, a board-certified orthopedic surgeon specializing in treating spine problems in adults and children.
Seeing a Spine Specialist for a Diagnosis
Patricia's daughter took her to see Dr. Shapiro at IBJI's Glenview doctors' office in June 2020. She brought her old MRIs with her and explained to him what she was experiencing.
"I told Dr. Shapiro that I had little to no feeling in my feet, and I never knew when my feet would support me when standing up," Patricia said. "They felt dead."
Patricia remembers the joy she felt when Dr. Shapiro looked at her MRIs and told her that he could help her. At that moment, she burst into tears as she finally felt hopeful.
"I was just so pleased that he said he could help me," said Patricia.
She underwent a new MRI, which showed that she had issues with the two levels of the spine where the bones didn't align properly. This condition is called spondylolisthesis. With this revelation, she and Dr. Shapiro decided that her best option was to schedule surgery for spondylolisthesis.
"After evaluating the situation, we thought the best spondylolisthesis treatment option would be to perform a posterior spinal compression fusion on the L4 to S1."
Her two-level fusion surgery was scheduled for September 2, 2020.
Having Surgery for Spondylolisthesis
Patricia spent three days in the hospital after surgery for spondylolisthesis. Her physical therapist helped her get back on her feet as she was a bit wobbly. Once she gained stability, she was cleared to go home. She received additional physical therapy visits at home to regain mobility.
Patricia finished her required physical therapy visits and has entered a new chapter in her life.
"The doctor doesn't feel I need any more physical therapy, and I don't feel I need it anymore either," she said. "I have a set of exercises the physical therapist gave me, and I do them religiously every day. I am using a walker now, but they said I will only need it for a few more weeks. Then I can walk on my own."
Life After Spondylolisthesis Surgery
"Now, I have my feet and legs back," she explained. "I'm standing straight for the first time in over 10 years. I will only recommend Dr. Shapiro to everyone I know. I am very pleased by Dr. Shapiro and all the staff I was in contact with. They were all absolutely wonderful."
Patricia is feeling great after surgery for spondylolisthesis. Her only regret is not going to see Dr. Shapiro sooner.
"I feel like some kind of miracle person at the moment," she said. "I never in my wildest dreams expected this to happen."
"I feel I would have been fit as a fiddle sooner if I went to Dr. Shapiro when he was first recommended to me in 2008," she said. "He would have helped me sooner without going through years of pain and done it right. He's a wonderful man."
About the IBJI Team Who Helped Patricia
Gary Shapiro, MD, is a board-certified orthopedic surgeon specializing in treating spine problems in adults and children.
Tomas Nemickas, MD, provides care for conditions such as rotator cuff injuries, shoulder instability, and tears of the labrum, meniscus, anterior cruciate ligament, and posterior cruciate ligament.
Get Relief From Your Back Pain Today
IBJI's spine surgeons are here to provide the necessary care for your pain and determine if treatments like surgery for spondylolisthesis are right for you.
Request an appointment with an IBJI spine specialist today to discuss your options, and our expert team will work with you on an individualized approach to your care.
You Might Also Like: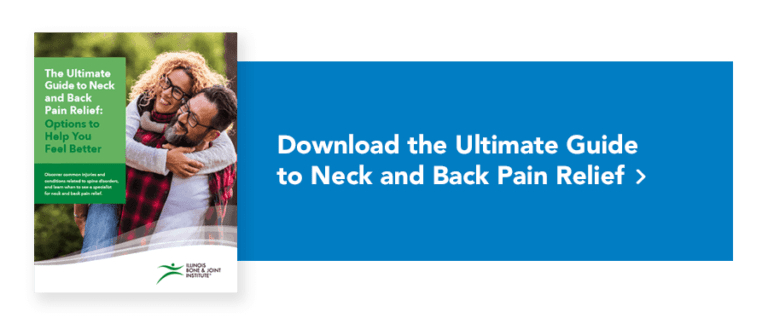 *This content is for information only and is not intended to replace the diagnosis, treatment, or medical advice from your treating healthcare professionals. The content does not provide medical advice, does not constitute the practice of medicine or other healthcare professional services, and does not create a doctor-patient relationship. You should not rely on this information as a substitute, nor does it replace professional medical advice, diagnosis, or treatment. If you have concerns or questions, seek the advice of your healthcare professionals. If you think you may have a medical emergency, call your doctor or 911 immediately. Do not rely on electronic communications or communicate through this website for immediate, urgent medical needs. This website is not designed to facilitate medical emergencies. The use of the information is at the reader's own risk. The links are provided for information and convenience only. We cannot accept responsibility for the sites linked or the information found here. A link does not imply an endorsement of a site.